Nominations for the second edition of ORIGIN Innovation Awards, APAC's accolade for tech innovations, are now open. Organized by TechNode Global, the Awards is established with the goal of celebrating the spirit of innovation and entrepreneurship by providing recognition to companies that have shown breakthroughs in technology or have influenced the growth of the APAC tech community.
Submit your nomination for the ORIGIN Innovation Awards right now at technode.global/origin/innovation-awards. Nominations are open until August 31, 2021.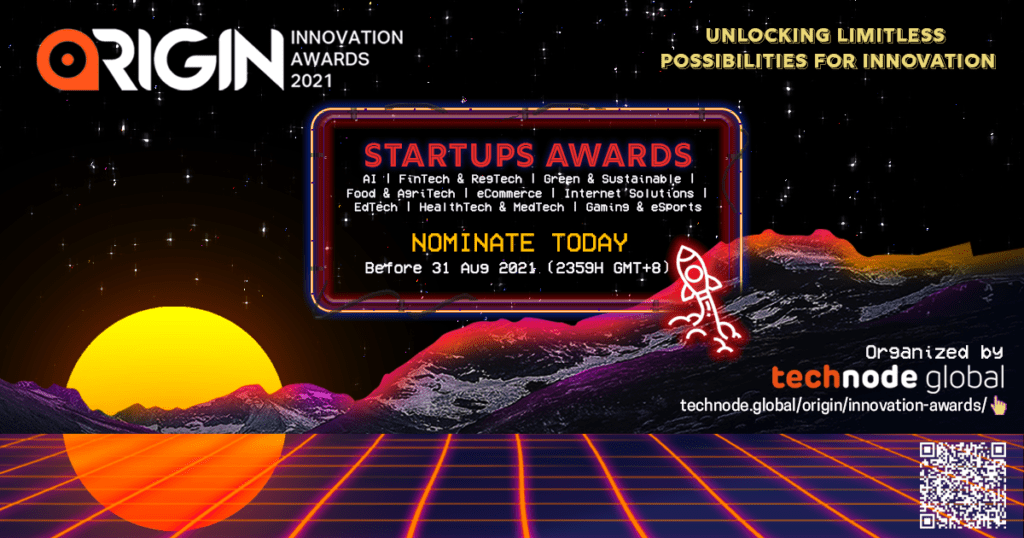 The aim of Startup Awards is to recognize startups offering disruptive solutions that have created an outstanding impact on the way businesses operate or perceived as capable of changing the status quo.
Some of the winners of the inaugural ORIGIN Innovation Awards in 2020 include Intrepid (Ecommerce), Ottodot (EdTech), CloudTheatre (Media & Entertainment), Avant Meats (Food & AgriTech), among others, which have created an outstanding impact in their respective industries.
Read also: Announcing the winners for the ORIGIN Innovation Awards 2020
The theme for 2021 is Unlocking Limitless Possibilities for Innovation. Nine emerging technologies and industries have been carefully chosen for the awards this year to better recognize startups during these times of uncertainty, as many countries are still grappling with the effects of the ongoing COVID-19 pandemic.
We welcome startups in the following nine emerging technologies industries to submit their nomination:
Startup Awards:
AI
FinTech and RegTech
GreenTech and Sustainable Tech
Food and Agritech
Ecommerce
Internet solutions
EdTech
HealthTech and Medtech
Gaming and eSports
Who can nominate?
The ORIGIN Innovation Awards are open for both public nominations and self-nominations. We invite everyone to nominate outstanding startups who have met the following criteria:
General qualifying criteria for Startup Awards category:
The nominee must be based or operating in APAC
The nominee should have a commercialized product
The nominee's funding round must not exceed series B (i.e company in seed to series B stage is eligible)
Timeline
Public nomination and self-nomination: June 15 to August 31, 2021
Advisory Committee review and public voting: September 1 to October 31, 2021
ORIGIN Summit x ORIGIN Innovation Awards: November 2021 – December 2021
For more information about ORIGIN Innovation Awards and the other Awards categories, please visit technode.global/origin/innovation-awards.