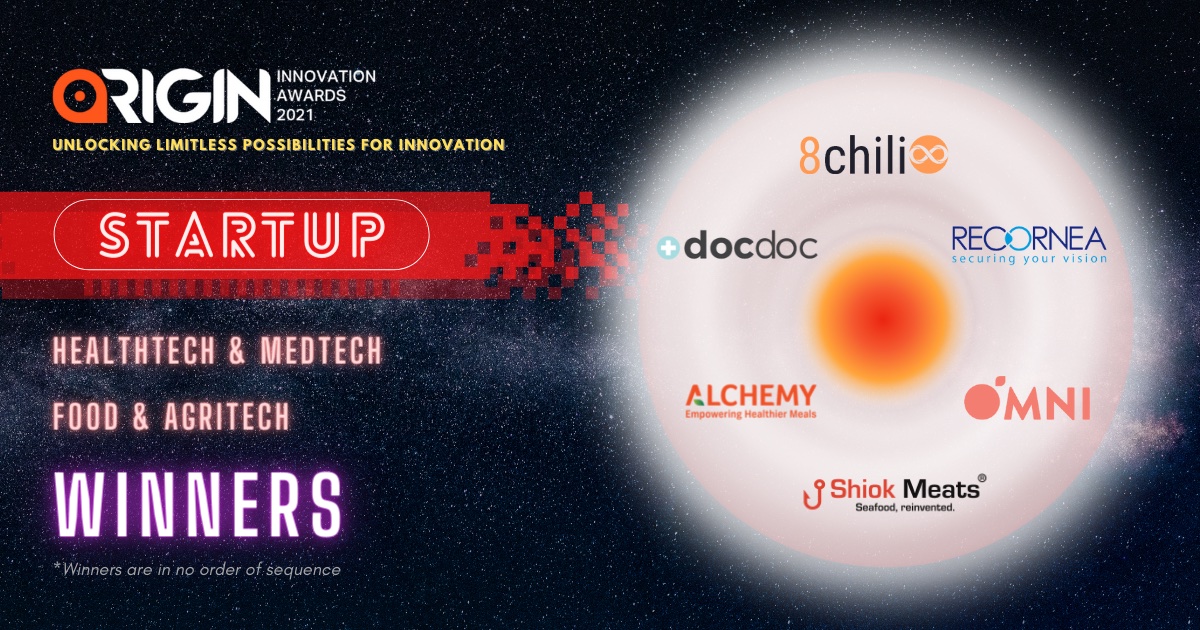 We are thrilled to announce the Startup Winners – HealthTech & MedTech and FoodTech & AgriTech for the second edition of the ORIGIN Innovation Awards.
The ORIGIN Innovation Awards recognizes outstanding startups, corporate innovators, and movers and shakers in the Asia Pacific region poised for growth. The awards celebrate the spirit of innovation and entrepreneurship, and also seek to inspire the dreamer in all of us.
We'd like to express our deepest thanks to everyone who participated. All the nominations are truly inspirational, and we would like to congratulate everyone for your efforts and nominations.
Nominations for the ORIGIN Innovation Awards began on June 15 and ended on September 15, 2021. The eligible nominees for the Startup Awards were put up for judging and public voting from September 16 to October 31, 2021. Final decisions about the awards were made by a committee of advisors, informed by the public voting.
Together with the all-star advisory team, TechNode Global spent close to two weeks evaluating every nomination and determining the finalists. The ORIGIN Innovation Awards advisory committee is made up of representatives from BeeNext, Innoven Capital, and Kairous Capital.
Here are the winners for Startup – HealthTech & MedTech and FoodTech & AgriTech:
HealthTech & MedTech
8chili is a metaverse platform for patient engagement and education, education for medical students, and healthcare skills-based training for surgeons, nurses, paramedics. 8chili's HintVR is a platform that enables immersive content capture, curation, and consumption of fully immersive 3D interactive content.
DocDoc is the world's first patient intelligence company. Its vision is to empower patients to make data-driven healthcare decisions that are safe, transparent, and fair. DocDoc uses technology in conjunction with medically trained professionals to optimize healthcare outcomes and cost, and enhance the patient's end-to-end healthcare journey.
A winner at the 2020 ORIGIN Innovation Awards, DocDoc combines AI-powered doctor discovery, telemedicine, and digital Third Party Administrator services onto a single platform. With this platform, DocDoc enables insurance companies to offer a differentiated product in a crowded market, employers to attract and retain world-class employees, and governments to improve accessibility and affordability of healthcare services for their citizens.
RECORNEA reinstates optimal vision in more than 15 million patients suffering from keratoconus, a progressive eye disease causing distorted vision. Both current ocular surgeries and devices are not effective in reinstating a predictable, uniform, and stable-in-time shape of the cornea leading to very poor quality of vision and life for these patients. RECORNEA developed the GROSSO Implant, the first corneal metal implant to restore the physiological curvature of the cornea with clear and predictable clinical outcomes.
FoodTech & AgriTech
Alchemy Foodtech is a Singapore-based food science company with a mission to "Empower Healthier Meals" to help reduce the incidence and improve the management of chronic diseases such as diabetes. Through harnessing the best from nature and combining that with the knowledge of food science, Alchemy Foodtech has developed Its key product, Alchemy Fibre™, a patented fiber blend that is proven to make carbs healthier.
OmniFoods, a FoodTech company, is a member of Green Monday Holdings. Its mission is to innovate food that will treat the planet right, treat animals right and treat us right. Their established food scientist team in Canada innovates food 2.0 based on Asian eating culture and cooking habits while ensuring that the ingredients are cruelty-free, cholesterol-free, antibiotic-free, and hormone-free.
Following the successful launch of OmniPork in 2018, OmniPork Luncheon, and OmniPork Strip in 2020, OmniFoods has unveiled the unparalleled OmniSeafood series – Omni Classic Fillet, Omni Golden Fillet, Omni Ocean Burger, and OmniTuna in 2021, making its first foray into the plant-based fish market and leading a new wave in the FoodTech trend. OmniFoods also has a ready-to-eat series, OmniEat, that provide a range of healthy and nutritious ready-to-eat food.
Shiok Meats is a cultivated meat and seafood company – the first of its kind in Singapore and Southeast Asia. "Shiok" in Singapore and Malay slang means fantastic, delicious, and simply, pleasure. Shiok Meats also owns SEA's first cultivated red meat company, Gaia Foods. Its mission is to bring delicious, sustainable, and healthy seafood to your table, using our technology to grow meat from healthy cells instead of animals.
Currently, Shiok Meats produces crustaceans like shrimps, crabs, lobsters and are the first in the world to do so using cellular agriculture technology. Its meats are real meat, delicious and nutritious. Shiok Meats' meats are animal-, health- and environment-friendly. The company is currently in the R&D phase and targets to commercialize in 2023.
---
Learn more about ORIGIN Innovation Awards here. Stay tuned for more announcements in the coming weeks.