Editor's note: This interview is part of a Q&A series with winners of the ORIGIN Innovation Awards 2020. DocDoc is a winner in the category Startup Awards–HealthTech.
---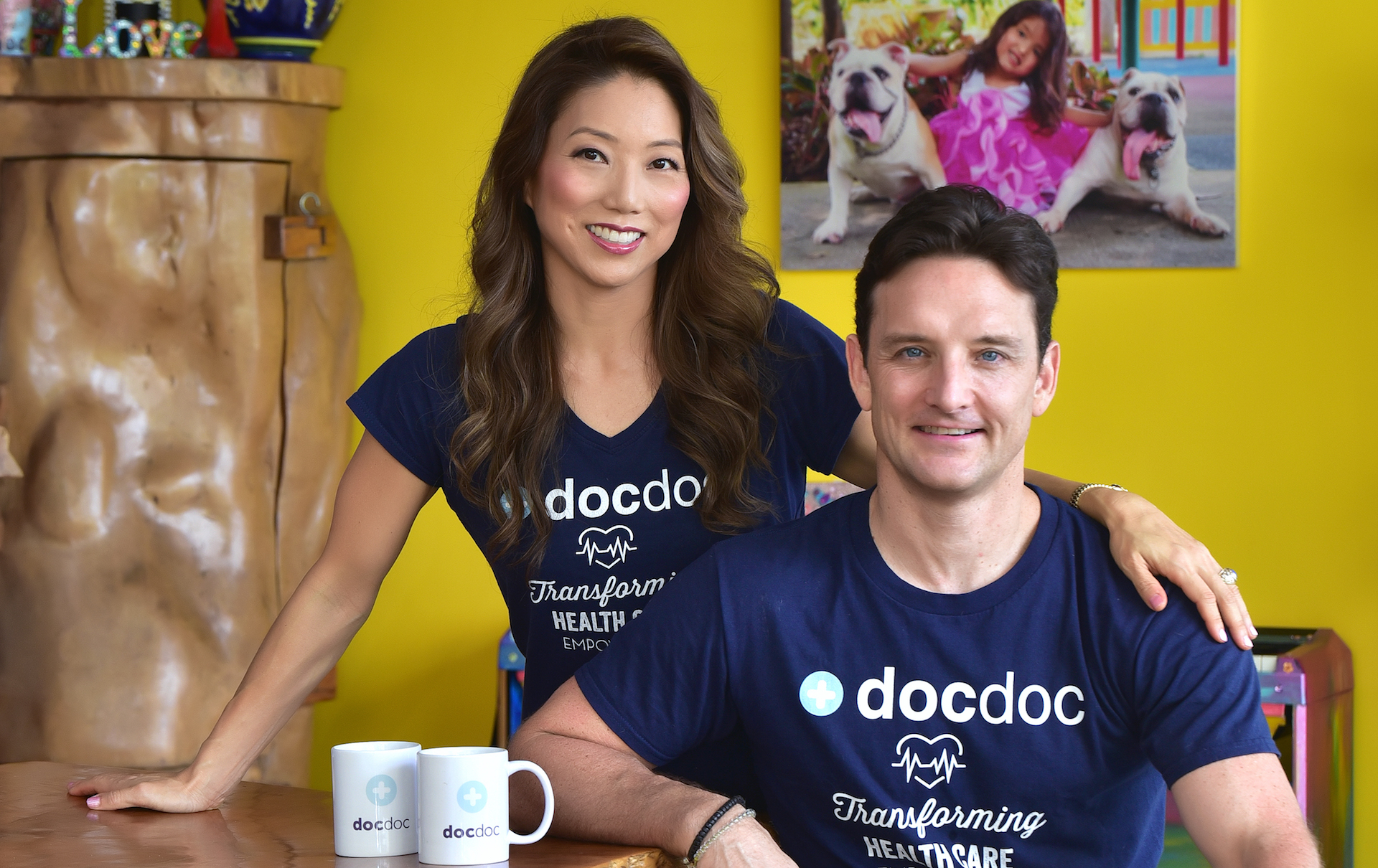 Healthcare expenditures are a growing piece of the pie for economies across the globe. We spend around 10 percent of GDP on healthcare, and by 2040, the world will spend around $150 trillion every year on healthcare, representing a 150 percent increase since 2014.
This is three times higher than general inflation, according to figures cited by DocDoc, a HealthTech company with expertise in patient intelligence.
However, increased expenditure in healthcare does not necessarily lead to an improvement in healthcare quality, which makes for an unsustainable model in the context of a growing population.
In this Q&A with TechNode Global, DocDoc Co-Founder and President Grace Park discusses how intelligent healthcare services lead to the delivery of more impactful solutions.
DocDoc is the world's first patient intelligence company. It combines the power of artificial intelligence with human expertise to deliver powerful healthcare solutions to insurance companies, employers, and governments. By combining AI-powered doctor discovery, telemedicine, and cashless services on a unified platform, the company helps patients to optimize healthcare outcomes and costs, as well as enhance the patient's end-to-end healthcare journey.
Headquartered in Singapore, with additional offices in Indonesia, Hong Kong, and the Philippines, the company reports having built Asia's largest and most comprehensive doctor network spanning eight countries across Asia. The company has at least 80 dedicated individuals led by an executive team with more than 100 years of healthcare experience combined.
Recently, DocDoc has been expanding to China in partnership with KTM, as well as partnering with SpesNet to deliver a complete digital health ecosystem to clients and their policyholders.
What are the emerging trends in the healthcare industry that will drive innovation?
Historically, driving innovation in healthcare has been a challenging task due to misaligned stakeholder incentives. Healthcare is a unique sector. Unlike other industries, the consumer (patient) does not pay for the majority of their healthcare expenses and therefore holds little purchasing power. Third-party payers such as insurers, employers, and governments are in charge of payments and hold a majority of the purchasing power.
Until recently, payers had little incentive to invest in innovation. In fact, no insurer ranks among the world's top 1,000 public companies by amount invested in research and development. Insurers allocate an average of 3.6 percent of their revenue to computing technology–about half the share that is typical for banks. This is now changing.
Driven by rising healthcare costs, changing consumer expectations, and increased competitive pressure, insurers are now moving from a claims payer model to a service provider model–delivering value-added services that solve the policyholders' end-to-end needs. In healthcare, this translates to partnering with innovative companies to provide accessible and high-quality health solutions to policyholders.
The COVID-19 pandemic has propelled healthcare onto the world's center stage and accelerated the virtualization of healthcare. Healthcare providers are now more willing to adopt and utilize digital health platforms. Patients are expecting personalized on-demand services from healthcare providers and insurers. Insurers are being forced to rethink reimbursement models and invest in innovation. An amalgamation of these forces will drive a new wave of real innovation in the healthcare industry.
What are the three key challenges in the industry that DocDoc is trying to address?
Globally, we spend 10 percent of GDP on healthcare. By 2040, the world will spend around US$25 trillion every year on healthcare, representing a massive 150% increase since 2014. Healthcare expenditures are skyrocketing with medical inflation being nearly 3x higher than general inflation.
However, this increased expenditure does not necessarily lead to an improvement in healthcare quality. Our societies are still plagued with chronic diseases, patients remain dissatisfied with the healthcare system, and a majority of healthcare systems were not ready to deal with external shocks like the Covid-19 pandemic. This is clearly unsustainable.
Just like all other industries, we need to redesign the healthcare systems to empower the end consumer–the patient–with relevant information so they can make intelligent decisions.
In healthcare, consumers are often forced to make decisions in an information vacuum. Patients are expected to choose a doctor without any relevant information on medical prices and doctor's backgrounds or expertise in treating a particular condition or procedure. As a result, patients default to the most expensive hospital in town, assuming a higher price correlates to a higher quality of care. Unfortunately, it does not, and we have evidence to support this.
This information asymmetry in healthcare between patient and providers translates to undue stress on patients, increased healthcare costs, as well as increased complication rates and readmission rates. Case in point: In the United States–one of the world's most advanced healthcare markets–medical error is the third leading cause of death. Finding the right doctor often makes a difference between life and death.
How is DocDoc addressing these challenges?
DocDoc's digital health ecosystem combines AI-powered doctor discovery, telemedicine, and integrated cashless claims settlements on a unified platform to support patients throughout the continuum of care.
We have built Asia's largest and most comprehensive doctor network and collected over 500+ data points on each doctor's background to understand their strengths as accurately as possible. Our AI-powered doctor discovery platform, HOPE, leverages these data points to match patients to relevant doctors based on the patient's medical needs and the doctor's unique expertise. HOPE empowers patients to take charge of their healthcare journey and helps them find specialized high-quality care at a fair price.
By bridging the information asymmetry in healthcare, we aim to transition healthcare from an anecdotal relationship-based industry to a quantifiable, comparable, algorithmic-based approach that greatly improves the quality of care, expands access, and reduces healthcare costs.
What makes your solution unique?
DocDoc is a category-defining company in healthcare. We are fundamentally different from other HealthTech platforms that help consumers find and make appointments with doctors. We are not a directory of doctors with a booking function. These platforms offer minimal information on a doctor's expertise. For example: how would you distinguish between the 7th from the 37th orthopedic surgeon in the list and choose the one that's most suitable for your unique medical needs? Patients are increasingly demanding transparency at a condition and procedure level of granularity, and that is precisely what DocDoc offers.
A helpful analogy is a high-end dating service that matches two people based on their unique preferences. In dating, it isn't a matter of finding the best person, it's about finding the right person for your particular needs. At DocDoc, we use a similar approach when helping patients find the most relevant doctors for their unique medical needs.
The information asymmetry in healthcare is a global problem. DocDoc's solution is setting a prairie fire that begins from Asia and will soon set a new standard of greater transparency worldwide.
ORIGIN: How tech startups take advantage of data and intelligence in enhancing the delivery of healthcare services