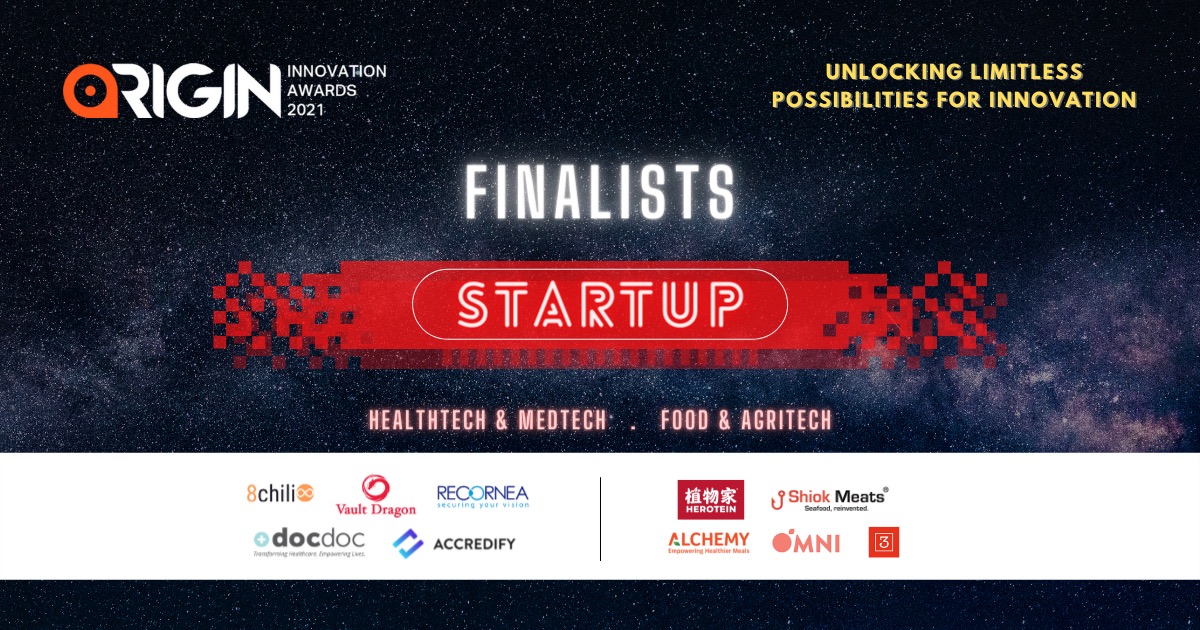 We are thrilled to announce the finalists of the Startup Finalists – HealthTech & MedTech, and FoodTech & AgriTech for the second edition of the ORIGIN Innovation Awards.
The ORIGIN Innovation Awards recognizes outstanding startups, corporate innovators, and movers and shakers in the Asia Pacific region poised for growth. The awards celebrate the spirit of innovation and entrepreneurship, and also seek to inspire the dreamer in all of us.
We'd like to express our deepest thanks to everyone who participated. All the nominations are truly inspirational, and we would like to congratulate everyone for your efforts and nominations.
Nominations for the ORIGIN Innovation Awards began on June 15 and ended on September 15, 2021. The eligible nominees for the Startup Awards were put up for judging and public voting from September 16 to October 31, 2021. Final decisions about the awards were made by a committee of advisors, informed by the public voting.
Together with the all-star advisory team, TechNode Global spent close to two weeks evaluating every nomination and determining the finalists. The ORIGIN Innovation Awards advisory committee is made up of representatives from AppWorks, BeeNext, Cocoon Capital, Cyberport, Golden Gate Ventures, Gobi Partners, Innoven Capital, Kairous Capital, MDI, Qiming Venture Partners, Rakuten Capital, Sistema Asia, True Digital Park, and ZWC.
Here are the finalists for the Startup Awards category in HealthTech & MedTech, and FoodTech & AgriTech:
HealthTech and MedTech
8chili is a metaverse platform for patient engagement and education, education for medical students, and healthcare skills-based training for surgeons, nurses, paramedics. 8chili's HintVR is a platform that enables immersive content capture, curation, and consumption of fully immersive 3D interactive content.
Accredify launched the nation's first COVID-19 workforce management system called Accredify START in July 2021, to help Singapore's domestic businesses reopen. Accredify START is an end-to-end COVID-19 testing and health verification management system for Singapore firms to reopen safely during the pandemic. The product launch follows corporations' struggle to procure an efficient and affordable method for COVID-19 testing to reopen offices as well as the MICE industry's attempts to resume physical events amidst the pandemic.
DocDoc is the world's first patient intelligence company. Its vision is to empower patients to make data-driven healthcare decisions that are safe, transparent, and fair. DocDoc uses technology in conjunction with medically trained professionals to optimize healthcare outcomes and cost, and enhance the patient's end-to-end healthcare journey.
A winner at the 2020 ORIGIN Innovation Awards, DocDoc combines AI-powered doctor discovery, telemedicine, and digital Third Party Administrator services onto a single platform. With this platform, DocDoc enables insurance companies to offer a differentiated product in a crowded market, employers to attract and retain world-class employees, and governments to improve accessibility and affordability of healthcare services for their citizens.
RECORNEA reinstates optimal vision in more than 15 million patients suffering from keratoconus, a progressive eye disease causing distorted vision. Both current ocular surgeries and devices are not effective in reinstating a predictable, uniform, and stable-in-time shape of the cornea leading to very poor quality of vision and life for these patients. RECORNEA developed the GROSSO Implant, the first corneal metal implant to restore the physiological curvature of the cornea with clear and predictable clinical outcomes.
Vault Dragon's suite of flagship software helps clinics streamline their workflow, in turn, providing efficient delivery of healthcare. The company's key offerings are Electronic Medical Record (EMR) system, Hospital Information System (HIS), Electronic Health Record (EHR) system, and Healthcare Data Solutions. In its early years, Vault Dragon began by liberating clinics from outdated paper records and enabled them to adopt digitization. Today, the company's EMR system is truly regional and ready for rapid scalability. After undergoing product development last year, the upgraded version is ready to offer a seamless experience to small hospitals. Vault Dragon is a winner at the ORIGIN Innovation Awards last year and is a contributor to TechNode Global Community. See their archive here, and read our interview with Founder and CEO Ching-Tse Tseng here.
FoodTech and AgTech
3 SQUARE provides tech-enabled, turnkey solutions that are both sustainable and profitable by maximizing utilization and revenue per square foot of kitchen spaces to create great-tasting food. 3 SQUARE is creating an ecosystem to support people's passion for food & business. It provides infrastructure and network of solutions to food businesses and entrepreneurs where we are able to share & pool resources, learn from one another & grow together. 3 SQUARE's Founder Victor J. Chow is a contributor to TechNode Global Community. Read his articles here.
Alchemy Foodtech is a Singapore-based food science company with a mission to "Empower Healthier Meals" to help reduce the incidence and improve the management of chronic diseases such as diabetes. Through harnessing the best from nature and combining that with the knowledge of food science, Alchemy Foodtech has developed Its key product, Alchemy Fibre™, a patented fiber blend that is proven to make carbs healthier.
OmniFoods, a FoodTech company, is a member of Green Monday Holdings. Its mission is to innovate food that will treat the planet right, treat animals right and treat us right. Their established food scientist team in Canada innovates food 2.0 based on Asian eating culture and cooking habits while ensuring that the ingredients are cruelty-free, cholesterol-free, antibiotic-free, and hormone-free.
Following the successful launch of OmniPork in 2018, OmniPork Luncheon, and OmniPork Strip in 2020, OmniFoods has unveiled the unparalleled OmniSeafood series – Omni Classic Fillet, Omni Golden Fillet, Omni Ocean Burger, and OmniTuna in 2021, making its first foray into the plant-based fish market and leading a new wave in the FoodTech trend. OmniFoods also has a ready-to-eat series, OmniEat, that provide a range of healthy and nutritious ready-to-eat food.
Origins Foods (Shanghai) Limited's HEROTEIN is the first domestic company in China to sell plant-based meat products produced using high moisture extrusion. Founded in 2020 and based in Shanghai, HEROTEIN has combined the formulation expertise of R&D experts who crafted products for leading global plant-based brands Beyond Meat and Impossible Foods with a local leadership team that has deep expertise in the restaurant, foodservice and grocery sectors in China.
HEROTEIN aims to become the leading plant-based meat brand delivering best-in-class plant-based products formulated specifically for the Chinese market. The company was named to the International Future Agrifood 2020 Alternative Protein Top 20 list, and was a winner at TechNode Global's 2020 ORIGIN Innovation Awards in the Food & AgriTech category.
Shiok Meats is a cultivated meat and seafood company – the first of its kind in Singapore and Southeast Asia. "Shiok" in Singapore and Malay slang means fantastic, delicious, and simply, pleasure. Shiok Meats also owns SEA's first cultivated red meat company, Gaia Foods. Its mission is to bring delicious, sustainable, and healthy seafood to your table, using our technology to grow meat from healthy cells instead of animals.
Currently, Shiok Meats produces crustaceans like shrimps, crabs, lobsters and are the first in the world to do so using cellular agriculture technology. Its meats are real meat, delicious and nutritious. Shiok Meats' meats are animal-, health- and environment-friendly. The company is currently in the R&D phase and target to commercialize in 2023.
---
Learn more about ORIGIN Innovation Awards here. Stay tuned for more announcements in the coming weeks.