This article is part of TechNode Global's partnership with CEO Roundtable Podcast and Asian Investors Podcast hosted by David Kim wherein we publish edited transcripts from the podcast's interviews with inspiring entrepreneurs and experienced VCs. This edited Q&A is based on the show's original transcript. For the full interview, listen to the podcast here.
---
About Sunny Lu
Sunny graduated from Shanghai Jiao Tong University, majoring in Electronics and Communication Engineering. He has served as IT Executive in Fortune 500 companies for nearly 20 years and was the former CIO of Louis Vuitton China. With a solid technical background in computer and network communications, he has accumulated extensive experience in information systems technology strategy and management, enterprise digital revolution, and digital innovation.
Sunny is one of the pioneers in exploring blockchain business applications. He first proposed the idea that "blockchain adoption is driven by business needs." He officially launched the VeChain project in 2015, and founded VeChain in early 2017, which has major investors including Fenbushi Capital, Future Capital, PwC, and DNV. You can learn more about Sunny on LinkedIn and on Twitter.
About VeChain
Launched in 2015, VeChain Technology is a global leading enterprise-friendly blockchain company that aims to connect blockchain technology to the real world by providing enterprises with blockchain-enabled solutions suited to their business needs.
It offers VeChain ToolChain, a one-stop blockchain data service platform that allows enterprise clients to rapidly build and drive digital transformation on a global scale, enabling the evolution of a trust-free and a distributed ecosystem.
VeChain Technology is a pioneer of real-world blockchain applications, with international offices in China, Singapore, Luxembourg, Japan, France, Italy, and the United States. With strong independent development capabilities, combined with the professional compliance guidance of our strategic partners, PwC and DNV, VeChain has established partnerships with many leading enterprises in various industries, including Walmart China, Bayer China, BMW Group, BYD Auto, PICC, Shanghai Gas, LVMH, D.I.G, ASI Group, etc.
Tell us a little bit about yourself and how you came up with the idea of launching VeChain.
As one of the first people to be aware about Bitcoin in China, I was unfazed and was more interested in the technology and logic behind it than the dramatic volatility of its price. My early perception of the industry at that time was that most people in the industry were technically inclined, geeky, but lacked product thinking. Back then, the industry was all about copying and forking the Bitcoin code, with minimal innovation and practicality being demonstrated. My experience and mindset as a CIO at the Louis Vuitton China responsible for driving technology with products first in the luxury industry told me that the blockchain industry lacked product-minded talents, and this was exactly my strength.
As for VeChain's development, its roots can be traced to my acquaintance with Vitalik Buterin (Founder of the Ethereum Blockchain). The discussion between the two of us led to my realization of the innovativeness and practicality of smart contract technology, which brought up the idea of VeChainThor blockchain, which later became a smart contract platform, as well as the world's leading enterprise-grade public blockchain.
What problems are you solving now?
Bring trust into every aspect of the world, especially in the worldwide initiative that benefits every human, like the global sustainability roadmap. Or to put it more simply, we want enterprises to make building blockchain applications be super easy.
Since founding, we aim to lower the barriers and enabling established businesses with blockchain technology to create value and solve real-world economic problems.  As the only commercially adopted public blockchain platform running scaled business applications, VeChain is already looking like the number 1 choice for businesses building real-world products.
I understand you have a couple of different business models. Please tell us about them.
Level 1: VeChain BaaS (Blockchain-as-a-Service) – Enterprise-level developers and professional teams who can keep Blockchain work as a service but just use it with dedicated APIs. You can choose an existing smart contract or develop a dedicated one.
Level 2: VeChain PaaS (Platform-as-a-Service) – Developers who focus on front-end business logic and look forward to have low-code development environment to realize the new business process on the back end using Blockchain. It will save lots of time and cost to start with Blockchain.
Level 3: SaaS (Software-as-a-Service) – Business users with even zero knowledge of technical development. You can directly use digital products built on VeChainThor Blockchain, which are coming from VeChain's partners like DNV, PwC, etc. with their business expertise to solve the real issue.
What is VeChain toolkit?
We call it VeChain ToolChain™, the one-stop blockchain-enabled data service platform. Our 3-layer business model, which has been explained in the last question, is based on it. Through the development of a suite of innovative tools such as Multi-task transaction, fee delegation, and VeChain ToolChain™, VeChain has been able to substantially lower the barriers to entry for businesses and developers alike.
People understand and appreciate the benefit and huge potential of blockchain technology in terms of real-world application, e.g. international trade financing, traceability of food products, etc. What are the biggest realistic challenges to overcome and solve on the way to the growth and prosperity of blockchain technology in the real world?
Just like any other technology, the value needs to be explored in a continuous way. We believe Blockchain technology can really shape the world just like the internet did in the past 30-40 years. VeChain's focus is to be an effective enabler with adequate infrastructure platform, tools, and services to enable builders to deliver more valuable transactions on VeChainThor. In recent years, the market attitude towards blockchain has changed indeed. We can see many institutions coming into the blockchain/crypto industry. We feel that more and more enterprises are seeking opportunities of using blockchain compared to early 2017/2018.
You have a background of having worked at a luxury brand company. Was it helpful to your business?
On one hand, experience as CIO of LV China has made bridging business with technology my intuition. I can quickly understand how the C-suite perceives new technology trends and what value they will pursue. On the other hand, my background and resources in the fashion industry, especially in luxury, do benefit business building in this area.
Who are the competitors ? How do you compare VeChain with other blockchain-based solution companies? What sets VeChain apart from others?
So far, we do not see any competitors in the territories of enterprise-grade public blockchains. With multiple years of enterprise delivery under its belt, VeChain has established itself as the top enterprise-grade public blockchain solution provider in the world.
What makes VeChain unique is our goal: creating business value through mass adoption with blockchain. We have made tools and services as simple as we can.
Who are VeChain's clients or potential clients? Are you interested in working or partnering with a Korean company, for example?
VeChain has been receiving business requests from clients across multiple industries, especially in luxury, automobile, food safety, and sustainability, who choose our proven track enterprise-level blockchain solutions. Currently,  we are narrowing the focuses on food safety, sustainability, and carbon. Blockchain technology is going towards the era of mass adoption and I believe VeChain is in the leading position of the market.
We have always kept the Korean market in mind. Any company with an interest in the blockchain industry can be connected with our technology and choose freely among service categories. Feel free to send your business needs to bd@vechain.com.
What are the biggest challenges in scaling your business and taking it to the next level? Is it skilled talents, money or sales, and marketing, anything you feel you are lacking now?
To the entire blockchain sector, it's still a very early time. Mass adoption needs more devoted players like VeChain.
Although there is still heavy focus on regulations and compliance in the blockchain industry, what VeChain is really concerned about is the evolving marketplace in need of maturity. For the majority of enterprise users of public blockchain, they need more upstream and downstream players to build a larger collaborative ecosystem. VeChain aims to play this critical role of making it happen.
As CEO, another major challenge I am facing is to dig and search constantly for the right talents for our company. We definitely need more.
What do you have on top of your mind for the next step and your vision for VeChain Tech?
We intend to enhance VeChain's position as a global leading enterprise-grade public blockchain as well as the layer 1 smart contract platform with the most real business adoptions.
Simply to say, I would love to see if people could live in a better world knowing or not knowing the fact that VeChain is enabling. Particularly, anyone who is interested in innovating SDG initiatives with Blockchain technology will definitely be welcomed. A circular economy on the blockchain, a.k.a. Ecological Ecosystem will be the killer pillar, emerge as the killer app, and become the tipping point of the entire industry. And VeChain will be part of this milestone.
---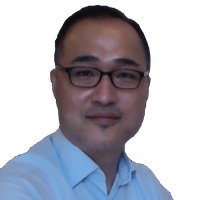 David Kim is the founder and Chairman of North Head Capital Partners based in Hong Kong.
David is an experienced CEO, seasoned banker, and global strategy professional with nearly three decades of cross-functional expertise. He worked at eight international companies and banks living in six Asian countries, during which he has successfully closed highly structured investment and financing deals for over 200 companies of various industries totaling more than $4 billion.
Prior to joining North Head, David was acting CEO at Leading Investment and Securities based in Hong Kong and Senior Executive Managing Director at W Bank based in Korea. David also worked as Managing Director and country head of corporate financing group at GE Capital Korea for seven years.
He started his career at Korea Development Bank Capital in Korea and helped to set up multiple Joint Venture non-bank finance companies and banks in emerging markets, including Nepal, Vietnam, and Thailand in the mid-1990s and also worked as CFO for MILC in Thailand. David is also a frequent lecturer at various seminars, MBA, and banks on the topics of M&A. international joint venture, and fundraising.
TechNode Global publishes contributions relevant to entrepreneurship and innovation. You may submit your own original or published contributions subject to editorial discretion.
Luni Libes of Africa Eats on impact investing and building out services to fill in business infrastructure gaps in food & agri [Podcast Q&A]