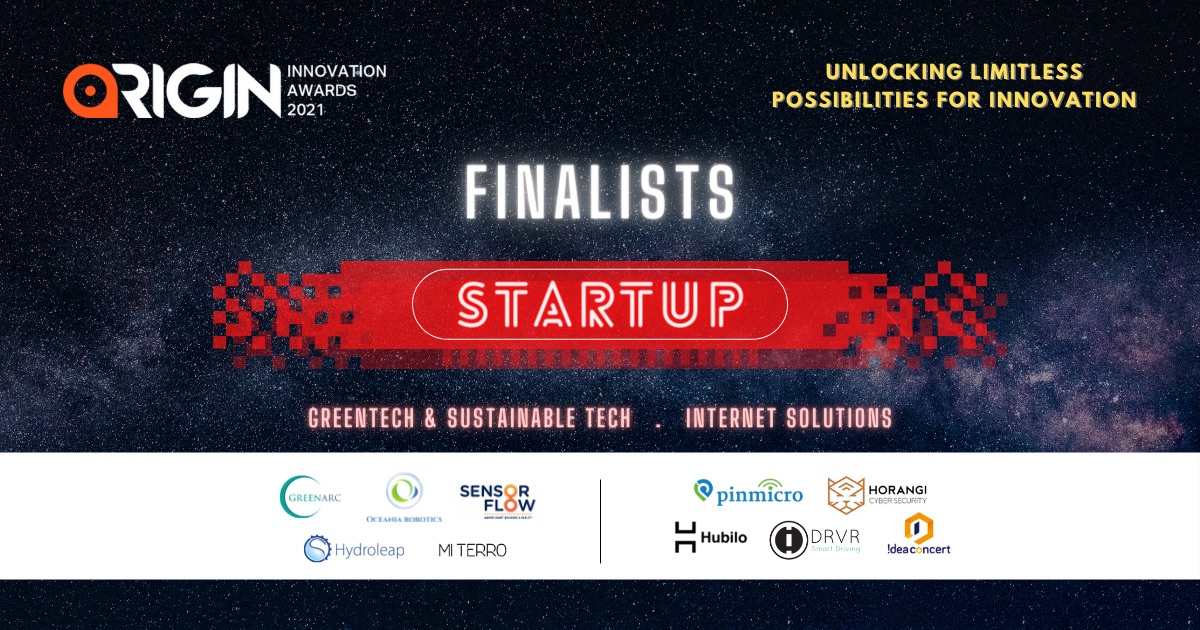 We are thrilled to announce the finalists of the Startup Finalists – GreenTech & Sustainable Tech and Internet Solutions for the second edition of the ORIGIN Innovation Awards.
The ORIGIN Innovation Awards recognizes outstanding startups, corporate innovators, and movers and shakers in the Asia Pacific region poised for growth. The awards celebrate the spirit of innovation and entrepreneurship, and also seek to inspire the dreamer in all of us.
We'd like to express our deepest thanks to everyone who participated. All the nominations are truly inspirational, and we would like to congratulate everyone for your efforts and nominations.
Nominations for the ORIGIN Innovation Awards began on June 15 and ended on September 15, 2021. The eligible nominees for the Startup Awards were put up for judging and public voting from September 16 to October 31, 2021. Final decisions about the awards were made by a committee of advisors, informed by the public voting.
Together with the all-star advisory team, TechNode Global spent close to two weeks evaluating every nomination and determining the finalists. The ORIGIN Innovation Awards advisory committee is made up of representatives from AppWorks, BeeNext, Cocoon Capital, Cyberport, Golden Gate Ventures, Gobi Partners, Innoven Capital, Kairous Capital, MDI, Qiming Venture Partners, Rakuten Capital, Sistema Asia, True Digital Park, and ZWC.
Here are the finalists for the Startup Awards category in GreenTech & Sustainable Tech and Internet Solutions:
GreenTech & Sustainable Tech
GreenArc Capital is an AI-driven impact investment FinTech helping to close the UN SDG financing gap. Specializing in private credit/lending markets with a focus on climate action and financial inclusion, it has developed an accredited impact measurement & management solution that goes a step further than ESG risk mitigation.
With the goal of tackling inequality, economic disparity, and environmental devastation, GreenArc Capital uses AI technology and big data to measure, report and verify the positive and negative outcomes of financing on society and the environment, providing an assessment of true sustainable development. Its solution aims to help financial institutions and enterprises measure and maximize the contribution of their business towards creating a positive social impact.
HydroLeap is a Singapore-grown water treatment startup backed by governmental and private VCs. It seeks to displace chemical pretreatment processes with proprietary, IoT-enabled electrical treatment technology. Hydroleap's deep technical expertise allows it to design modular electrical treatment processes and deliver end-to-end wastewater treatment systems, offering solutions that are automated, robust, cost-effective, and environmentally friendly.
Mi Terro is redefining circular economy in which agricultural waste is upcycled and engineered to replace plastic in the food, packaging, and fashion industries. Mi Terro creates sustainable and durable flexible packaging materials. It envisions packaging that can be returned back to nature after it is used, leaving no harm to the environment. Its films are home compostable, ocean degradable, and 3-5 times cheaper than other bio-based materials.
Oceania Robotics (Marine Division) is a world pioneer in providing robotics solutions in the marine maintenance industry. It designs and manufactures smart, fully-integrated solutions that help with ship cleaning and maintenance operations. The company's comprehensive suite of robots includes Curvature Bot, which can help with sand and grit blasting processes. Deployment of robots helps to reduce manpower costs and at the same time improve the workplace safety and health of marine maintenance workers.
SensorFlow makes smart energy-efficient hotels a reality. Its wireless room automation and energy management solutions are flexible, easy to install, and have provided proven energy savings of up to 30 percent per room per year. SensorFlow's goal is to make the world a greener place and develop new innovative, affordable sustainable solutions–starting with hotels.
Internet Solutions
DRVR is a company that develops solutions for the last-mile, logistics, and insurance industry, providing real-time management of vehicle fleets. It connects the vehicle fleets of Asia and aims to become the region's leading fleet analytics platform. DRVR brings the Internet of Things to fleet management, using big data analysis centered on driver behavior patterns to help businesses improve the efficiency of their fleet, reduce the direct costs of operating their fleet, deliver improved customer service, and gather critical data to help grow the business. DRVR was a winner at the ORIGIN Innovation Awards in 2020.
Horangi Cyber Security is a Singapore-based CREST-accredited company backed by a team of global cybersecurity experts in Asia and trusted by Industry Leaders such as Gojek, MoneySmart, PropertyGuru and Tiket.com. Founded by ex-Palantir cybersecurity experts Paul Hadjy and Lee Sult in 2016, Horangi Cyber Security offers the latest in product innovation and technology to protect organizations.
Horangi focuses on building partnerships with customers, developing an understanding of their business goals, and building a security strategy that helps achieve their objectives. Horangi's personnel have extensive engineering experience and a strong background in penetration testing, incident response, and strategic consulting including both large multinational networks and small organizations with focused missions. We enjoy solving tough security problems and we are eager to find new challenges and build new relationships.
Hubilo is a hybrid event platform built for engagement and event excellence. Its team of experts and platform of technological innovation help event planners and organizations across the world reimagine the future of events and navigate the ever-changing event landscape. Hubilo provides a virtual venue for organizations to provide an engaging and interactive event experience to their global audience and transform the way people connect, interact, and host events.
IdeaConcert is a creative contents lab that provides a platform for users to create and consume webtoons and comics. Through a combination of content and cultural technology, it aims to foster the feeling of joyfulness in its users. Its concept of "joyful imagination" aims to provide creators with the ability to produce fun and unique content for consumers.
IdeaConcert developed the Authoring Tool "Toonivie" to easily turn webtoons into videos. With just 40 hours of training, anyone can easily make videos. It is possible to make videos 3 times faster than the existing methods of making webtoons/comics into videos. IdeaConcert's 15 artists can create up to 120 webtoon movies every month (contents made from webtoons). In total, it has produced almost 1,200 episodes.
PInmicro is a global provider of IoT-based Real-Time Location Solutions (RTLS) that range from high-precision BLE and UWB hardware beacons to enterprise-scale cloud-native analytics. Our location intelligence solutions accelerate digital transformation across business domains including retail, education, manufacturing, event management, O2O, facility operations, and smart workspaces. A winner at the 2020 ORIGIN Innovation Awards, Pinmicro's vision is to help enhance the business performance of our customers by locating, monitoring, and analyzing resources in real-time.
---
Learn more about ORIGIN Innovation Awards here. Stay tuned for more announcements in the coming weeks.