Editor's note: This interview is part of a Q&A series with winners of the ORIGIN Innovation Awards 2020. Pinmicro is a winner in the category Startup Awards–IoT.
---
IoT, or the internet-of-things, can drive improvements and optimizations in a host of verticals, most notably in the movement of assets. Increased digitalization of logistics, for one, provides benefits like real-time tracking, telemetry, and other data-gathering.
In our earlier feature on ORIGIN Innovation Awards winners, we learned how IoT can greatly benefit operations, value-chain strategy, green initiatives, security, and even the movement of people. In this Q&A with Ravindranath A.V., Chief Executive Officer for India, EMEA, and the Americas at Pinmicro, we learn about how the company was established with a vision to "be a leader in IoT based real-time location analytics, and consistently deliver innovative, affordable solutions that will enable digital transformation for businesses globally."
Tell us about your company's background.
The management team includes Mr. Tiby Kuruvilla (Global CEO), Mr. Jayaraj T.G (Group CTO), Mr. Gijo MS (COO), and myself, Mr. Ravindranath A.V. (CEO, EMEA & Americas)–we have over 120 years of collective industry knowledge.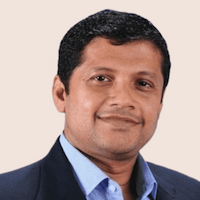 Pinmicro, the makers of assistplus, was bootstrapped out of a need to accelerate digital transformation primarily for our Japanese customers. About six years ago, when we were in the ideation phase, the industry was very nascent and indoor positioning technology was just emerging.
Hence this was a challenging time for us to conceptualize and meet customer requirements due to initial technology drawbacks. However, we pushed on, along with the parallel progress being made on technologies like Cloud and BLE (Bluetooth Low Energy), as well as our own R&D. This has ensured that assistplus has come of age as a very reliable platform ready for enterprises at scale.
Looking back, with over 500 enterprise customers who run business-critical applications on our assistplus platform, it is extremely humbling to see where we started off from. All being said, we continue to push forward with fire in our bellies and an undying aspiration to be the worlds-best RTLS platform and generate even more business value for our valuable customers.
Four years into building its assistplus platform, Pinmicro is now a 45-strong startup anchored by four key founders, who were ex-colleagues/friends/college-mates in earlier days. This ensured that the leadership team always stayed focused and committed toward charting the right direction for the company, even during its most troubling periods.
What are the three key industry challenges that Pinmicro is looking to overcome?
1. Data in motion is critical for Industry 4.0 to optimize operations in real-time. We enable this by generating real-time location data on tagged resources (men/material/machinery) using smart IoT hardware.
2. Lag Data (or historical location data) can provide powerful business insights into problem areas that can be identified and rectified leading to cost savings and improving revenues. For example, insights could be like, what is the busiest area on the shop floor, or why does asset utilization maximum on alternate Tuesdays?
3. By enabling both items above, we provide real-time access to "last-mile" location data that helps businesses accelerate digital transformation and continuously optimize operations.
How is Pinmicro addressing these challenges, and what gives you an edge?
Our assistplus solution integrates smart IoT hardware like BLE and UWB (Ultra Wide Band)  devices along with real-time cloud analytics to help businesses visualize data in motion (for operational monitoring) as well as access the lag-data (for generating business insights). Though multiple legacy platforms like RFIS have existed, typical businesses have always struggled to get this level of reliable real-time data, but assistplus make this happen at enterprise scale and create value for our customers.
Being an enterprise-scale solution, our assistplus platform can generate, process, and visualize large volumes of data accurately and quickly. Since the core of our solution depends on reliable IoT hardware, we also build and design our own IoT devices to ensure reliability and accuracy.  This makes us a unique service provider, as we own the complete end-to-end solution stack (hardware, firmware, cloud processing, and visual analytics) and can easily customize our solution to any customer-specific needs quickly.
What are the emerging trends driving innovation in IoT?
As a real-time location services provider, wireless positioning systems and related technology is critical for us to accurately locate and drive business value for our customers. To date, we have leveraged BLE technology to achieve this. However, emerging technologies like UWB will significantly change the current landscape and drive innovation in the industry. Just like GPS has created enormous innovation around location-based services, we expect emerging technologies like UWB to revolutionize indoor navigation and positioning services.
ORIGIN: How IoT and data are changing the way we work and make business decisions
Featured image credit: Pixabay