This article is part of TechNode Global's partnership with CEO Roundtable Podcast and Asian Investors Podcast hosted by David Kim wherein we publish the revised transcripts from the podcast's interviews with inspiring entrepreneurs and experienced VCs. This edited Q&A is based on the show's original transcript. For the full interview, listen to the podcast here.
---
Judy Joo graduated from Columbia University with a degree in computer science but didn't think engineering was a good fit for her, so she got a job at Morgan Stanley Bank on Wall Street and worked as a financial analyst. But she thought this too didn't fit her well, and she quit. And her choice is the world of the chef.
She became a world-famous celebrity chef by throwing away everything that others envy and choosing to spend 15 hours a day trimming spinach and shaving potatoes. People say, "Do what you want to do!" I say irresponsibly, "Do what you like," but the things I want to do and love do not usually earn me money or guarantee social honor. Judy Joo proved that if you choose what you like and want to do, you have to pay the price of sacrifice and hard work.
In 2011, Judy became the first Executive Chef for The Playboy Club in London and became a regular face on TV starring in Iron Chef UK and securing the title 'Iron Chef UK'–becoming the only female Iron Chef in the UK and the second female Iron Chef worldwide.
Tangent to that success, Judy then became a resident judge on Iron Chef America which led to her own shows: Judy Joo's Return to Korea and two seasons of Korean Food Made Simple.
In 2011, Judy became a regular face on TV, starring in Iron Chef UK and securing herself the title 'Iron Chef UK', becoming the only female Iron Chef in the UK and the second female Iron Chef worldwide. Off the back of her success in the UK show, Judy became a resident judge on Iron Chef America. Her expertise in Korean cooking led to her own shows: Judy Joo's Return to Korea and two seasons of Korean Food Made Simple. Since then she published her debut cookbook, Korean Food Made Simple, and has made regular appearances on numerous programs in the USA including The Today Show, Wendy Williams, The Talk, and various Food Network shows, and in the UK she has popped up on Saturday Kitchen, Sunday Brunch,  James Martin's Saturday Morning. Judy will also be appearing on ITV's Cooking with the Stars this week.
In 2019, in order to start a new chapter, which included the launch of her new cookbook, Korean Soul Food in October 2019, and has since launched her latest restaurant, Seoul Bird, in Westfield and Canary Wharf specializing in Korean fried chicken for which Judy is known.
How did you come up with the idea of becoming a chef and leaving your Wall Street job?
Life was too short not to follow your passion, and I was becoming disenchanted with finance. I didn't love it with my full heart but knew I wanted to be in food so decided to make the switch!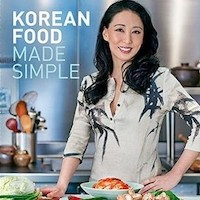 Tell us a little bit about your journey from editorial assistant to Gordon Ramsay restaurant (Maze) to Iron Chef in UK and US to Chef Patron to Jinju and to Seoul Bird.
I completed my grand diplôme at the French Culinary School in New York, now called the ICC (International Culinary Centre). However, I didn't want to work in restaurants because of the intense hours. Therefore, I started interning at food magazines and in test kitchens. I then went on to become the only intern to work in both editorial and the test kitchen at Saveur magazine.
I also worked at Slow Food USA where I started the first Slow Food In Schools inner-city project, Harvest Time in Harlem.
I then moved to London with my now ex-husband and began working at Time Out, freelancing as a food critic.
I then refocused my work from food media to the kitchen. I staged at the Fat Duck by Heston Blumenthal, Thomas Keller's French Laundry in California, Nahm in Bangkok, and worked extensively throughout the Gordon Ramsay restaurants.
Following this, I then began to get regular slots on TV, guesting regularly on Market Kitchen, a show on the Good Food channel, before an opportunity with Iron Chef UK came up. I ended up becoming the second female ever to be crowned an Iron Chef worldwide and the first in the UK.
This led to me founding and working as Chef Patron at Jinjuu restaurants (2 in London, 1 in Hong Kong), which I left in 2019.
And now I run the fast-casual Korean restaurant, Seoul Bird, with locations in Canary Wharf and Westfield Shepherd's Bush.
What were culture differences between Wall Street and a kitchen? Tell us an interesting backstory.
So they're actually pretty similar environments, but I actually wrote an article for Wall Street Journal, Out of the Fire and Into The Frying Pan—gives a pretty detailed account of the parallels between the two!
In growing Korean food restaurants overseas, what do you think is the biggest challenge?
So often, you think of London as a global city, as a melting pot of so many different nationalities, however, it's pretty astonishing how many people don't know anything about Korean food. There's still so much ignorance that surrounds Asian cuisine and I find that most people lump all of Asia together as one nationality.
The biggest challenge in opening Korean restaurants overseas is educating people on the cultural differences within Asia and explaining that each country is different with its unique culture and culinary traditions and flavors. All of Asia should not be grouped together on one plate–each country and its cuisine should be celebrated as its own.
Other than food and the taste itself, do you have anything you want to change to make Korean dishes more acceptable to non-Korean customers?
Well, I always play around with flavors and the presentation of food to make it fun, interesting, and inviting to customers.
What is your choice between scalable business and culinary arts?
Obviously running multiple 3 Michelin starred restaurants is not easy to scale, which is why I chose to launch Seoul Bird, a fast-casual concept, so I can easily spread Korean flavors around the world!
Which job do you love most, among so many things you have been doing now?
I love traveling and meeting chefs from all over the world. I love cooking abroad and learning about local traditions and ingredients
Doing TV shows is always fun, and Iron Chef has definitely been a highlight!
I also love developing recipes and writing cookbooks–creating brands and designing new spaces is also so exciting and fun.
What are your three most favorite Korean dishes?
In no particular order:
Silken tofu soup – Soondubu Jjigae
Kimchi fried rice
KFC – 'Korean Fried Chicken'
What is the business model of Seoul Bird?
Seoul Bird's long-term vision is to expand into a multi-site operation and franchise so that we can spread Korean cuisine to as many people as possible.  
What does set Seoul bird apart from other KFC (Korean Fried Chicken) brands?
What sets us apart from other Korean Fried Chicken restaurants is that we have professionally trained chefs behind the brand who are completely committed to using high-quality ingredients to produce food that tastes incredible. Everything is made fresh in our restaurants, and other KFC brands cannot attest to this same commitment to quality. On top of this, Seoul Bird's branding is hip and edgy, designed to give it a real independent feel (which we will keep as we hopefully expand!)
What is next on top of your mind? And what are your long-term goals?
I'm really into wellness, so this is definitely next on my list to explore further. I really want to spread the Korean philosophy that food is medicine.
Who is the nicest person you have ever met (except for your family)? And why?
So I'm going to have to cheat and pick two people for this one!
Chef Daniel Boulud, and Drew Nieporent, co-owner/founder of the Nobu Hotels.
They are both legends in the world of hospitality and have founded such successful global empires. However, aside from being absolutely awe-inspiring and at the top of their game, they are both so down-to-earth and humble.
Daniel and Drew are both so giving and warm.
For two people who are so busy, they are incredibly generous with their time. Their sincerity and willingness to help left such an impact on me. There is no air of pretense or ego about them.
---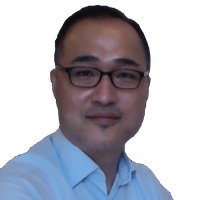 David Kim is the founder and Chairman of North Head Capital Partners based in Hong Kong.
David is an experienced CEO, seasoned banker, and global strategy professional with nearly three decades of cross-functional expertise. He worked at eight international companies and banks living in six Asian countries, during which he has successfully closed highly structured investment and financing deals for over 200 companies of various industries totaling more than $4 billion.
Prior to joining North Head, David was acting CEO at Leading Investment and Securities based in Hong Kong and Senior Executive Managing Director at W Bank based in Korea. David also worked as Managing Director and country head of corporate financing group at GE Capital Korea for seven years.
He started his career at Korea Development Bank Capital in Korea and helped to set up multiple Joint Venture non-bank finance companies and banks in emerging markets, including Nepal, Vietnam, and Thailand in the mid-1990s and also worked as CFO for MILC in Thailand. David is also a frequent lecturer at various seminars, MBA, and banks on the topics of M&A. international joint venture, and fundraising.
TechNode Global publishes contributions relevant to entrepreneurship and innovation. You may submit your own original or published contributions subject to editorial discretion.
VeChain's Sunny Lu on the future of blockchain in the real world [Podcast Q&A]