The COVID pandemic has upended many industries around the globe. For one, restrictions in movements meant that many businesses lost profitability, especially those that relied on physical operations and foot traffic. The bigger picture is that there has been economic uncertainty and slowdown in many parts of the world.
Many economies are now beginning to bounce back, thanks to the advantages that digital transformation has afforded. Physical limitations have pushed businesses toward accelerating their digital transformation efforts. This is not necessarily easy, whether for a small business or large enterprise. For small and micro-enterprises, however, technology platforms give them an opportunity to get on the digital bandwagon without having to spend a lot of resources.
TechNode Global had the opportunity to interview Agung Bezharie Hadinegoro, Chief Executive Officer of Warung Pintar Group, who said that having a focus on enhancing the ecosystem made sure that all stakeholders involved participated in multi-sectoral colalboration. He also discussed how the pandemic accelerated digital transformation in Indonesia, and how MSMEs–or warungs in particular–are able to benefit with the aim to "accelerate Indonesia's growth in the midst of a post-pandemic economic boom by empowering micro-retail businesses."
Warung Pintar is a new retail technology company that aims to transform millions of micro-retail businesses, or "warungs." Earlier this month, it officially announced the corporate move to form the Warung Pintar Group. The formation of a group company follows its significant growth during the 18 months since 2020, despite the COVID-19 pandemic. Since then, the company has achieved around one hundred times growth in terms of the number of warungs it serves, from 5,000 to 500,000. Currently, 1 from 7 warungs in Indonesia are registered in Warung Pintar Group network.
This significant growth makes Warung Pintar one of the top 3 tech companies in Indonesia catering to micro-businesses, in a market comprising 3.5 million warungs. The company, which has raised over $35 million in venture funding to date and aims to continue on its growth trajectory and serve one million warungs by end-2022.
The company's digital solutions were designed to build a strong foundation as the largest distribution channel in Indonesia and to accelerate Indonesia's growth in the midst of a post-pandemic economic boom by empowering micro-retail businesses. McKinsey estimates that over 90 million Indonesians will join the ranks of Indonesia's 'consuming class' by 2030. Digitialization will prove crucial for warungs to tap into this wider addressable market, which currently comprises 168 million people transacting $252 billion (Rp 3.6 trillion) each year.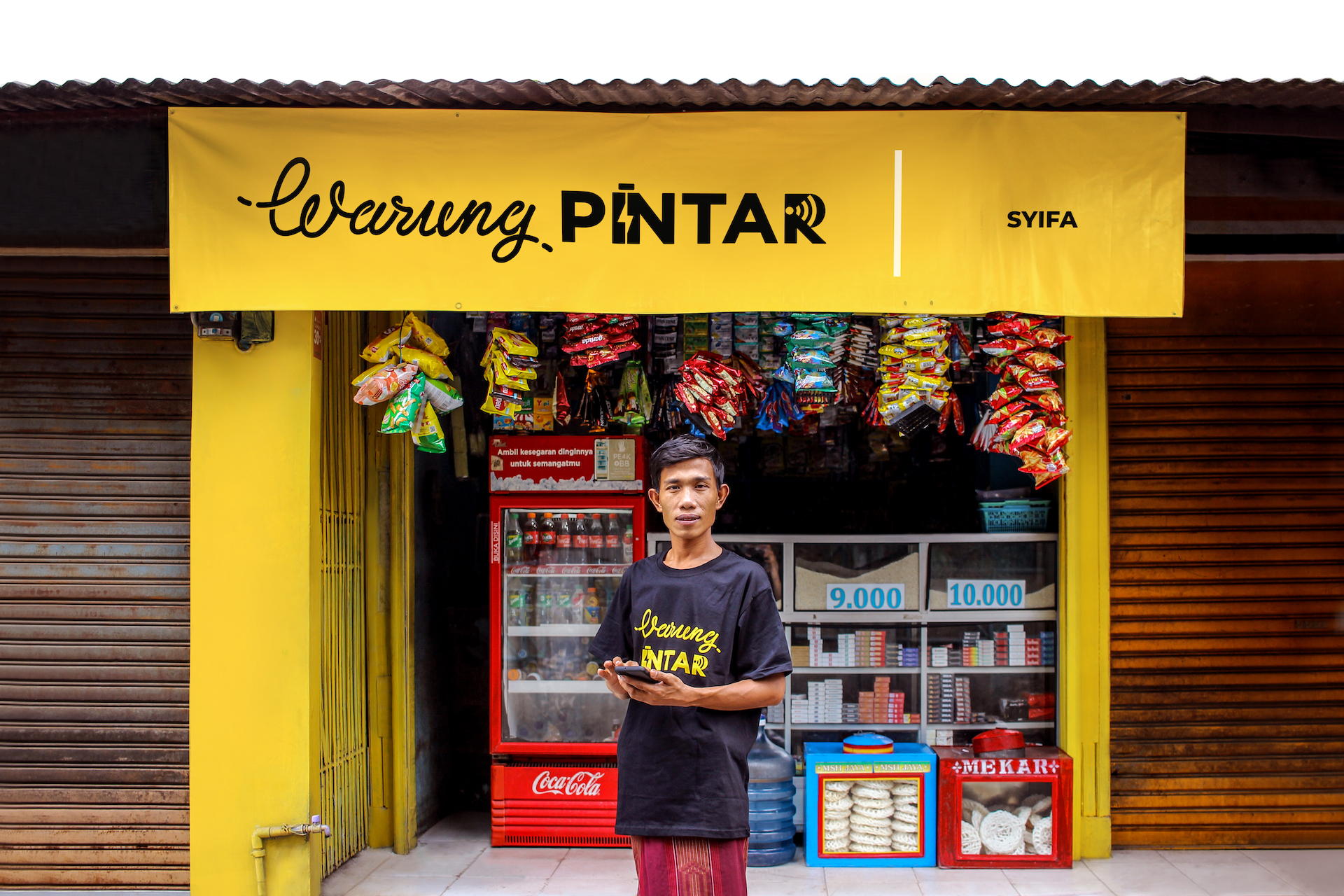 Agung co-founded Warung Pintar in 2017. He previously held an investment role at East Ventures. Based on his interest to leverage technology as a critical driver to scale and create a significant impact on society, Agung was joined by his co-founders Harya Putra, Sofian Hadiwijaya, and Christian Winata with a mission of empowering warungs, key contributors of Indonesia's retail sector. Around 74 percent ($267 billion) of Indonesian retail occurs through traditional channels, of which a large portion (60 percent) is comprised of warungs. These warungs are among the key distribution channels domestically, contributing a GDP value 4 times higher than e-commerce channels.
Here is the full Q&A.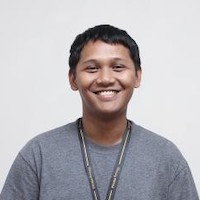 What are the trends driving innovation in the micro SME space in Indonesia and Southeast Asia?
As a company that mainly focuses on traditional channels in the retail industry, we get to know how important the supply chain is, how painful the current situation is, and how the current solution, both conventional and digital, has not met the service level that the stakeholder needs.
In Indonesia, unorganized channels still account for 74 percent ($267 billion) of retail in the country, whereas 60 percent of the unorganized sector is accounted for by warungs, also known as self-owned small kiosks. According to a Nielsen report published in 2018, there are around 3.5 million warungs in Indonesia, distributing $128 billion FMCG products to their consumers, which also shows how traditional retail channels, including warungs, still dominate the retail landscape in Indonesia.
As one of the largest distribution channels, the flow of information among stakeholders within the traditional channel is still asymmetrical due to the intransparency that arises because of the multilayered distribution process with many middlemen. This doesn't allow warung owners to know the actual selling price of products they'd purchase, while, at the same time, brands can't get the visibility of where their products are distributed.
On the other hand, there are several players who initiate various digital solutions by making warungs their target market. However, this generates a new problem because they only digitalize one stakeholder, which then impacts on ecosystem disruption and creates skeptical stakeholders that won't even bother to start adopting digital solutions.
However, to be able to provide the best digital solutions for warungs, we believe that we couldn't grow all by ourselves and solely focus on a one-sided solution. That's why we came up with the idea of Warung Pintar Group as a company that integrates all stakeholders, which includes warung owners, wholesalers, distributors, and brands or manufacturer, within our digital ecosystem, emphasizes multi-sectoral collaboration to grow the industry together, and carries out social impact within our DNA by developing the most complete solutions with extensive social values.
What are the three key challenges facing MSMEs and your other target markets in the country? Are there challenges unique to the Indonesia market?
Multi-layered processes in traditional channels, whereas FMCG supply chain in traditional retail can have up to 5 layers of intermediaries between brands and their customers, capturing 20-25% percent of value and longer distribution process to retailers.
Fragmented and asymmetric information lead to difficulties in creating data-driven strategic decisions and insignificant growth for all stakeholders.
Many technologies are trying to disrupt the market that eventually raises skepticism from stakeholders towards digital adoption.
How is Warung Pintar providing solutions to these challenges?
Warung Pintar Group provides end-to-end solutions to integrate all stakeholders within the warung business ecosystem in Indonesia, starting from warung or retailers, wholesalers, distributors, to brands and manufacturers, through our core digital products and services, which are Warung Pintar App, a demand platform for retailers to fulfill their stock from multiple sources; and other digital supply-based platforms, such as Grosir Pintar App for wholesalers; Warung Pintar Distribution, which is our own warehouse with inventory automation; and Bizzy Connect, (an integrated digital distribution platform for distributors and brands. With these comprehensive solutions, Warung Pintar Group strategically aims to support and strengthen collaborations between stakeholders in a supply chain management framework, from upstream to downstream.
The company's digital solutions were designed to build a strong foundation as the largest distribution channel in Indonesia, especially to accelerate Indonesia's growth in the midst of a post-pandemic economic boom by empowering micro-retail businesses.
How are you doing it uniquely? What is your edge or advantage over other solutions that may also be addressing these challenges?
First, while most players are focused on digitalizing one specific stakeholder in the ecosystem, Warung Pintar Group constructed an ecosystem business model. Instead of disrupting the ecosystem, we revolutionize the ecosystem and let everyone in the ecosystem be further connected. This is what underlies our purpose to become the most complete end-to-end digital solution provider in traditional channels according to the needs of every stakeholder in the ecosystem, not just one of them.
For brands or principals, they can get data and insights for their overall distribution operations from the real-time dashboard we've provided, gain access to deepen their market penetration to underserved retailers and have access to promote their products directly to retailers or even consumers.
For distributors, we accommodate them with holistic inventory visibility, demand and supply planning, as well as fleet management and integrated with salesman management solutions.
For wholesalers, they will have access to logistic service and expand their market to warungs under the auspices of Warung Pintar Group that are still within their reach.
For warung owners, apart from the digital adoption, can also have a privilege in terms of ease to stock fulfillment and management with fair pricing from multiple sources, and also financial solutions.
Second, while other players might have bigger capital or bigger download numbers, for us, the most important thing is the numbers of active users that we've acquired. We're confident we have the most active users compared to other players as we emphasized more on the problems that we're trying to solve, how we can bring real solutions that can answer warung's problems, and making sure that we're giving warungs the utmost convenient services in distributing physical products through traditional channels, not just providing them the access to sell digital products like what other players did.
How has the pandemic affected operations for MSMEs? Is the accelerated digitalization a benefit, or do you see MSMEs still lagging in terms of adoption and growth amid the economic uncertainties?
Based on East Ventures' 2021 Digital Competitiveness Index, in light of the COVID-19 pandemic, digital adoption in Indonesia has undeniably accelerated, reaching 73 percent internet penetration rate across Indonesia's 34 provinces and 25 major cities. From May 2020 to December 2020, internet users significantly increased by 25 million in 8 months, where this figure is usually achieved in 3 years. This penetration also occurs in MSMEs, including warungs, with previously 6-7 million MSMEs were connected to digital platforms, while, currently, the number reaches 12 million.
We saw this accelerated digitalization as an opportunity for MSME to grow, so we decided to lead the change. We started off by collaborating with GrabMart to enable warung owners to get new customers online. The impact of this collaboration helps to increase the average income of warungs owners by up to 50% with an average addition of 360 customers per month.
The pandemic also impacted the enthusiasm of warung owners to try the digital solutions that Warung Pintar has to offer. It began as many stalls wanted to try Warung Pintar's solutions, but their area was out of Warung Pintar's area coverage. In response to this, Grosir Pintar was born, where we collaborated with local wholesalers to accelerate expansion. This service provides access for wholesalers to carry out inventory management, reach a wider market, namely users of Warung Pintar Application, as well as to obtain convenience in terms of logistics. Not only for wholesalers, but the presence of Grosir Pintar is also a solution for warung owners, where at least 30 percent of warungs located in the alley can join and get served by Grosir Pintar. Warung owners registered on the Warung Pintar Application can also get a wider selection of goods, including local products, at more competitive prices, and, most importantly, same-day delivery services, where warung owners can just wait for their order to come right in without having to leave their warungs.
At last, but not least, we acquired Bizzy Digital. Through the acquisition, we now have an end-to-end integrated service for all stakeholders, including brands and distributors, to focus on solving major supply chain issues. In addition to Bizzy Connect, we also have a Bizzy Field Force that can be utilized to help warungs who are still having trouble in adopting the digital solutions that we have to offer by providing them assistance from our salesmen.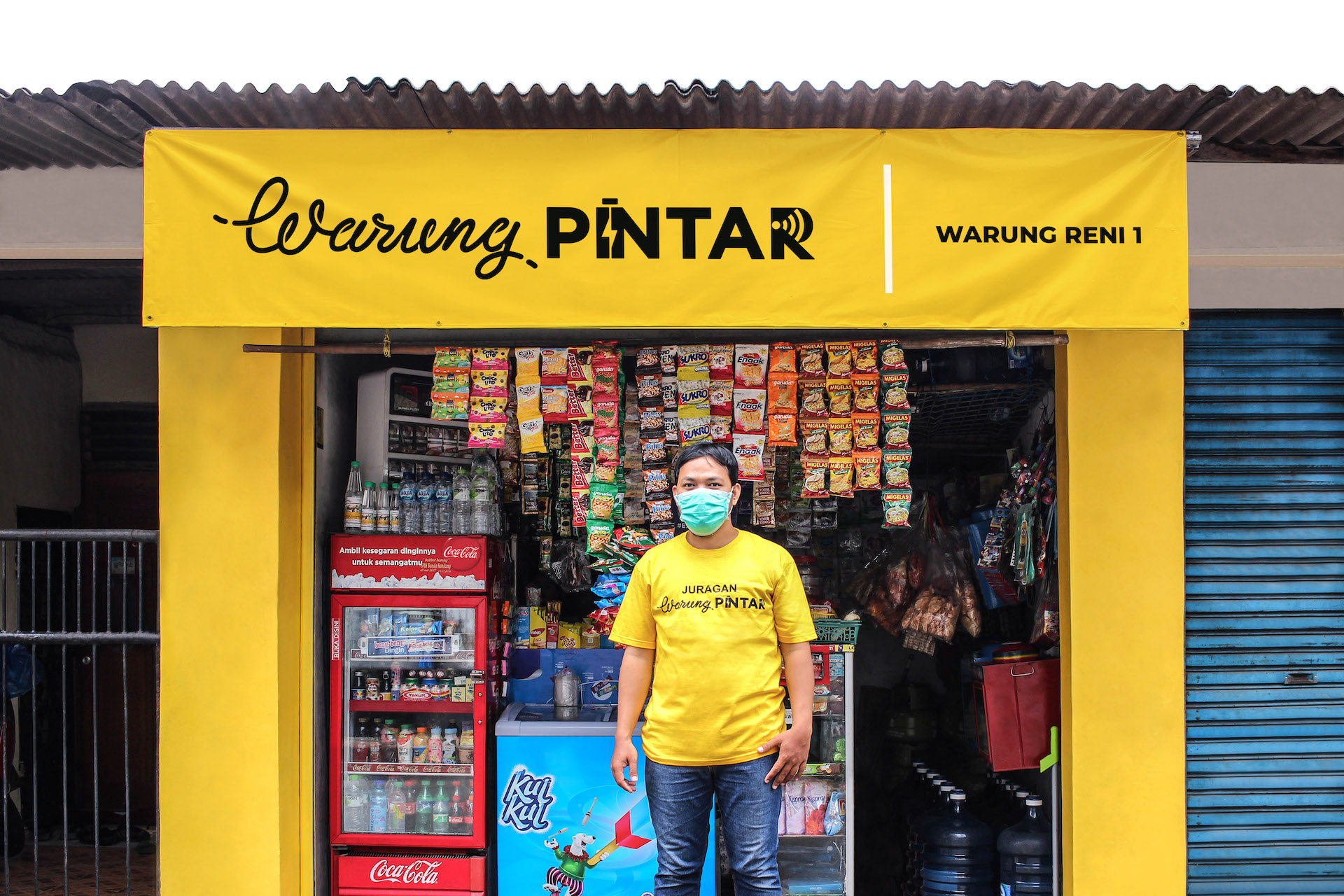 Is Warung Pintar actively fundraising or expanding? Kindly share any recent news and updates regarding these or regarding partnerships.
Warung Pintar has raised a total of $35.5+ million in funding with East Ventures, EV Growth, SMDV, Vertex Ventures, Pavilion Capital, LINE Ventures, Digital Garage, and AC Ventures as our investors. Our latest funding was raised in 2019 from the Series B round. To expand our coverage and further develop integrated digital solutions for warung owners, wholesalers, distributors, and brands in strengthening each of their positions in the general trade, we're currently in the middle of discussion with more investors.
What is your strategy for growth and market adoption in indonesia? Can this scale to other countries in the region, as well?
Creating a strong supply chain in traditional channels by integrating and building a deeper relationship with stakeholders in it. Then we make warung a strong platform to market a wider solution for the community who lived around it, such as financial services, digital payments, O2O hubs, and many more digital solutions.
Speaking of replicating our business model for other markets in the region, it would be unwise to answer this question without having enough time and effort to study other markets in the region.
How do you see the industry in the next five years?
In Indonesia, warung is not only a retailer but a digital hub – an extension to the local community, where most consumers are unbanked and lack digital touchpoints. Warung Pintar Group's purpose goes beyond the growth of micro-businesses or brands and distributors prospering, which is to impact the wider surrounding community with warungs as the main gateway to Indonesia's biggest emerging consuming class to participate in the digital economy.
Can you share your entrepreneurship journey? Any advice you can provide to other entrepreneurs and innovators?
I started to jump into the startup scene when I was a second-year undergraduate student at ITB. I began my career by doing freelance projects for local startups as a programmer and designer. I fell in love with how technology has changed people's lives in many ways.
Joined East Ventures for almost 3 years–I lead the team to develop investment strategies and oversee the opportunity for promising startups. Among my many interests, I also have a big passion for social impact. I want to leverage technology as a critical driver to scale and create a more significant impact on society and the environment. Then Warung Pintar starts the journey with a mission to transform millions of fragmented micro-retail businesses, especially warungs, to open the gate in bringing digital solutions to the rest of Indonesia.
As for advice, it's important to be a "sponge" and constantly consider yourself as a student by having a life-long learning mindset.
In terms of business, for me, building a business is about building values for other people, so I believe that it's very important to be compassionate as a leader. It's crucial to see that everyone is a human being, be it our users, partners, and team. In short, having that kind of mindset pushes me to get a deeper understanding from lots of perspectives by putting myself in other people's shoes.
At the same time, I also learned that it's important to express our vulnerability. As a leader, you might want to look strong in front of the team all the time, but, then again, you must show them that you're also learning, you're also facing a hard time, and you also need someone to give you some advice.