Editor's note: This feature is part of a Q&A series with winners of the ORIGIN Innovation Awards 2020. SyZyGy and Trabble are winners in the category Startup Awards–Internet Solutions.
---
Much has been written about how the pandemic has changed industries for the worse. A better perspective, however, would be how it is prompting industries to evolve and innovate to deal with the new normal of things.
Prior to COVID, for example, many industries held regular conferences. So has the tech startup community with annual conferences, seasonal hackathons, and regional roadshows. There had been some work done in digitalizing many of the engagement aspects of conferences for years. However, these were mostly add-on features, such as mobile apps for conference schedules, speaker information, notes, and attendee chat, and similar usage mostly to aid in physically navigating around the conference floor.
When the pandemic hit, conferences were initially canceled indefinitely. However, physical events soon gave way to virtual options with immersive capabilities. These may include augmented reality (AR) or virtual reality (VR), or a mix of certain technologies that provided a richer experience than simply watching keynotes onscreen.
A gamified virtual event platform ensures the best engagement for attendees
According to Queenie K.L. So, Co-Founder and Chief Executive Officer of SyZyGy, the industryis facing three key challenges: "Events can't be organized during COVID-19. It's hard to calculate event ROI. Event engagement isn't satisfactory," she said in a TechNode Global Q&A for the ORIGIN Innovation Awards.
To address the gaps in the events industry due to the pandemic, "Clairvo provides tech solutions for the event industry. Clairvo is a virtual event platform that allows organizing events during COVID-19," said So. SyZyGy's Clairvo is a virtual/hybrid event solution that provides event organizers with "brand-new user experiences" and data capability for their virtual events. This means the ability to customize modules based on the organiers' and users' needs, from pre-event planning to post-event management.
Bringing an event online is not as easy as it looks, however. For one, organizers will want to maximize the use of data they can get their hands on, in order to provide a better digital event experience. "Digitalizing event experience is not just bringing the event online, but also allowing all traffic in the events to be tracked and accumulated for further data analysis. This is how event ROI can be understood finally," said So.
This is applicable in both virtual and physical setting. Gamifying the event experience is one way to establish such data, to ensure that an event's engagement is adequately measured. "No matter it is a full virtual or an in-person event with a hybrid setting, digital tools like a virtual event platform are useful for improving event engagement as business matching are more convenient than ever. For remote users, there are mini-games on the platform that can be played. For on-site users, there are also hybrid mini-games such as scavenger hunt available," said So.
Beyond virtual, So highlighted how a hybrid approach can make digital events more appealing. "SyZyGy is specialized in innovating virtual and hybrid experiencing with Clairvo the virtual event platform and 'holoportation' hardware solution as the two latest signature projects."
Enhancing travel amid challenging times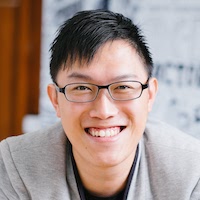 The travel and hospitality sectors have been among the worst-hit due to the pandemic. While travel is easing up in many countries, there are now changes that ensure the safety of both the travelers and anyone they may get into contact with.
Trabble's solution involves automated self-check-in and guest engagement Software as a Solution (SaaS) platform, which provides guests with a contactless experience throughout inquiries, bookings, and services, all delivered through chat. Trabble integrates chatbot, machine learning, and AI to automate and streamline business operations and unify multiple chat platforms. This results in a single platform for easy, efficient, and productive management by businesses.
This enables hospitality businesses to increase revenue channels, guest satisfaction, and operational efficiency. Trabble empowers businesses to seamlessly serve their guests 24/7 via guests' own mobile devices throughout their travel–pre-trip, check-in, in-trip, check-out, to post-trip. This minimizes physical exposure to both staff and guests while enhancing high intimate service standards digitally, to serve their inquiries, reservations, access, and concierge.
By consolidating a previously fragmented user experience, from trip planning, to check-ins, to other transactions involving the trip, Trabble minimizes unnecessary contact points, making the experience more pleasant for the user and more efficient for the businesses involved. "With strong strategic partnerships and tech integrations with fellow industry businesses, Trabble has achieved a fully automated self-check-in software that encompasses Pre-Trip to Post-Trip. We empower businesses to seamlessly better serve their guests 24/7  through chat – in a manner that is interactive, intimate, and engaging — all through guests' own mobile devices," said Ian Low Jian Liang, Founder and Chief Executive Officer of Trabble.
"This helps travel and hospitality businesses increase revenue channels, guest satisfaction and operational efficiency. We empower businesses to seamlessly serve their guests via guests' own mobile devices, hence minimizing physical exposure to both staff and guests. As such, Trabble is able to help businesses minimize interpersonal contact without compromising high service standards, while still creating a seamless experience for travelers with one-click access to our growing marketplace ecosystem."
ORIGIN: Sizzling innovations in FoodTech are enhancing taste, nutrition, and sustainability
Featured image credits: Unsplash