In this TechNode Global Q&A, Alisée de Tonnac, Co-Founder and Chief Executive Officer of Seedstars, shares on the company's 10-year journey in supporting entrepreneurship in emerging markets.
Seedstars, which started as a global startup competition, has evolved to include investing in startups, running educational programs, and creating a vast network of entrepreneurial ecosystem players. De Tonnac shared that the mission to positively impact lives in developing regions has always been a strong motivator. She emphasized that Seedstars chose to focus on these markets due to the significant potential and lack of resources. Over the past decade, she noticed a remarkable evolution in these markets with more startups creating innovative solutions to both local and global challenges.
De Tonnac identified digital transformation, a rapidly growing internet economy, and supportive government initiatives as key trends in the region. Seedstars is particularly enthusiastic about fintech, e-commerce, healthtech, and the HR and supply chain logistics sectors due to their potential for economic development and alignment with Seedstars' impact investment strategy. Seedstars' investment portfolio has expanded to over 100 companies spanning 32 countries and running hundreds of incubation programs, launchpads, and acceleration programs.
De Tonnac elaborated on Seedstars' initiatives, such as Seedstars Capital, a platform supporting emerging fund managers, and Seedstars Academy, which aims to foster tech talent. The goal of these projects is to bridge the funding gap in early-stage startups and foster a more dynamic entrepreneurial ecosystem in emerging markets. She sees a future where these markets are recognized as hubs of innovation and attract more investment. Reflecting on her journey, De Tonnac noted that despite the limited resources and infrastructure, the passion and resilience of local entrepreneurs have constantly inspired her, reinforcing her commitment to democratizing access to opportunities and resources.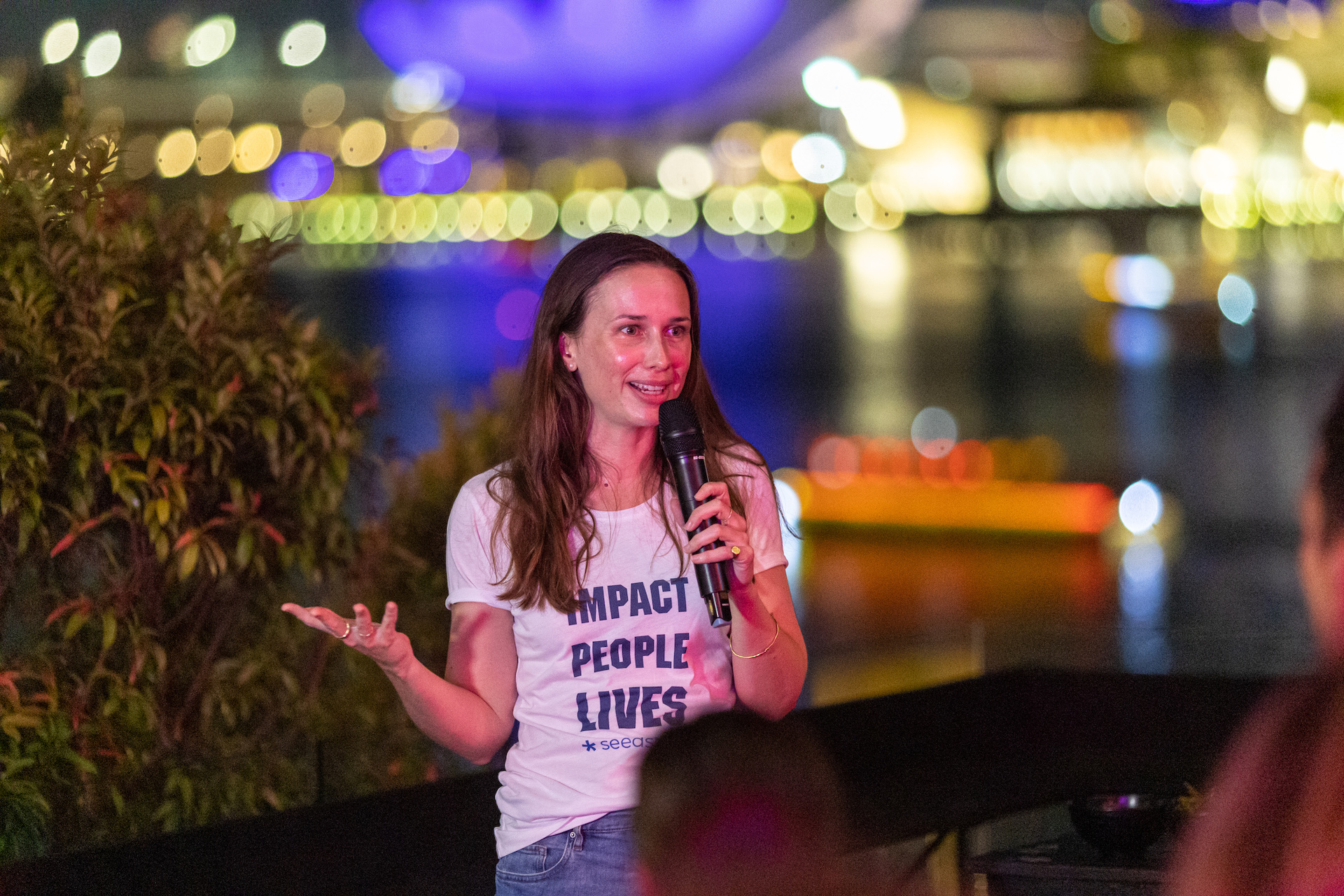 As Seedstars celebrates its 10-year anniversary, can you share a brief overview of your entrepreneurial journey in founding Seedstars?
Our journey with Seedstars started with a vision to impact people's lives in emerging markets through technology and entrepreneurship. I was previously working in a corporate role, but I felt compelled to do something more meaningful. Inspired by Eleanor Roosevelt's quote, "Do one thing every day that scares you," I decided to quit my corporate job and launch Seedstars with my co-founders.
We started with a global startup competition that allowed us to connect with innovative entrepreneurs from around the world. Over the last ten years, we've evolved from hosting startup competitions to investing in startups, running educational programs, and building a vast network of ecosystem players. The journey has had its ups and downs, but the mission of positively impacting lives has always been a strong motivator.
Seedstars' goal is to impact people's lives in emerging markets. Why did you decide on focusing on these markets?
We decided to focus on emerging markets because we saw immense potential and an opportunity to make a significant impact. We noticed that these markets often lacked the resources and support that are readily available in developed markets. Yet, they were home to incredibly talented entrepreneurs with innovative solutions. We believed that by investing in these entrepreneurs and providing them with the right support, we could drive a positive change in these regions and contribute to their economic development.
Over the past decade, how have you seen startups and emerging markets evolve?
Over the past decade, there's been a remarkable evolution in startups and emerging markets. We've seen these markets mature with more startups creating innovative solutions to local and global challenges. There's been a growing recognition of the importance of digital transformation and the role of tech startups in driving this change. Additionally, there's been a gradual increase in investment flowing into these markets, although it's still not at the level it needs to be. We're also seeing more supportive policies and infrastructure being put in place to foster entrepreneurial growth in these markets.
What are the main takeaways for entrepreneurs who want to thrive in today's global startup environment, especially in frontier markets?
For entrepreneurs looking to thrive in today's global startup environment, especially in frontier markets, I'd say firstly, it's crucial to deeply understand your market and customer needs. Secondly, think global from day one. Even if your immediate market is local, consider how your solution could scale globally. Finally, surround yourself with a strong team that shares your values and is passionate about what you do. As I often say, "Just do something that matters with cool people." This has been a guiding principle in my journey with Seedstars.
Seedstars has been an active investor in startups in Southeast Asia. Are there any trends you're seeing in the region? How does Asia compare to the rest of the markets?
One significant shift is the proliferation of digital transformation in sectors previously dominated by offline processes. This is demonstrated by our portfolio companies like Dastgyr, which is transforming retail by streamlining the supply chain for FMCG retailers and suppliers. Similarly, e-commerce is witnessing a renaissance, led by startups such as Humble Sustainability, that fuse sustainability into a rapidly growing sector. 
An exciting trend we've observed in Asia is the rise of healthtech and fintech, with startups developing solutions tailored to local needs. Consider CMED Health and MedCheck, who are using technology to address healthcare deficiencies. Simultaneously, in the financial services sector, innovations like Oraan's female-focused neo-bank are creating unprecedented opportunities.
Looking at the broader picture, Asia – especially SEA – distinguishes itself through its swift digital adoption, burgeoning internet economy, and government initiatives promoting startup growth. The record-breaking funding of $25.7 billion in 2021, up from $9.4 billion in 2020, exemplifies the region's attractive investment prospects. Notably, in 2018, the Asia-Pacific startup deal value outstripped the US, underlining Asia's emergence as a significant player in the global venture market.
Are there any industries or technology that Seedstars is particularly bullish in? Why?
At Seedstars, we've been particularly enthusiastic about several sectors that show high promise in terms of growth and align with our impact investment strategy. Our interest lies primarily in fintech, e-commerce, and retail, as we believe these areas are fundamental in driving economic development. Our portfolio companies that I mentioned like Oraan, Humble Sustainability, and Dastgyr exemplify the innovation and transformative potential we seek within these sectors.
Another industry where we see significant potential is healthtech. CMED Health, for instance, leverages AI and IoT devices for preventive healthcare, enabling users to easily track health metrics and gain proactive suggestions. MedCheck, on the other hand, offers a unique value proposition with its e-Consultation platform, serving medical specialists and providing pharmaceutical industries with anonymized data insights. The innovative work of these companies highlights the tremendous potential for transforming healthcare services.
In addition, we're also keenly watching the HR and supply chain logistics domains. We have found pioneering companies like Mindtera and MyRobin disrupting the HR sector, transforming how recruitment and workforce management operate. Similarly, in logistics, we've invested in trailblazers like Chargel and Optiyol who are driving significant advancements in the efficiency of delivery and logistics processes.
As Seedstars has grown and expanded its impact in the past decade, what are some notable achievements or milestones that you're particularly proud of?
In the past decade, Seedstars has made considerable progress and accomplished a number of milestones we're extremely proud of. Among them, our investment portfolio's expansion to over 100 companies spanning 32 countries is noteworthy. This accomplishment not only reflects our commitment to empowering startups but also our ability to identify and nurture growth across diverse sectors and geographical regions.
Moreover, we've successfully executed an extensive range of our Seedstars Programs. We've run over hundreds of incubation programs, launchpads, and acceleration programs. These initiatives from our Seedstars Programs have enabled us to equip entrepreneurs with critical resources and skills, helping them to thrive and scale their businesses.
On another front, we're also delighted with the launch of the Seedstars Capital platform, an initiative that supports new emerging fund managers globally, and our Seedstars Academy, a talent incubator focusing on coding skills and entrepreneurial education. These initiatives are significant milestones for us as they extend our impact beyond direct investment, fostering a robust entrepreneurial ecosystem in emerging markets.
Can you tell us more about Seedstars' initiatives like the platform for supporting fund managers and the plans to run more schools to incubate tech talent? What inspired these projects and what do you hope they will achieve?
Our Seedstars Capital platform for supporting fund managers was born out of the realization that there's a significant gap in early-stage funding in emerging markets. Our aim is to democratize access to funding by empowering local fund managers who understand the unique dynamics of their respective markets. We provide them with the tools, knowledge, and network they need to identify and support promising startups in their regions. So far, we've backed Seedstars International Ventures Fund I & II, Seedstars Africa Ventures Fund I, and Seedstars Uru Capital.
As for the schools to incubate tech talent, we believe in the power of education and its potential to drive change. Seedstars Academy is a transformative tech and entrepreneurship school for path-makers, problem solvers, purpose seekers, and those looking for meaningful careers in tech. Seedstars Academy follows an innovative yet proven curriculum and pedagogy. The students' journey is gamified and fully based on collective intelligence to recode learning and train future impact creators. Participants require no previous experience or degrees.
The school equips graduates with the tools and hard and soft skills to launch their own startups or to become a part of a company's growth story as mid-level software developers.
We hope these initiatives will foster a more inclusive and dynamic entrepreneurial ecosystem in emerging markets, ultimately leading to more successful startups and a stronger economy.
Looking forward, what do you envision for the future of Seedstars and the broader landscape of entrepreneurship and investment in emerging markets?
We envision Seedstars to be at the forefront of driving entrepreneurship and investment in emerging markets. We aim to expand our footprint, invest in more startups, and empower more entrepreneurs through our educational programs.
As for the broader landscape, we see a future where emerging markets are recognized as significant hubs of innovation, attracting more local and international investors. We also anticipate a stronger focus on sustainable and impact-driven entrepreneurship, as startups continue to play a crucial role in addressing societal challenges.
Finally, can you share any personal experiences or anecdotes from your journey that have shaped your perspective on entrepreneurship, investment, and making a lasting impact in the world of startups?
One of the most impactful experiences was actually filmed in our Seedstars Documentary. For our Seedstars World Competition finale back in 2018, we followed the journey of the founders from Cowtribe, an African startup that helps farmers vaccinate their animals, preventing stock loss and supporting the Ghanaian economy. Their startup won first place in the local Seedstars World Competition, which gave them the opportunity to compete in the regional and then global Seedstars Summit in Lausanne, Switzerland. They competed among 75+ others for the title of the best startup and $500K in equity investment. The team has shown and embodied what Seedstars stands for – supporting promising entrepreneurs that are making an impact. 
They are amongst the many other startups that Seedstars has had the pleasure to support in the past decade. Despite the limited resources and infrastructure, the passion, resilience, and innovative spirit of the local entrepreneurs we've come across continue to inspire us. We are always reminded that talent is universal, but opportunities are not. This has reinforced our commitment to democratizing access to opportunities and resources, and it continues to guide our approach at Seedstars.
Tech sector may be in 'funding winter' but AC Ventures sees opportunities in EV, circular economy & sustainable agriculture, says Managing Partner [Q&A]