Keyta, an Indonesian-based startup that revolutionizes the way conversational commerce operates by introducing an innovative new smartphone keyboard technology, creating a new era for key-commerce.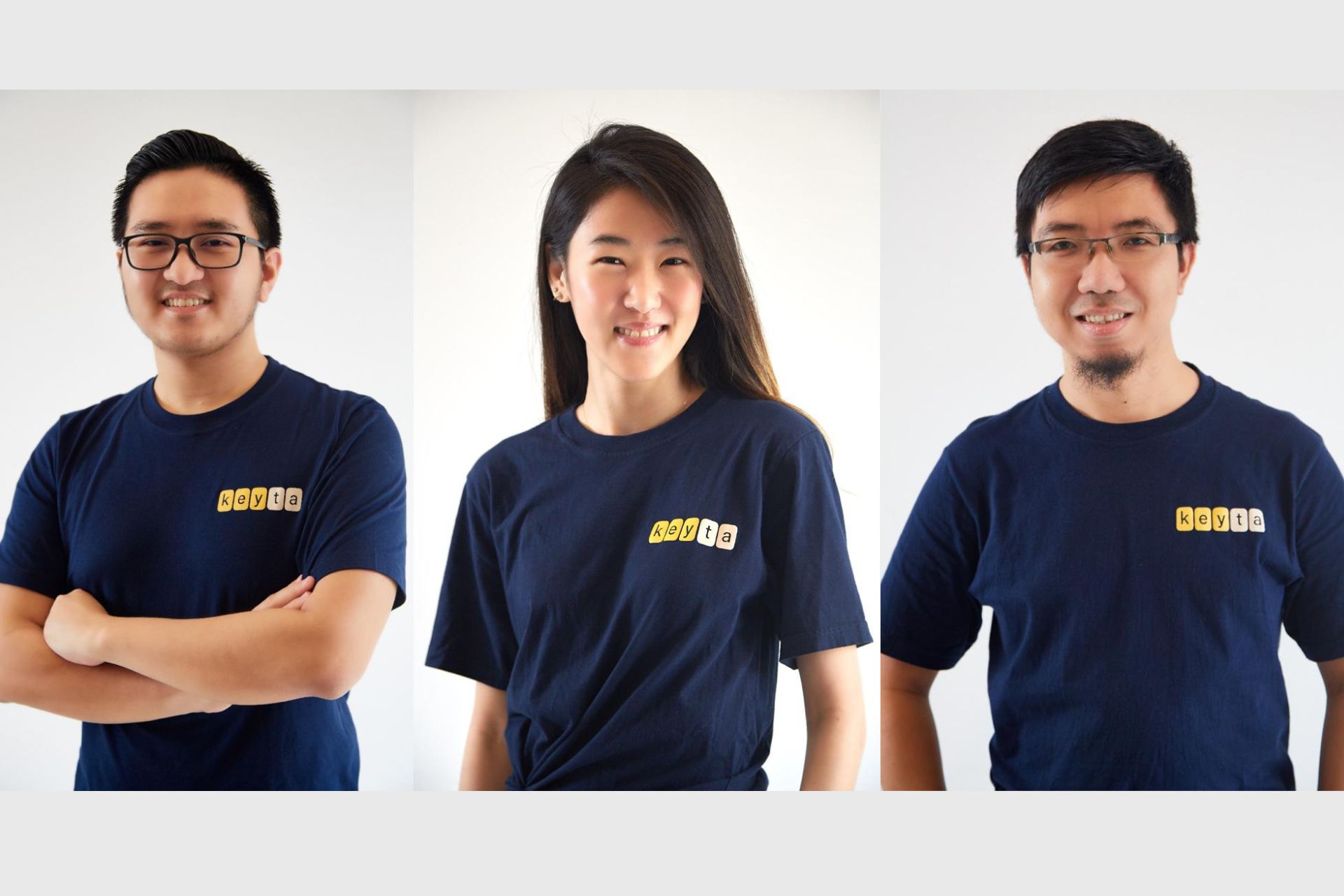 Kindly share a brief background of yourselves and Keyta.
Our startup is called Keyta (Key-Ta) and is founded by three founders who share the same vision, which is to digitalize and democratize the way social commerce works in Indonesia.
Nowadays, everyone relies on their smartphones for almost everything; to communicate daily, be it for personal or business interaction. Therefore, Keyta is built on a smart keyboard technology, which everyone is already familiar with for easier adaptation.
Keyta supports online businesses with invoice creation, transaction management, payments, and delivery fulfillments through their mobile phones' keyboard; performing these activities on whichever platforms they are servicing their customers on. This reduces the dependency on downloading multiple apps to fulfill one sales transaction. Moreover, based on our data and user feedback, Keyta has helped sellers to complete their sales transactions up to 8x faster, compared to those who are still handling their transactions manually and without Keyta Keyboard.
What are the trends driving innovation in your industry?
The change in the way consumers are preferring to communicate with businesses is the main factor in driving innovation in the Conversational Commerce industry. Consumers now expect to be able to engage in seamless, conversational experiences with businesses, similar to how they communicate with their friends and family.
Thus, businesses are seen to utilize chat platforms (like Whatsapp, Line, Telegram, Facebook Messenger, etc) and social media (like Instagram, Tiktok, etc) to engage with their consumers where they are. Moreover, the conversational commerce industry has the potential to drive more meaningful and personalized transactions between businesses and their consumers, thereby increasing customers' satisfaction and ultimately reducing cart abandonment and accelerating revenue conversion. Therefore, with this growing trend, more innovative solutions are needed to support these online businesses.
What are the three (3) key challenges you faced during the pandemic? Or would you say that the pandemic provided you with opportunities that were otherwise not available before?
We would say the pandemic is actually like a thunderstorm, in which the sun always shines after a storm. It actually brought in more opportunities than challenges during the pandemic for us. Due to the pandemic, conventional MSME businesses have started realizing that digitalizing or going online for their businesses is inevitable and becomes the only way to increase their sales. Therefore, our target market size has grown along with the curiosity of these MSME businesses in shifting online.
Moreover, Indonesia's government supported this initiative to Go Digital and encouraged many startups to educate the MSMEs about adapting to the advances of technology.
How is your company/team able to address these challenges and/or opportunities?
Due to the above reasons, we are able to ride the wave to go digital and collaborate with multiple government bodies to go on roadshows, perform workshops and hold events in the midst of the pandemic, which actually boosted our user traction and brand awareness significantly. Many celebrities have also tried to help the MSME businesses which are struggling, which gave us the opportunity to partner with a few public figures locally to further strengthen our cause to digitalize the MSMEs in order to improve their businesses.
Would you agree that sustainability is important to building successful products and services today? Why so?
We agree to a certain extent that it is important to have a sustainable product and business. At the start, we should focus more on what the user really needs and provide them with a solution that will significantly be useful and advantageous to them. The majority of the companies right now needs to be sustained in a way that they can prove that their product and/or services can be sticky to a decent size of the market; solving their economic and social problem while bringing a proven value creation to the market.
To maintain its presence in the market, the company itself needs to have a good unit of economics; since maintaining the longevity of its own internal resources has equivalent importance as maintaining its market. We believe that when the product and/or service can bring value creation into a specific market, the cost that the market will bear for the solution will be negligible to the value that they get in return.
Define impact. What role does this play in building products and services?
In our opinion, impact means solving major societal problems with measurable positive change. It definitely plays a role that the product we are building should have the right customer journey suited for the market we are trying to target. Hence, since we started this company with a vision to impact and democratize by digitalizing the MSME and social commerce market in Indonesia, we created a product that is easily comprehensible and adaptable, so as to kickstart our mission.
Please share any case studies, success stories, data, or industry insights that can highlight these.
In Indonesia, SMEs contribute to 60.5 percent GDP and 96.9 percent of labor absorption. This number has been increasing significantly (33 percent) for the past seven years; mainly driven by the growing ecosystem of commerce and technology in Indonesia. Indonesia is a consumer market with over 280 million population.
Despite the promising growth of its GDP which spikes due to the technology penetration, only 12 percent of its business has adopted the technology. Eighty-eight percent more are waiting for a value-driven solution to convince and support them to be digitalized. We believe with the right impact-driven model that we bring into the market, we can actively contribute to bringing more economic impact to Indonesia.
---
This TechNode Global Q&A is part of the ORIGIN Innovation Awards 2022 series. Keyta is a winner of the Startup Leader of the Year: Pandemic Growth Warriors award.
ORIGIN Innovation Awards 2022 winners: Startup Leaders of the Year and Corporate Sustainability Champions