TechNode Global is pleased to announce the winners of the following awards categories of the ORIGIN Innovation Awards 2022: Startup Leader of the Year and Enterprise Award: Corporate Sustainability Champions.
This year, ORIGIN Innovation Awards launched with the theme, Sustainable Innovations, Lasting Impacts. The awards focus on how innovations are making an impact on sustainable development goals.
"We congratulate the winners for their strong commitment to incorporating sustainable practices by applying innovations and technologies to the business models and operations in line with the UNSDGs. We look forward to their greater contribution to the future of sustainable development," says Stanley Chong, Director, TechNode Global.
Nominations for the ORIGIN Innovation Awards began on June 15, 2022 and ended on August 31, 2022. The eligible nominees across the 10 Categories were put up for judging and public voting from October 3, 2022 to October 28, 2022. Final decisions about the awards were made by a committee of advisors, informed by public voting.
Together with the all-star advisory team, TechNode Global spent close to two weeks evaluating every nomination and determining the finalists. The ORIGIN Innovation Awards advisory committee is made up of representatives from the following partners:
Advisors:
AC Ventures, Fuchsia Venture Capital, Gobi Partners, Kairous Capital, Ondine Capital, Vertex Ventures, and 500 TukTuks.
Strategic Partners:
Alibaba Cloud, BLOCK71, MRANTI, Tencent WeStart (Hong Kong), The Great Room Thailand, WORQ, Athena Mentor, and Tilleke & Gibbins
Supporting Partners:
Brinc, Disrupt Technology Venture, HKSTP, Lever VC, Manila Angel Investors Network, Malaysia Digital Economy Corporation, New Energy Nexus, Plug and Play APAC, REAPRA, RISE Corporate Innovation Powerhouse, RevvX Ventures, Sasin Sustainability & Entrepreneurship Center, Singapore Management University, Startup Grind, True Digital Park, TechShake, Cyberport, Techsauce, and Disrupt Impact Fund.
Here are the winners.
Startup Leader of the Year
Startup Trailblazers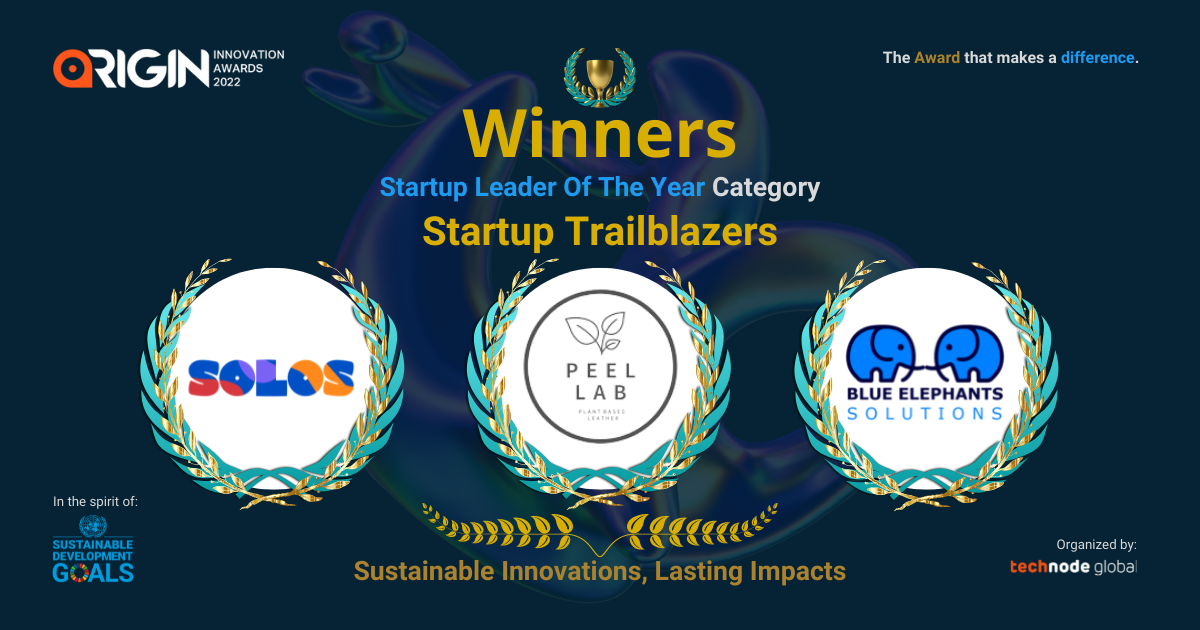 The Startup Trailblazers award is given as a well-deserved recognition to new, up-and-coming startups that emerged victorious in 2021, whilst supporting the agenda for a sustainable economy and inclusive society.
Solos
Solos empowers solo entrepreneurs to scale their businesses in a democratized and sustainable way. It is building a future-of-work platform that allows people to shift away from traditional "full-time" employment to an independent and flexible model. The goal is to triple the income of 10,000 Southeast Asian entrepreneurs and talents in 5 years.
PEEL LAB
PEEL LAB produces plant-based leather made from leftover pineapple leaves and coconut husk.
Blue Elephants Solutions
Blue Elephants Solutions is on a mission to save companies billions of dollars by making learning and development investments sustainable. Blue Elephants' products Knowledge Empire and Knowledge Gym are AI-driven knowledge retention apps that automatically reinforce relevant content at the ideal time to minimize learning time and maximize knowledge retention.
Future-Proofing Heroes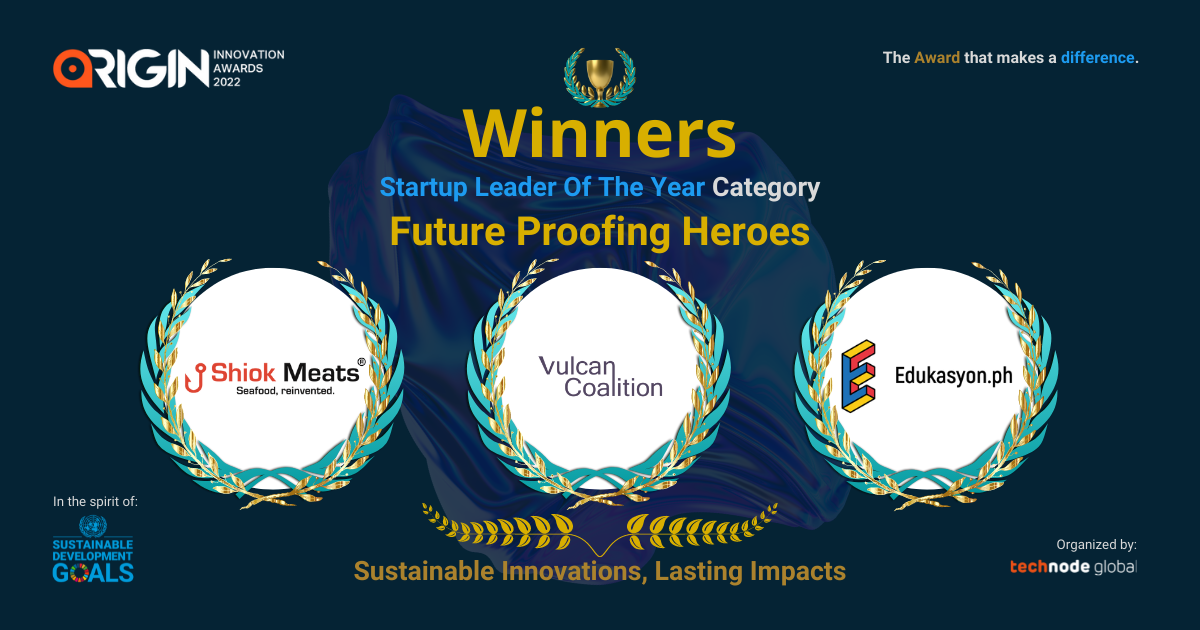 This unparalleled title is awarded to the visionaries and 'heroes' that are dedicated to creating positive impacts for our future generations.
Edukasyon.ph
Since 2015, Edukasyon has been on a mission to ensure that every Filipino learner is empowered through the experience of quality education to be successful in life through education technology.
Vulcan Coalition
The adventure of Vulcan Coalition began in 2020 when its two co-founders–one an expert in the AI industry, the other in people with disabilities (PWDs)–met and shared their experiences with each other. They both then discovered opportunities to solve the pain points of their own working fields. Nowadays, the AI industry in Thailand is lacking in data labeling workers while lots of Thai PWDs are still looking for employment. Thus, Vulcan Coalition was founded with the objective of both developing new innovative AI technologies and improving the quality of life of PWDs
Shiok Meats Pte. Ltd.
Shiok Meats' is a cultivated food tech company that aspires to future proof our food supply and strengthen our global food security. A global food tech leader, Shiok Meats shall mentor new start-ups and individuals committed to growth and sustainability in the cultivated seafood and meats space.
Pandemic Growth Warriors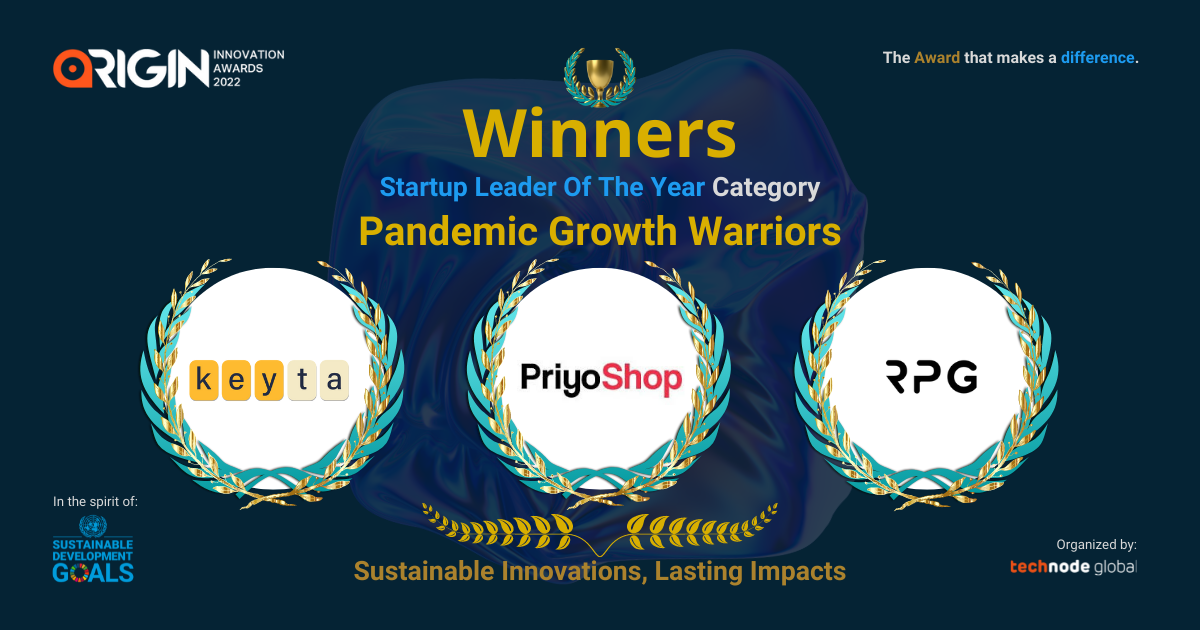 An icing-on-the-cake award for solution providers that experienced tremendous growth amidst the pandemic, the Pandemic Growth Warriors award recognizes their valuable positive contributions to humanity.
Keyta
Keyta is building the world's first complete solution for chat commerce, with an agnostic keyboard technology accessible and applicable for all individuals, ranging from personal use to businesses, to even enterprises.
PriyoShop
PriyoShop is a B2B marketplace in Bangladesh that empowers MSMEs by connecting them directly to suppliers in an attempt to fix the fragmented supply chain. PriyoShop is digitalizing B2B trade for the unorganized retail sector in Bangladesh.
RPG Commerce
Founded in 2017, RPG Commerce is a leading direct-to-consumer (DTC) social e-commerce company dedicated to building cutting-edge everyday essentials. With an in-house portfolio ranging from innovative activewear to home and living products, RPG currently carries an in-house brand portfolio of 10+ brands, including Thousand Miles, Bottom Labs, Eubi, Montigo, and Cosmic Cookware.
Enterprise Tech Superstars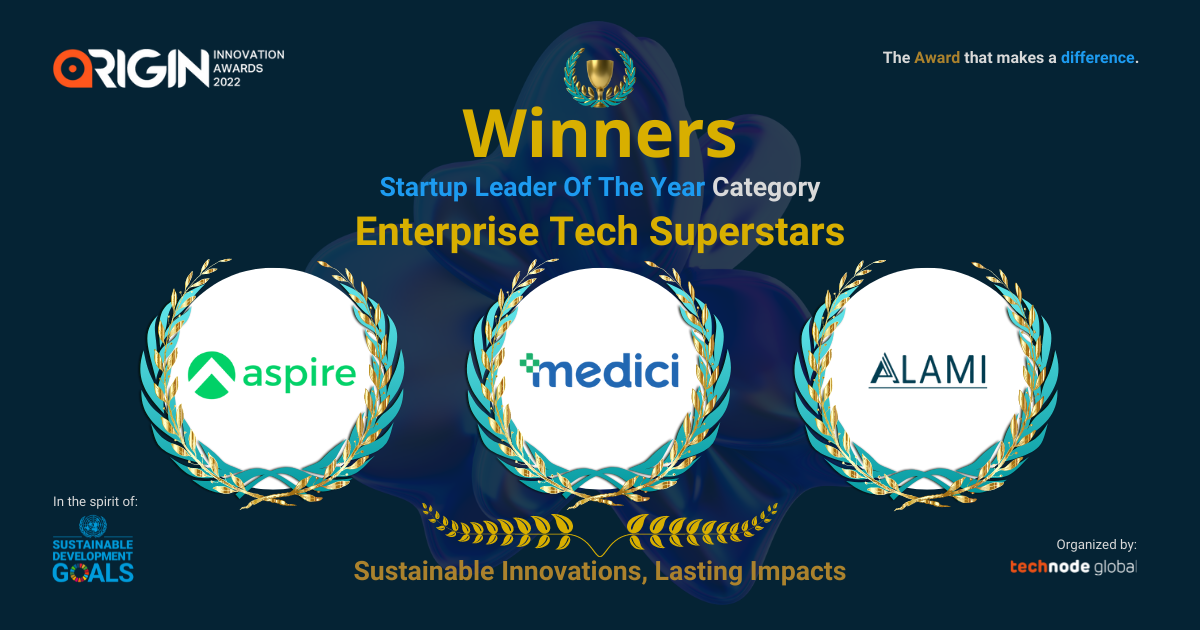 This award spotlights startups that deliver creative and innovative solutions for supply chains and other businesses. Bonus points if the solution aids enterprises to improve their SDG commitments.
Aspire
Aspire is focused on serving new-age businesses that are operating in the modern era and need better, and more digitally connected solutions, to their modern workflows. These businesses normally rely on digital software for their end-to-end, and this is where Aspire comes with its all-in-one account, to help them manage all their business finances in one place.
Medici Vietnam
Medici is well-positioned to fill the stark gap in the Vietnam insurance and healthcare market of Vietnam, where there's a relatively low 1:1,000 doctor-to-patient ratio and 2.8 percent insurance penetration rate. In the past year, Medici has grown to be the leading InsurTech player in Vietnam, owning a network of tech-enabled agents and 35 offices across Vietnam. Medici also has grown a unique in-house doctor influencer network, with partnerships with over 50 hospitals and clinics for health screenings, a drugs, and supplements marketplace, and over 100,000 e-health profiles documented on its platform.
ALAMI
ALAMI runs a Sharia-compliant Peer-to-Peer Lending platform since 2019 and has disbursed a total of $230 million, of which $8.7 million has been disbursed to fish farmers. Its Non-Performing Loan rate is at 0 percent.
Smart City Idols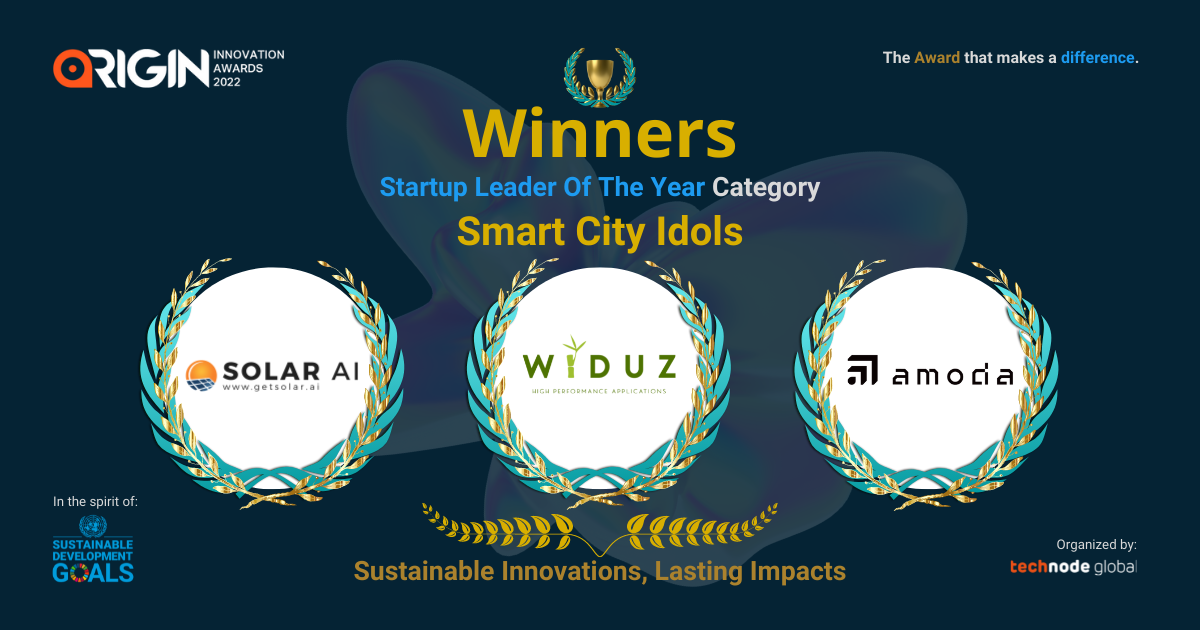 This 'public service' award acknowledges startups and entrepreneurs that relentlessly leverage technology to deliver solutions that upgrade our living environment and city infrastructure.
AMODA
The conventional construction techniques that have existed for the last 120 years have been the continuing driver of why the sector is filled with inefficiencies. Ninety percent of projects experience cost overruns, and 70 percent encounter schedule overruns. Nearly 50 percent of the time is used to fix mistakes, look for project data, and manage conflict resolution. Through AMODA's tech-enabled property management and construction solutions, it provides increased productivity and transparency in the real estate market by making cost-effective, sustainable, time-efficient, and flexible construction accessible to everyone.
Solar AI Technologies
Solar AI Technologies is a Singapore-based, digital-first solar company with a mission to provide all property owners with access to zero upfront cost solar. Currently, around 85 percent of property owners don't have access to zero upfront cost solar offers, hindering higher solar adoption rates.
Widuz
Widuz has developed a patented process to transform bamboo, one of the world's fastest-growing plants and a highly renewable resource, into a high-performance biocompatible composite named BVL™ (Bamboo Veneer Lumber) for applications within the construction industry. BVL™ is 3 times stronger than timber, and unlike timber, it is not susceptible to any decay or degradation. It is also lighter, stronger, and more sustainable than timber.
Web3 Disruptors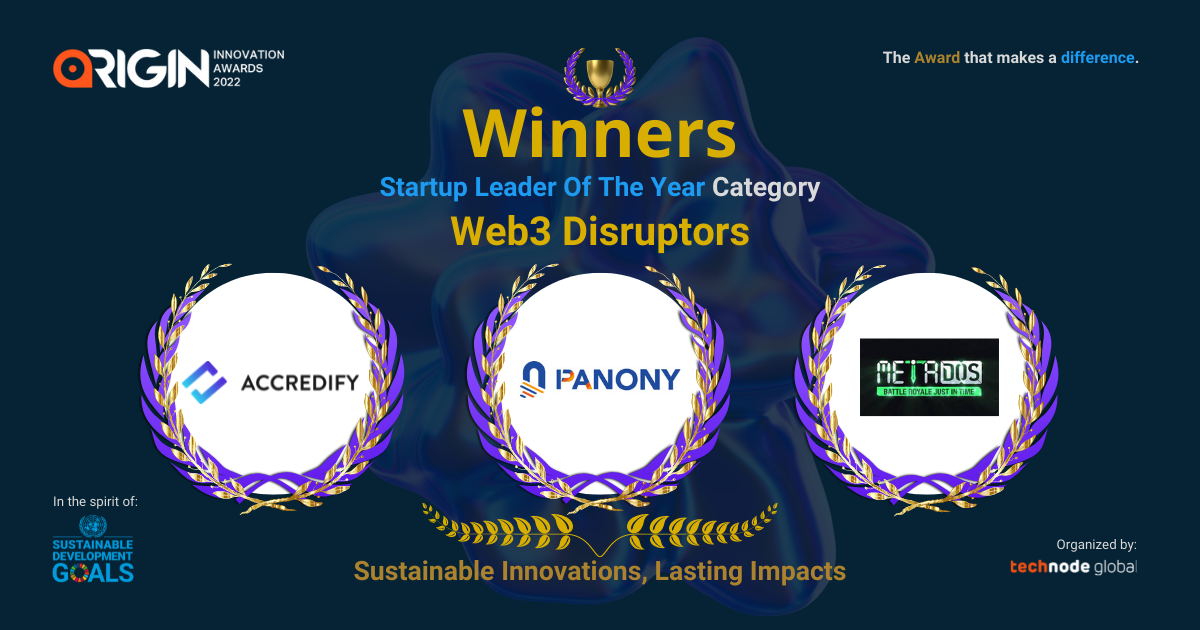 We give a royal salute to the risk-takers that boldly venture into the Web 3.0 era companies or startups that are able to showcase significant real-world use-cases for the leap from Web 2.0 to the new 3.0.
PANONY
Panony invests in blockchain projects worldwide, assisting 200+ startups worldwide with effective go-to-market strategies for successful launches and consults with Fortune 500 companies for integration and expansion into the industry, spanning the entire spectrum of the blockchain industry from solution providers and exchanges to public chains, protocols, and DApps.
Accredify
Accredify's vision is to build a trustless future through pioneering the transformation of our world into a global village interconnected by verifiable data–a future where the trustworthiness of any education credential, professional resume, business report, and everything else in between, would be a given. Accredify's mission is to accelerate the world's adoption of verifiable credentials by enabling secure ways of sharing trusted information at every stage of a person's life.
MetaDOS
MetaDOS is the first battle royale that adopts blockchain technology. This would make the game satisfying to the mass players (traditional players and crypto gamers).
Enterprise Award: Corporate Sustainability Champions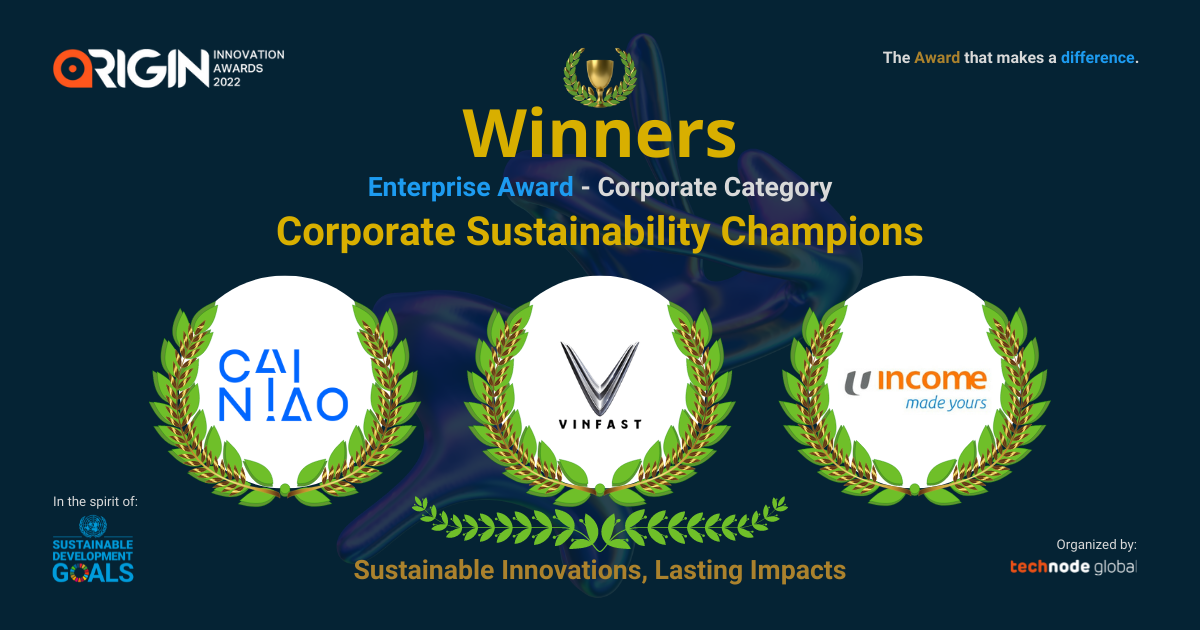 The Enterprise Award is an accolade to recognize multinational corporations or domestic business leaders for their exemplary efforts to incorporate Environmental, Social, and Governance(ESG) practices in their businesses in line with the UNSDG.
VINFAST COMMERCIAL AND SERVICES TRADING LIMITED LIABILITY COMPANY
VinFast is drastically driving the future of smart mobility with the ultimate goal of giving more people the opportunity to go electric by making EVs smarter and more accessible.
Income Insurance Limited
Income Insurance Limited first launched an innovative, industry-first lifestyle-based insurance proposition that revolutionizes how consumers engage with, purchase, and obtain insurance in Singapore, known as SNACK in June 2020. SNACK has expanded its proposition in the last two years, with the aim of making financial products more accessible through its suite of offerings. SNACK was first launched to allow users to gradually stack their insurance coverage for Term Life, Personal Accident, or Critical Illness by paying micro-premiums at either $0.30, $0.50, or $0.70. A micro-policy is issued when a micro-premium is paid, covering the insured for 360 days. Users can decide when and how frequently premiums are paid by linking them to their preferred lifestyle triggers, such as shopping, dining, or taking public transport.
Cainiao Network
Cainiao began efforts to drive sustainable development since it was founded in 2013. The company has been proactively introducing new innovations to deepen sustainability initiatives along the value chain and within the logistics and supply chain ecosystem, together with its partners and customers. Cainiao's nuanced green logistics framework encompasses the entire value chain, comprising communities, recycling efforts, delivery services, packaging, and logistics parks, all of which play crucial roles that contribute to a greener logistics and eCommerce ecosystem.