According to Stephanie Ping, Founder and Chief Executive Officer at WORQ Coworking Space, community is essential to driving innovation, since it is within a community where innovators share knowledge, resources, and ideas.
"WORQ's vision is to create a world where people and community prosper by working together. We are creating the largest and most productive coworking community by taking care of all your workplace needs and facilitating a deeper connection.  Every inch of space we design, and every community event curated has this in mind," she says in a TechNode Global Q&A.
A winner at the Best Community Builder category at the ORIGIN Innovation Awards in 2021, WORQ is a productivity community and large-scale co-working space located in Kuala Lumpur. WORQ's investors include Cradle Fund, an agency under the Malaysian Ministry of Finance; SMG, an investment holding company co-founded by the founding partner of Jungle Ventures; 500 Startups through its subsidiary 500 Durians LLC, a global venture capital fund; and other private investors.
WORQ builds ecosystems that bridge the gap between traditional and digital–from early-stage start-ups to investment-ready businesses and SMEs. As entrepreneurs, the WORQ team knows how tough and lonely the journey can be, so the team aims to create an environment to go through it together.
"We're proud to call ourselves a productivity community – we believe that by improving the productivity of entrepreneurs, freelancers and businesses we can have a significant impact on the economy," says Ping. "On top of that, we believe in the power of leveraging networks, embracing diversity, and most importantly, the impact of genuine and lasting human connection."
What are the trends driving innovation in the Asia Pacific region today?
Access to capital has boomed. VC investment in the region has hit new heights, especially with the establishment of new funds that target the region's most innovative companies. The availability of financing especially Growth Capital has accelerated the ability of innovators to scale up their business rapidly and expand regionally.
The success of startups such as Grab, Didi, Gojek, Carsome, Lalamove, AirWallex, Coupang to name a few, have shifted the attention of venture capitalists in terms of their geographical focus. The ability to access growth capital allows companies with good unit economics to expand their reach and advance their products/services.
Access to talent and education. With the advent of remote working & the facilitation of online learning, a bridge has been established between employers and a fresh new source of global talent. Innovators can now tap into a foreign pool of talent to plug any existing skill gaps within their companies, whilst developing human resource strategies to sustain the internal growth of long-term capabilities.
Advancement of IT infrastructure in the region. This includes cloud computing, data centers booming in the region, and the race of 5G to drive innovations in the region to improve the quality of life. These are critical to support remote working, education, and streaming services. 
What are three key challenges that startups or innovators face in this post-pandemic environment?
Change in consumer behavior. The consumption of physical space be it from the standpoint of workspace or even leisure space (airbnb) has evolved, with the changes that occur to general physical mobility. I think startups within those spaces are fundamentally reevaluating their business prepositions to adapt to the post-pandemic behavior exhibited by consumers. Apart from e-commerce players, other innovators have had to adapt their methods of engaging with their clients.
Change in Employee behavior and needs. The priorities in work-life balance and need for flexibility in terms of how and where work is being done have changed post-pandemic. The time saved from daily transits calls for a flexible work arrangement and change of work policies.
Cash-flow volatility. The pandemic has created a financial strain on a wide variety of industry players, resulting in longer receivable days for businesses. Also, businesses have had to shrink their capacities during the pandemic to deal with resource constraints. Innovators have had to deal with suddenly increased elasticity in demand and also B2B players have had trouble forecasting next quarters' business activity and needs.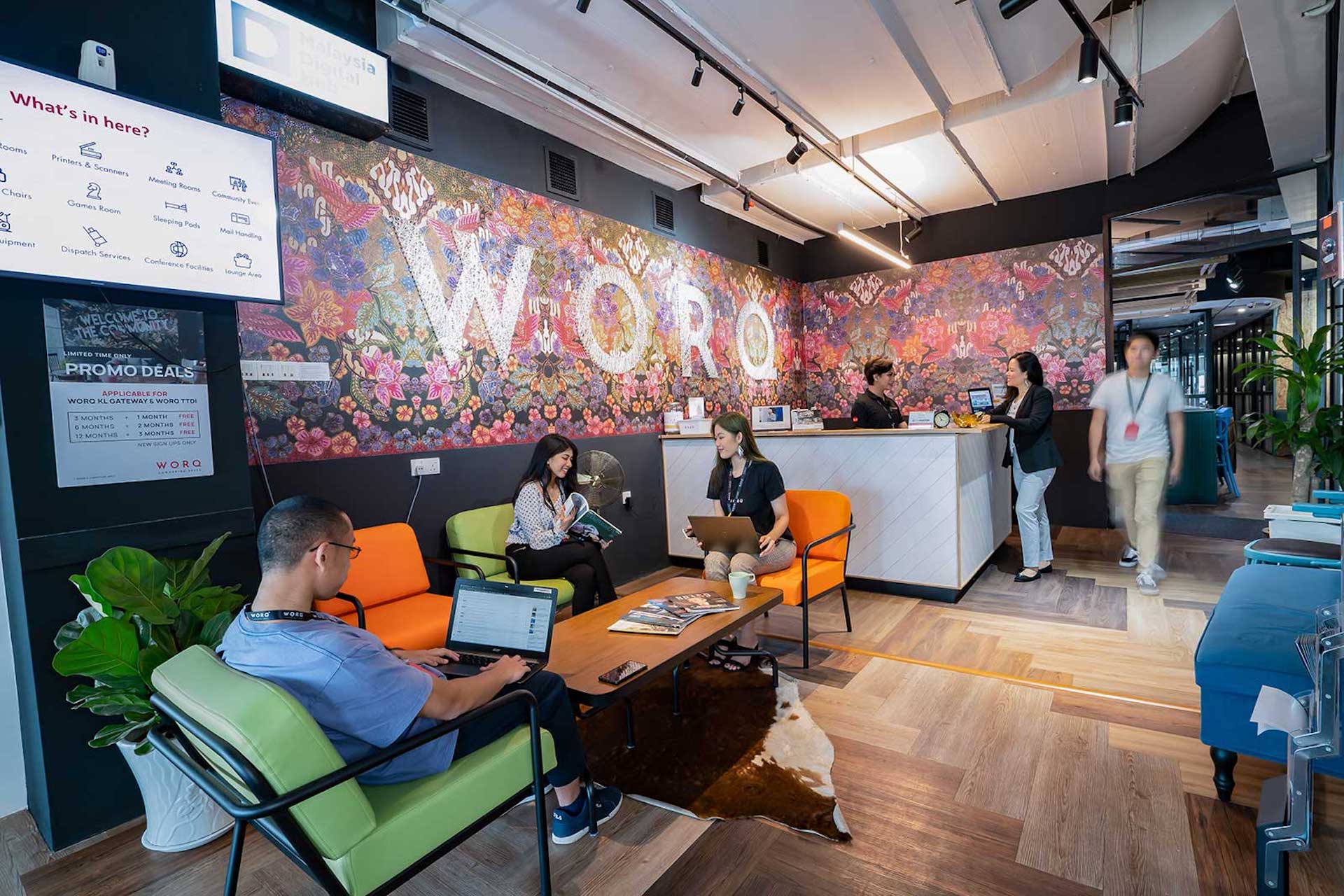 Kindly share WORQ's strategies in addressing such challenges or enabling your portfolio companies or community partners to navigate these.
Innovate and develop our products based on market demands — e.g., Flexi Team Solutions — to help businesses reduce cost on infrequent use of office space and optimize spending to only pay for what they use when they use it;
Established our WORQ Enterprise team — providing consulting services to organizations on how to manage their REs;
Continue to build our business community where businesses can leverage and support one another;
Extending the physical community to the digital space with SPARQ app. SPARQ app acts as a digital community manager that works 24/7 to connect people with opportunities to collaborate. People need to connect with each other and rely on each other to address their immediate business needs. Having a support system is crucial so that innovators can leverage each other's strengths to plug gaps that exist because of a lack of resources.
What is the impact of community on innovation?
Community is crucial to driving innovation because it is in a community, we share knowledge, resources, and ideas.
In order for an idea to break through, it needs to collide with another idea or hunch that is in someone else's mind. A community that cultivates and encourages the exchange of ideas helps to give birth to breakthrough ideas.
A community also acts as a soundboard on strategy and direction. This allows businesses to cut short their learning curve and reduce mistakes.
You get to achieve greater results when you leverage on community. Never underestimate the power of community workstyle as you tap into the community network for a pool of talents and know-how.
With the establishment of trust and open communication in the community, it drives better ideas which are crucial in innovation.
Can you share some interesting data or case studies from your portfolio or partners that are a good example of how technology can bring about impactful change amid today's business environment?
WORQ's digital community app — SPARQ App — was born during the pandemic. It is the result of our community collaboration, designed to catalyze collaborations and opportunities in the Malaysian gig economy. Through its smart matching system, it is able to match users with the right connections to spark a conversation for potential collaborations.
One of our super member — Appleseed — has launched CloudTheatre (an online ticketed streaming platform for theatres) is also another good example of how technology innovates and overcome the challenges faced. Their hard work is recognized as they are the winner of TechNode Global's ORIGIN Innovation's Startup Awards – Media & Entertainment category last year.
Makan For Hope connects entrepreneurs, investors, innovators & industry leaders to support and inspire each other in the spirit of giving back [ORIGIN Innovation Awards Q&A]