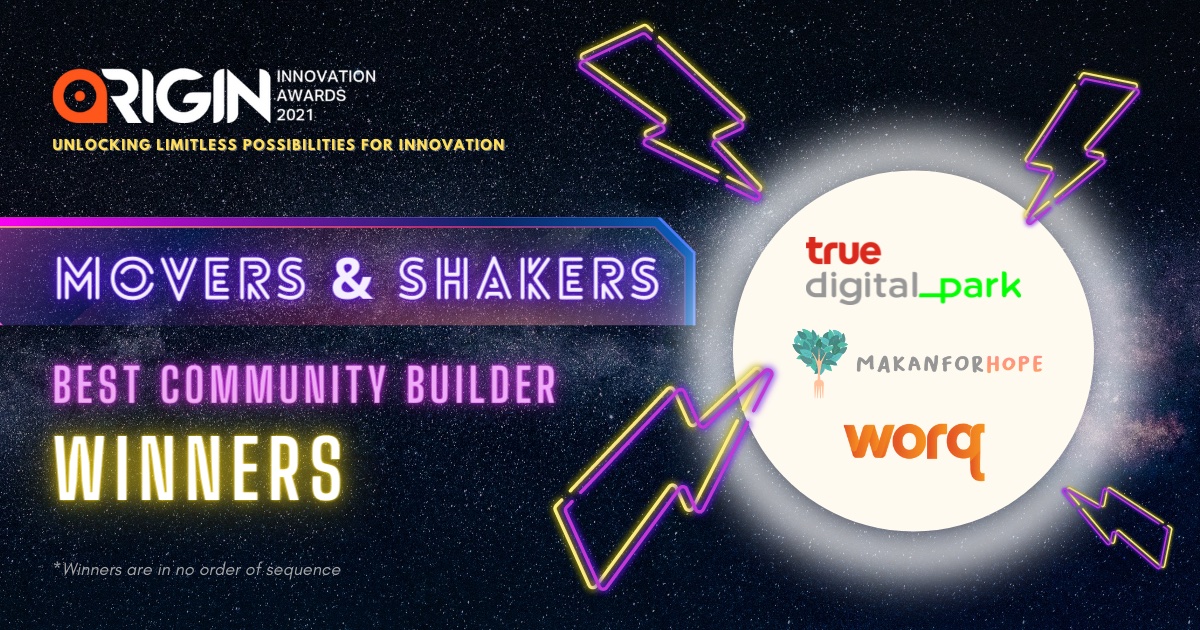 We are thrilled to announce the winners of the Best Community Builder for the second edition of the ORIGIN Innovation Awards.
The ORIGIN Innovation Awards recognizes outstanding startups, corporate innovators, and movers and shakers in the Asia Pacific region poised for growth. The awards celebrate the spirit of innovation and entrepreneurship, and also seek to inspire the dreamer in all of us.
We'd like to express our deepest thanks to everyone who participated. All the nominations are truly inspirational, and we would like to congratulate everyone for your efforts and nominations.
Nominations for the ORIGIN Innovation Awards began on June 15 and ended on September 15, 2021. The eligible nominees for the Startup Awards were put up for judging and public voting from September 16 to October 31, 2021. Final decisions about the awards were made by a committee of advisors, informed by the public voting.
Together with the all-star advisory team, TechNode Global spent close to two weeks evaluating every nomination and determining the finalists. The ORIGIN Innovation Awards advisory committee is made up of representatives from AppWorks, BeeNext, Cocoon Capital, Cyberport, Golden Gate Ventures, Gobi Partners, Innoven Capital, Kairous Capital, MDI, Qiming Venture Partners, Rakuten Capital, Sistema Asia, True Digital Park, and ZWC.
Here are the winners for Best Community Builder:
Makan For Hope is a not-for-profit initiative by Asia Startup Network, a community of Southeast Asian founders, inspiring and supporting each other in our fundraising and startup journey. Makan For Hope is started by Elise Tan and Andrew Tan in 2021. Asia Startup Network is about helping impactful early-stage Asia-based tech startups grow quickly and expand overseas and amplify their positive impact in the world.​ Currently, ASN is making that happen through two not-for-profit initiatives: Makan for Hope and Mentor for Hope.
True Digital Park is Southeast Asia's largest tech and startup hub, spanning over 200,000 sqm. The park is a critical driver for the development of the startup and innovation ecosystem in Thailand. All under one roof, startups, entrepreneurs, tech companies, investors, accelerators, incubators, academics and government agencies co-exist in our interconnected ecosystem.
Situated in the East of Bangkok – right off Punnawithi BTS Station and located in the emerging Bangkok CyberTech District (Innovation District), the park gives vast expansion opportunities across digital domains and geographical spaces.
True Digital Park covers a space of 43 rai separated into three main areas: Work Space, Lifestyle Space, and Living Space that meet all digital lifestyle needs. Under the concept of "One Roof – All Possibilities", True Digital Park combines space for work and daily life within one integrated community.
WORQ is a productivity community and large-scale co-working space located in Kuala Lumpur. WORQ's investors include Cradle Fund, an agency under the Malaysian Ministry of Finance; SMG, an investment holding company co-founded by the founding partner of Jungle Ventures; 500 Startups through its subsidiary 500 Durians LLC, a global venture capital fund; and other private investors.
WORQ builds ecosystems that bridge the gap between traditional and digital–from early-stage start-ups to investment-ready businesses and SMEs. As entrepreneurs, we know how tough and lonely the journey and can be, so we aim to create an environment to go through it together.
---
Learn more about ORIGIN Innovation Awards here. Stay tuned for more announcements in the coming days.