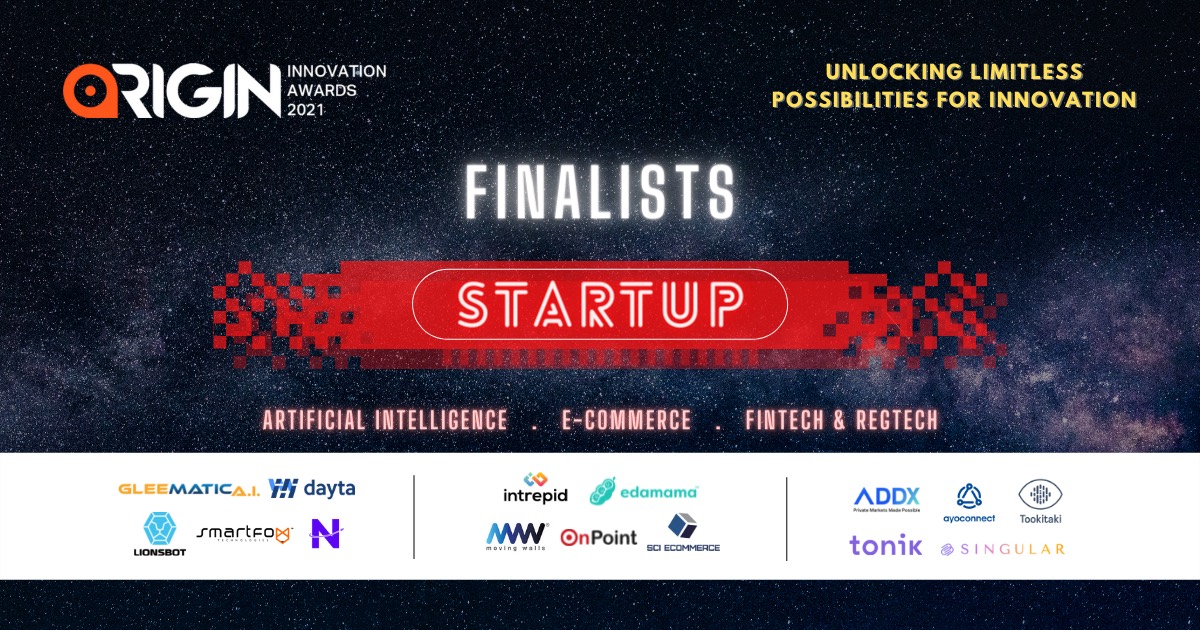 We are thrilled to announce the finalists of the Startup Finalists – AI, E-commerce, FinTech & RegTech for the second edition of the ORIGIN Innovation Awards.
The ORIGIN Innovation Awards recognizes outstanding startups, corporate innovators, and movers and shakers in the Asia Pacific region poised for growth. The awards celebrate the spirit of innovation and entrepreneurship, and also seek to inspire the dreamer in all of us.
We'd like to express our deepest thanks to everyone who participated. All the nominations are truly inspirational, and we would like to congratulate everyone for your efforts and nominations.
Nominations for the ORIGIN Innovation Awards began on June 15 and ended on September 15, 2021. The eligible nominees for the Startup Awards were put up for judging and public voting from September 16 to October 31, 2021. Final decisions about the awards were made by a committee of advisors, informed by the public voting.
Together with the all-star advisory team, TechNode Global spent close to two weeks evaluating every nomination and determining the finalists. The ORIGIN Innovation Awards advisory committee is made up of representatives from AppWorks, BeeNext, Cocoon Capital, Cyberport, Golden Gate Ventures, Gobi Partners, Innoven Capital, Kairous Capital, MDI, Qiming Venture Partners, Rakuten Capital, Sistema Asia, True Digital Park, and ZWC.
Here are the finalists for the Startup Awards category in AI, E-commerce, FinTech & RegTech:
Artificial Intelligence
E-commerce
FinTech and Regtech
---
Learn more about ORIGIN Innovation Awards here. Stay tuned for more announcements in the coming weeks.