Malaysia central bank said on Thursday it is working with relevant authorities and others to address growing concerns related to buy now, pay later (BNPL) schemes.
"While the BNPL schemes do not currently fall within the purview of Bank Negara Malaysia, we are working with the relevant authorities and others to address growing concerns that such schemes may encourage you to spend on borrowed money that you may not be able to repay," Bank Negara Malaysia said in a post on its Linkedin page.
Meanwhile, it is important for individuals to understand the terms and conditions of the BNPL schemes, and to not take debt that they cannot afford, the regulator warned.
Bank Negara noted that BNPL is typically marketed as "no interest" but includes charges that can quickly add up (e.g processing or late payment fees). The regulator also reminded the public to pay installments in full and on time to avoid penalties and keep track of their BNPL commitments "as it is easy to overspend."
Southeast Asia super app Grab and Sea Ltd's e-commerce platform Shopee have started providing BNPL options in Malaysia. Advance Intelligence Group's Atome, Pine Labs' Fave, Allectus Capital-backed Hoolah, 500 Startup-backed Split are among the startups that provide such services in the country.
The central bank also told that the public that if they are in need of financial advice, they can engage the Credit Counselling and Debt Management Agency (AKPK), an agency set up by Bank Negara to help individuals take control of their financial situation.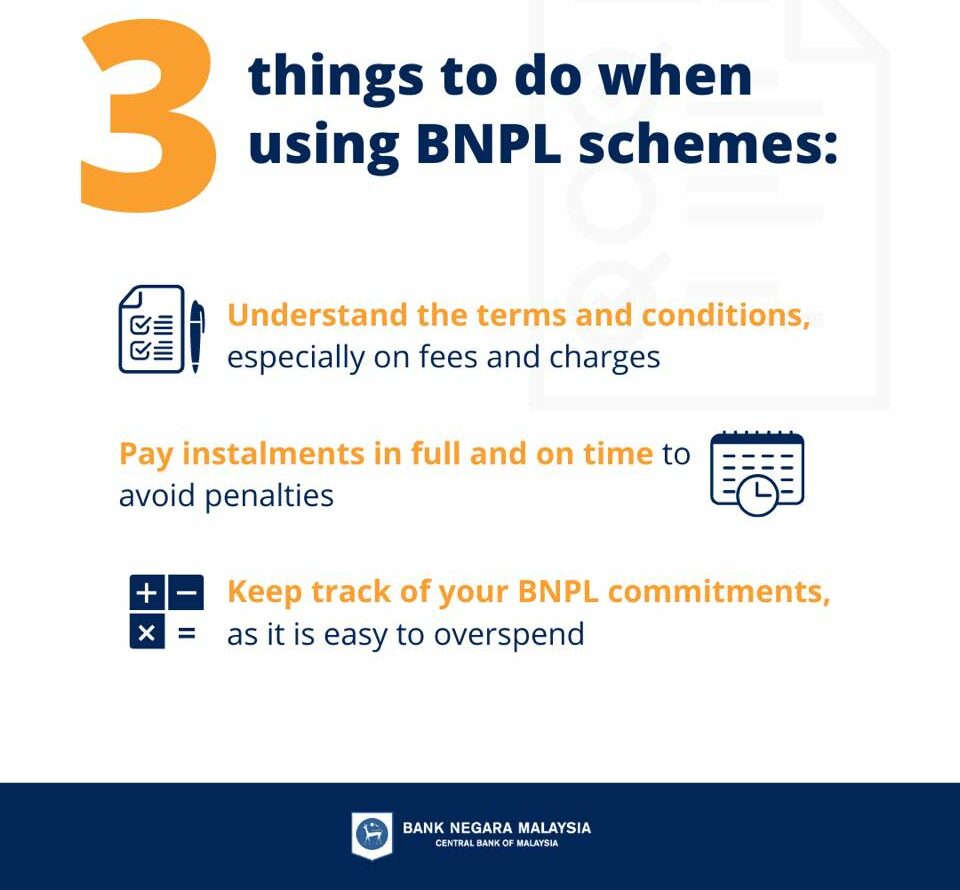 Bank Negara's post, which is also published on its Facebook page, came after news that Singapore is assessing if a regulatory framework is needed to guide the BNPL services.
The Monetary Authority of Singapore (MAS) is assessing if a regulatory framework is needed to guide such payment services as they become more widely used, although BNPL schemes do not pose a significant risk to household debt at the moment, local media CNA reported.
This includes the adoption of fair dealing practices by BNPL providers, said Singapore Senior Minister and MAS chairman Tharman Shanmugaratnam on Tuesday (Oct 5).
"For instance, clear disclosure at the point of account opening is helpful in ensuring that consumers are fully aware of the late fees chargeable if they do not pay on time," he was quoted as saying.
MAS has been engaging BNPL providers while reviewing the experience in other jurisdictions where such schemes are more prevalent, he said, responding to parliamentary questions who asked about the progress of the central bank's review of these schemes.
BNPL payment options allow individuals to make a purchase and pay for it later over a period of time. Interest-free installments are not a new concept, but BNPL services allow users to split the cost for small-ticket items.
It started to gain traction in Singapore, Malaysia, and Indonesia as more BNPL startups and tech giants such as ride-hailing and FinTech unicorn Grab and e-commerce platform Shopee offering the service, following similar trends in UK, Europe, Australia, among others. Traditional payment giants such as Visa and Mastercard are also offering similar options, earlier reports showed.
The scheme, however, has stirred concerns among regulators that it could cause youngsters, who are often seen as financially naive, to overspend and be lured into debt traps.
The global BNPL market is on a rapid uptrend and is projected to surge 400 percent to $352 billion by 2025 from $89 billion in 2020.
The BNPL sector is estimated to process $680 billion worth of transactions in 2025, translating to a compound annual growth rate of 13.23 percent, according to research data analyzed and published by online trading portal Comprar Acciones in February.
Featured image credit: Bank Negara Malaysia
Challenges and opportunities as Buy Now, Pay Later shopping gains traction in Malaysia