The advertising industry was one of the first to suffer the effects of the widespread COVID pandemic last year, with 2020 being the most 'crushing' year for the industry since the 2008 recession. The World Federation of Advertisers (WFA), whose members collectively spend US$57 billion on media buys and marketing fees annually, said 81% of large advertisers deferred or cut ad budgets in 2020.
With the majority of people working from home, it is no wonder that public transportation and out-of-home advertising budgets were slashed dramatically.
Rodeo, a Malaysian on-demand AdTech company, pivoted quickly to leverage on two key 'pandemic norms': the ubiquity of food delivery bikes and working from home. Led by founder and CEO Valens Subramaniam, Rodeo released two data-backed products: Rodeo Moto (ads on delivery bikes and food delivery bags) and Rodeo Home (ads in condominium elevators).
The results have been instantaneous: Rodeo not only held strong with 150,000 to 200,000 MYR ($35,800-$47,800) net profits per year in distinctly windy conditions, it has now recorded total revenue of 6.8 million MYR over its four years of operation. Today, the AdTech company–with just 10 staff–boasts a fleet of 10,000 cars nationwide.
The startup's ability to successfully marry data analytics with production house capabilities has drawn customers such as Alibaba and AirAsia Ride, and saw Rodeo raise 1.13 million MYR ($270,154, exceeding its 1 million MYR or $239,074 target) from 85 investors in an equity crowdfunding campaign on pitchIN.
Valens tells TechNode Global why Rodeo chose crowdfunding for its first external funding round, how angel investors have hopped on board as both clients and partners for expansion into new markets, and why he thinks the nimble startup can gallop to success in the extremely competitive AdTech space.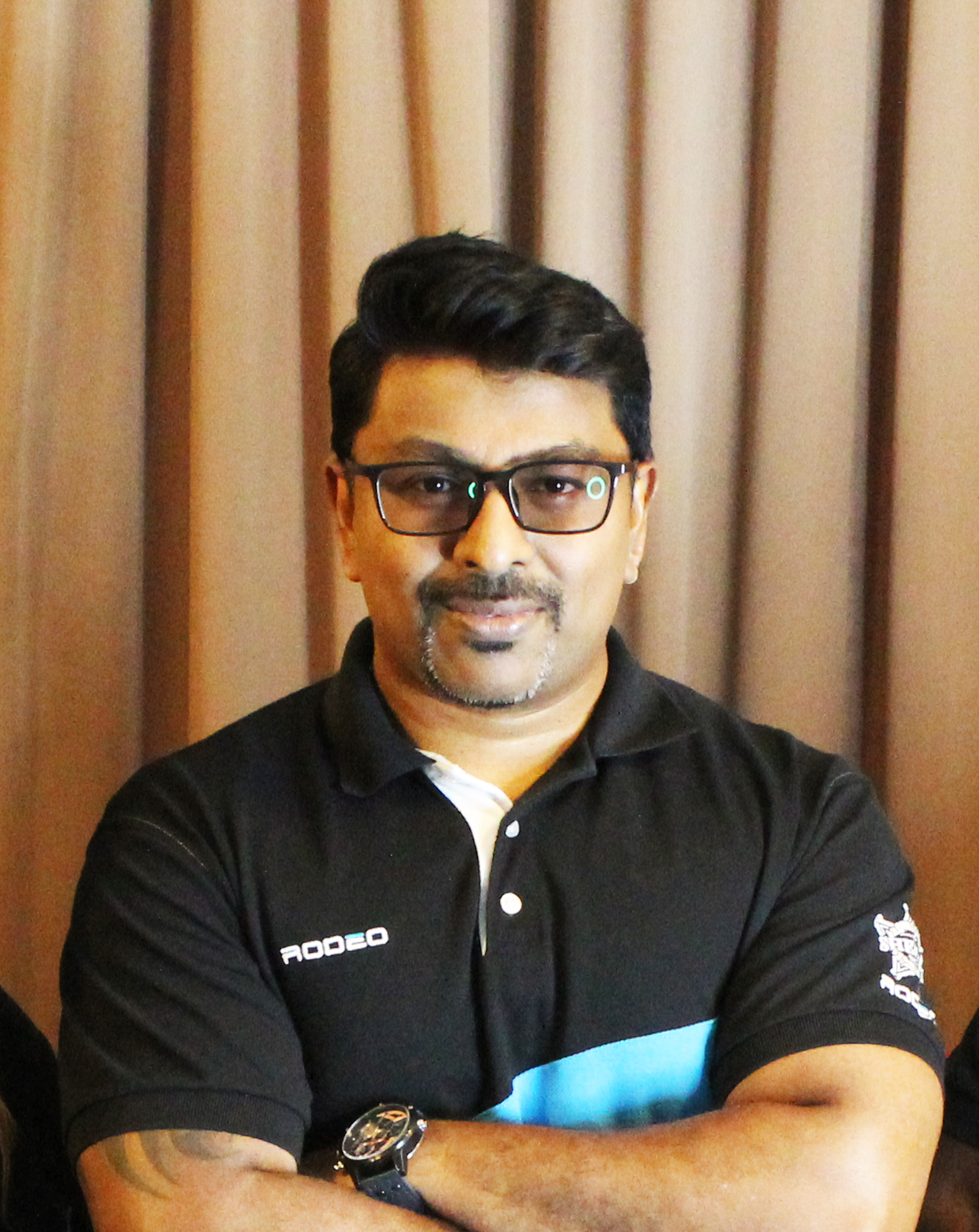 After four years of profitability and rising revenue, what made you decide to seek external funding? Why crowdfunding instead of venture capital?
Initially, I decided not to raise funds or approach any angel investors. We would be getting questions about traction, profitability, and growth prospects–I needed to be satisfied with my own answers, before asking for someone else's money. If you can't justify the business to yourself, how can you justify it to others?
So I took my time to build the business first, then once we were ready, everything fell into place. Our initial paid-up capital was just 10,000 MYR ($2,400). Thereafter, Rodeo grew organically, recording 6.8 million MYR ($1.63 million) over four years. Now our valuation has reached 10 million MYR ($2.39 million), and it's time for us to start running. For that, we needed an injection and so we went live on pitchIN last October.
Being a sales and marketing guy, I looked at pitchIN from that perspective. Crowdfunding wasn't just about raising money, it also built our access to networks. To date, we have onboarded 85 investors, with some of them being angel investors. I also converted some of them into clients and they're now advertising on our platform. I basically killed two birds with one stone.
What did these angel investors bring to Rodeo, outside funding?
Via pitchIN, we secured angel investors including Aerodyne founder and group CEO Kamarul A Muhamed, Zypp co-founder and CEO Akash Gupta, VJ Anand (ex-senior VP of Creative, Gojek), Fave co-founder Chen Chow Yeoh, Amardeep Singh Walia (ex-Foodpanda, Ninja Van and OYO), Enviroverks group CEO Nitesh Malani, serial investor Saran Chandran, and Tune Protect CEO Rohit Nambiar.
These are all fellow entrepreneurs, startup founders, or SME owners, so they understood Rodeo's trajectory and vision and they've been helping build Rodeo's network. They have seen enough in the industry, how the market reacts, the demand, and the space we are in.
In Indonesia, two investors who were formerly with Gojek are helping me to grow Rodeo's footprint. With Kamarul, we will be exploring partnerships and synergy where Rodeo teams up with Aerodyne in terms of technology, or even ad space. Being a small startup, this network will be vital in leading us to open up more secondary markets outside Malaysia.
You were crowdfunding in the middle of COVID when most investors were pulling back. How did you communicate Rodeo's story?
When I went live on pitchIN, many people told me it was the wrong time to raise funds. Well, there is no bad time, a good time. Business has to move on. If you're knocking on the right door, the door will eventually open. It's just a matter of pitching to the person and how you relate your story to them. We're not just selling a dream, we're selling our journey, and over the past four years, it has been a successful one. It's a no-brainer. We're a small yet profitable startup. We're not losing or burning money.
We started to go live in October last year, and for the first three months, it was a big struggle because it's a learning process. Eventually I started targeting the right investors who can relate to our story, who feel that the demand is there. That's where Kamarul and the Gojek guys came in.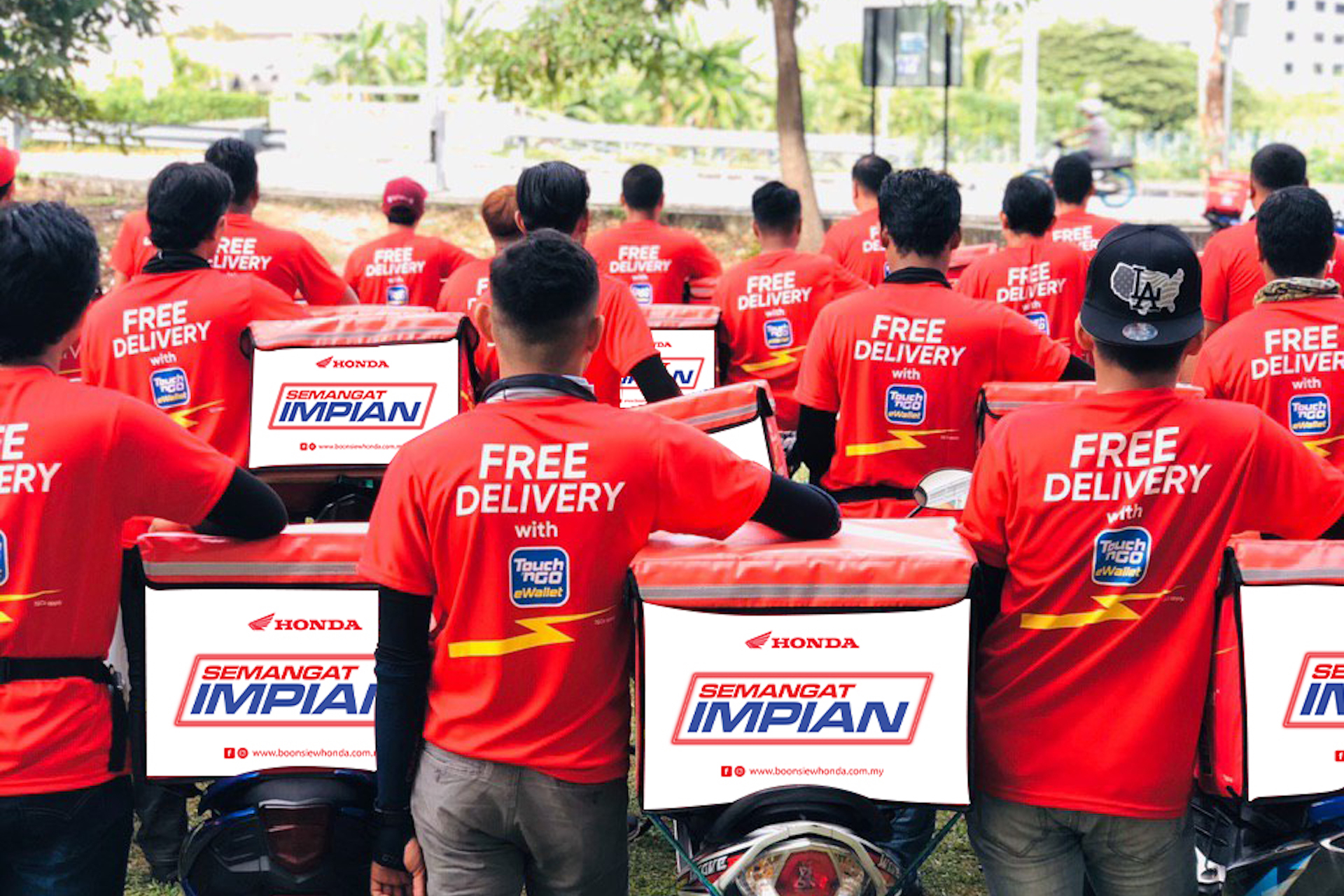 Tell us about Rodeo's two 'pandemic products'.
During the pandemic, there were not many cars on the road, so advertisers held back on spending. We launched two products: Rodeo Moto and Rodeo Home.
For Rodeo Moto, we monetized the food delivery bags, covering them with ads. We pitched this idea to Honda Boon Siew (distributor of Honda motorcycles in Malaysia), and they jumped on the opportunity earlier this year. Thus far, we've rolled out campaigns with them in Kuala Lumpur and Penang and may roll out another as they start planning for the next quarter.
Advertising on delivery bags is cheaper and cost-effective while creating an additional income stream for riders. Before this, only e-hailing drivers could make money. Now even delivery riders can earn additional income from our ads. We work directly with riders on this.
In April, we launched ads in elevators, targeting condominiums and we called it Rodeo Home. Today, we have secured almost 100 condos. Even though most people are working from home, they still have to come down to the lobby to collect their food or throw their rubbish. No one skips the elevator. A person or household will ride their condo elevators two to four times a day, so we saw an opportunity to bring brands to households. When they take the elevator out for their grocery runs or to sundry shops, it helps create impulse buys.
Rodeo Home also creates a customer journey as 60-70 percent of people who use ridesharing services stay in condominiums. If someone lives at a condo with Rodeo-installed ads and then takes a Grab or taxi ride with Rodeo ads, there's a continuation in that journey both inside and outside.
Recently, Rodeo nabbed AirAsia Ride as a client. Will this expand to other parts of the AirAsia super app ecosystem?
We started with AirAsia Ride in August. Being in the advertising industry for some time, we have domain expertise that AirAsia Ride can leverage on. Rodeo's strength lies on the production side, and in our creativity. One of (AirAsia group CEO) Tony Fernandes' Instagram posts about AirAsia Ride actually showcased our concept, where we converted a car into a mini-airplane. We are creative people, with crazy ideas. That's why AirAsia felt we have what it takes to change the landscape of transit advertising in Malaysia.
We are working with AirAsia Ride as a production house, bringing our ads and doing creative execution for them. There's also now the potential to expand to other services in the super app, i.e., AirAsia Grocer and AirAsia Food. They've also launched in Langkawi since the travel bubble began there.
With advertising being ultra-competitive, what is Rodeo's USP? What's to stop another AdTech company from replicating your strategies?
Advertising has always been competitive, so we constantly need to up our game. On the surface, what we do in transit advertising looks very traditional because all you see is us placing a decal on a car. But at the back end, we are changing the entire landscape of transit advertising, making it more digital.
If you place ads on a particular car, I will tell you exactly where your ad has been seen, how the car has performed, how many kilometers it has traveled, what hours it was driven around, and at what time your ads were seen. Rodeo acts like Google Analytics for transit advertising because at the end of the day, it's data that will support media buys.
We are also rolling out self-service dashboards for advertisers, so they can log onto their web-based dashboards and monitor ad views directly. They know exactly how successful their campaigns are and where their assets have been seen, and so on. In terms of driver recruitment, driver placement is completely app-driven. Rodeo uses a combination of app and web services.
For fleet expansion, do you use partnerships or target individual riders and drivers?
Since day one, we've worked directly with drivers and riders. We never want to associate with any company for the vendor, because we want to be seen as an independent company. Being independent gives us the liberty of disrupting others. For example, we liaise directly with GrabCar drivers so theoretically I could put Foodpanda ads on a GrabCar.
We haven't spent one cent to recruit riders and drivers. Who doesn't want to earn additional income? When we advertise campaigns or projects via social media – primarily Facebook – drivers fall in place automatically, organically.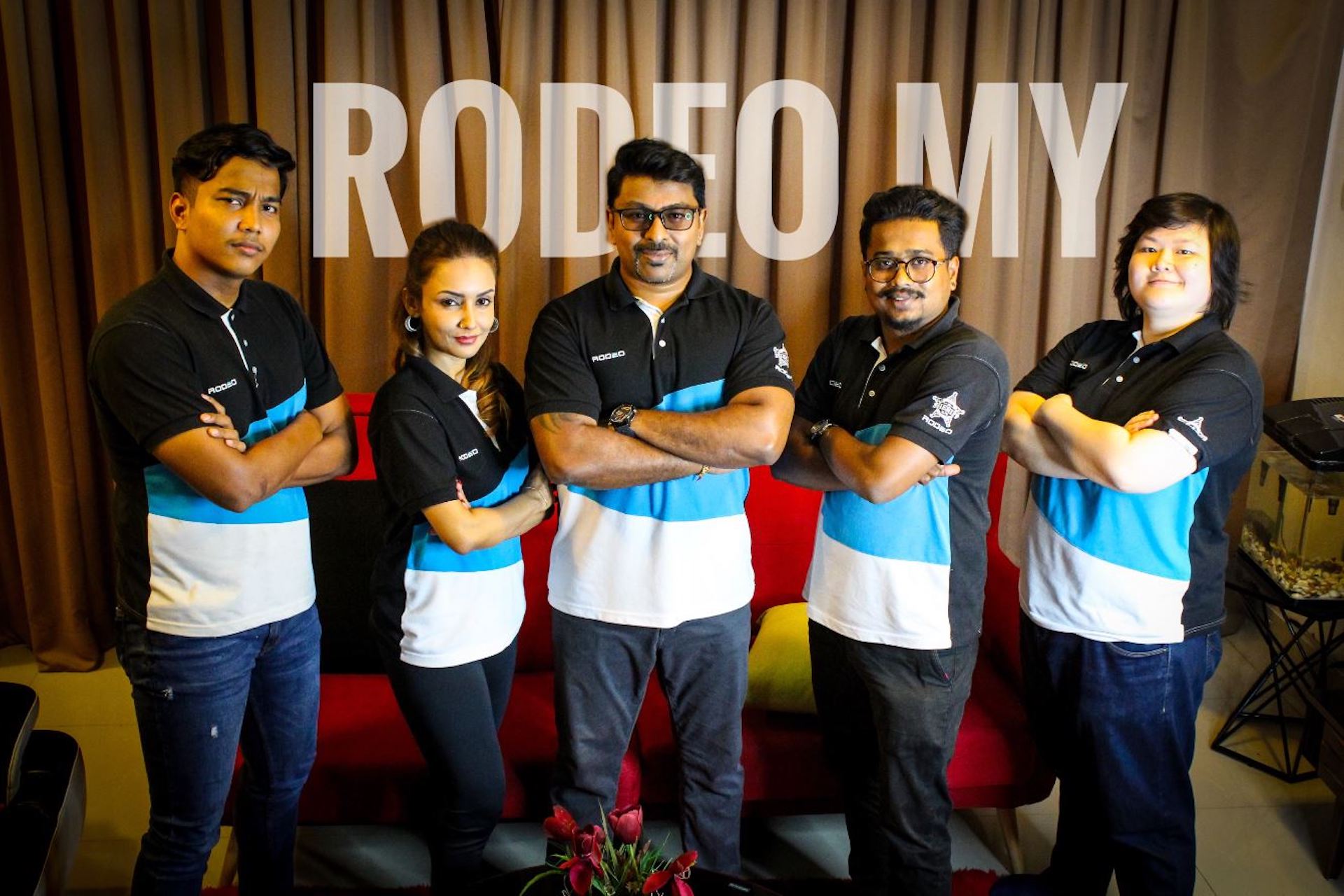 What markets outside Malaysia are you looking at?
We have already established a company in India, where we work with Zypp, an electric vehicle company that leases e-bikes to food deliveries and ride-sharing riders. Zypp's Akash Gupta was one of the angel investors who backed our crowdfunding campaign. We were supposed to launch in India last year but had to postpone it due to COVID.
Besides India, I'm also exploring Australia, where we might work with one of the fastest and largest food delivery companies there. Lastly, in Indonesia, with the Gojek guys. We're planning to launch in India in Q4 2021, and Indonesia and Australia in Q1 2022.
Is the Australian expansion also linked to an angel investor?
No, this is an existing client who wants to award us a contract to execute a campaign in Australia, hence the urgency to launch. That's a good opportunity because there are not many competitors or players with similar offerings–it's the same scenario as Malaysia.
We went for crowdfunding for three purposes: networking and market expansions, but also tech investments. We never want to be seen as just branding on a car. We are more holistic, 360-degrees when it comes to transit. Prior to funding, our tech had a pretty vanilla flavor. Now we can do strawberry and chocolate flavors as well. This funding will allow us to execute all these plans.
Will you be mixing it up for your next funding round?
We are looking at Q2 2022 for a pre-Series A round. By then, we could be pitching to VCs. Even now we have a few VCs looking into our portfolio. Before we went to pitchIN, whenever we approached VCs, they never gave us a second look. Now that we've got Kamarul and the former Gojek guys in our corner, we're seen, we've got VCs' attention.
Globe is capitalizing on its 80M+ customer base and 150K+ enterprise partners in venture building through 917Ventures [Q&A with Natasha Dawn Bautista]