Gobi Partners' continued faith and multiple investments into Carsome paved the way for the e-commerce platform to dominate Southeast Asia's used car scene, en route to becoming Malaysia's first and largest unicorn. TechNode Global spoke to Carsome Co-Founder and Group CEO Eric Cheng and Gobi Founding Partner Thomas G. Tsao to get the back story.
---
Think used cars, think dingy dealerships, think clunkers and conmen. Pre-pandemic, 97 percent of the Southeast Asian market still looked like this–with only 2-3 percent of the six million used cars sold in 2019 transacted through e-commerce platforms like regional market leader Carsome.
COVID-19 sounded the death knell for many industries that had been stuck in the old ways of doing business, forcing businesses–including used car dealers–online to survive. A year on, over 70 percent of used car dealers are online and almost 100 percent of used car customers begin their car shopping experience online.
Weaker new car sales caused by global supply chain disruptions, combined with users' discomfort with ridesharing and public transport, created perfect conditions for auto e-commerce marketplaces in Southeast Asia to rev up.
Despite the slew of apps jostling for a piece of the growing used car pie, market leader Carsome stamped its dominance early on. The Malaysian marketplace now sells 100,000 cars annually, leveraging its status as Southeast Asia's largest integrated car e-commerce platform.
In August, Carsome capped an already successful year with the acquisition of a 19.9 percent stake in Australian Securities Exchange-listed iCar Asia Ltd. This was quickly followed by a $170 million Series D2 funding round on September 1, which boosted Carsome's valuation to $1.3 billion and made it the nation's largest tech unicorn.
But pulling off a massive vision requires equally large and constant backers. Since 2015, Carsome has successfully navigated the potholes of a growing startup and emerged with the checkered flag, with the help of its largest and most frequent backer, regional venture capital (VC) firm Gobi Partners.
Investing in Malaysia's ecosystem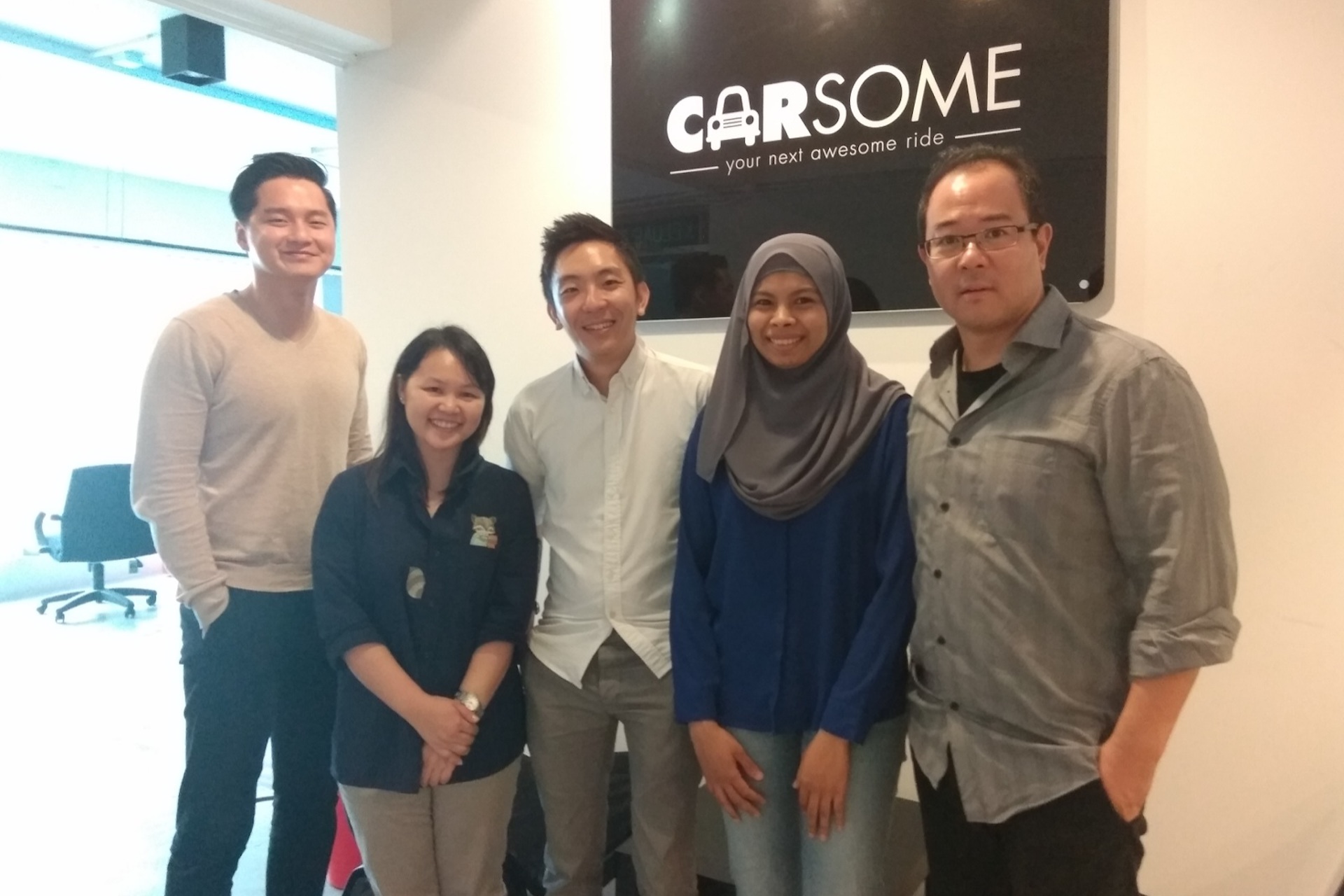 For Carsome co-founders Eric Cheng and Teoh Jiun Ee, the key to getting investors on board was convincing them that the much-maligned used car sector was ready for an upheaval.
Cheng recounted, "In 2015, when I first met Thomas, Carsome was still fairly small, transacting less than 100 cars a month and operating out of a small office in Kelana Jaya. We started exploring the possibility of Gobi investing into Carsome almost immediately after the first meeting and were pleasantly surprised to find that they were extremely open-minded about the business, and bought into the vision of Carsome quite easily.
"I appreciate their open-mindedness because I was presenting the idea of Carsome to Gobi without a track record of previous successful ventures. We hit it off in the first meeting as Gobi resonated with our vision to digitize Southeast Asia's used car industry. This was then followed up with multiple site visits, management meetings and we ultimately closed the deal after Gobi completed due diligence to evaluate the company and team," he said.
In May 2016, Gobi invested in Carsome via its ASEAN SuperSeed Fund, a joint venture between Gobi and the local VC Malaysia Venture Capital Management Bhd (MAVCAP), which is wholly owned by the Finance Ministry. With MYR 2 billion ($482.6 million) of assets under management as of October 2020, MAVCAP is Malaysia's largest VC.
Tsao said, "When we built our Southeast Asian headquarters in Malaysia, our partnership with MAVCAP paired with our 10-year experience investing in China, really helped us hit the ground running and lock on to high-potential startups like Carsome early on.
"Gobi sees Malaysia as a super-connector, as its shared languages tie it to Indonesia, India, China, and Hong Kong. Meanwhile, its Commonwealth status and Muslim population translate well to both English-speaking countries and TaqwaTech, or the global Muslim economy.
"Carsome too is a super-connector with its team of diverse talents and capabilities. Today, it's the market leader in three of the four countries it operates in Indonesia, Thailand, and Malaysia," Tsao said.
The Carsome-Gobi-MAVCAP collaboration was on display in recent days, when Cheng, Tsao, and MAVCAP chairman Alizakri Alias were pictured with the new Malaysian Science, Technology, and Innovation (MOSTI) Minister Adham Baba as he announced the ministry's goal to develop five more Malaysian unicorns in the next five years.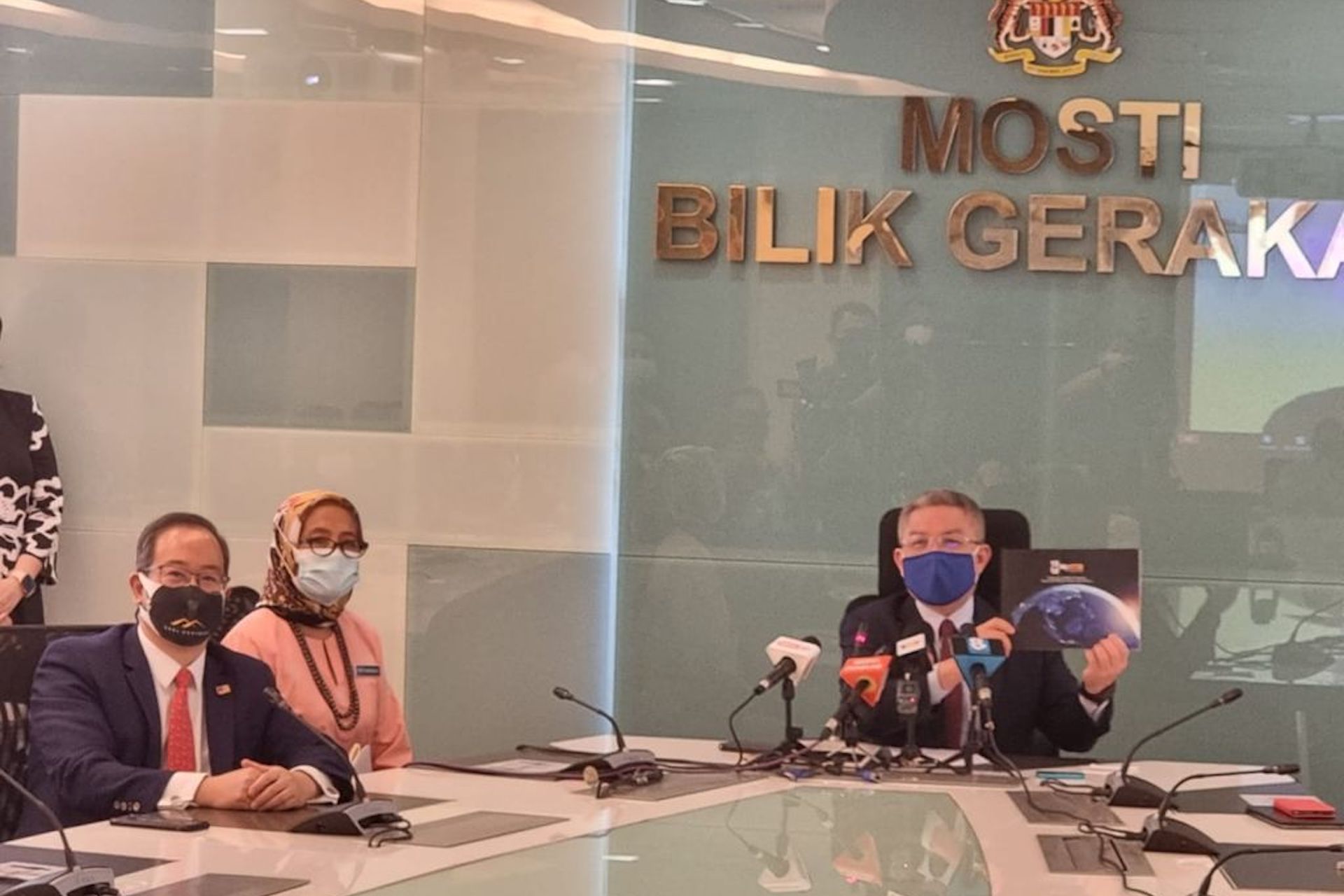 Expanding into new markets, services
Carsome's rapid growth across the region and rollout of services took into account Gobi's experience investing in the auto sector in China, where the firm was established in 2002.
"Gobi had some foresight on the development of the automotive ecosystem in Southeast Asia from their learnings in China. They guided us on growing the business, navigated us away from potential pitfalls, and introduced us to some of the leading players in China to facilitate knowledge sharing," Cheng said.
Carsome started out as a price comparison site in 2015. Soon, it evolved to its now-dominant consumer-to-business (C2B) model that helped people sell their cars and dealers manage their inventories.
Trust remained a key barrier in the early days, as both sellers (consumers) and buyers (used car dealers) were wary of the value they were getting without the traditional tire-kicking and driving 'round the block. Carsome addressed those concerns by introducing a standardized car inspection process as well as verifying auto dealers, in addition to faster turnaround times.
Sellers could take Carsome's offered price or choose to put their cars for auction across Carsome's network of 13,000 certified dealers across the region. Cheng realized very quickly that dealers faced financing issues which affected how much inventory they could take in.
That led to the establishment of Carsome Capital in 2018, to provide auto financing and insurance advisory and solutions. Soon after, Carsome partnered with peer-to-peer lender Funding Societies to offer financing solutions to its dealers, who are typically cash-strapped small businesses.
The success of the Funding Societies partnership bred further collaborations with insurer Allianz, digital financial services provider Aspirasi, and CIMB Bank in Malaysia, and Muang Thai Insurance (via GettGo) in Thailand.
"As Gobi is a full-stack investor, Carsome often works hand-in-hand with Thomas and his team to scale our business. This includes mapping out growth plans and our expansion into the ancillary business. Thomas and his team also provided ample networking opportunities which subsequently led to investment and collaboration opportunities," Cheng said.
Funding growth aspirations
As Carsome grew from selling 1,000 cars in 2016 to 100,000 in 2021, these value-added services required more hands on deck to handle financing know-your-customer services, dealer relations, and inspections. That meant capital and new investment rounds.
Between its establishment in 2015 and the latest deal, Carsome tapped the venture market for eight rounds of funding. Gobi has participated in six of the rounds. For Carsome's latest Series D2 round, existing investors include 500 Southeast Asia, Asia Partners, Daiwa PI Partners, MUFG Innovation Partners, and Ondine Capital.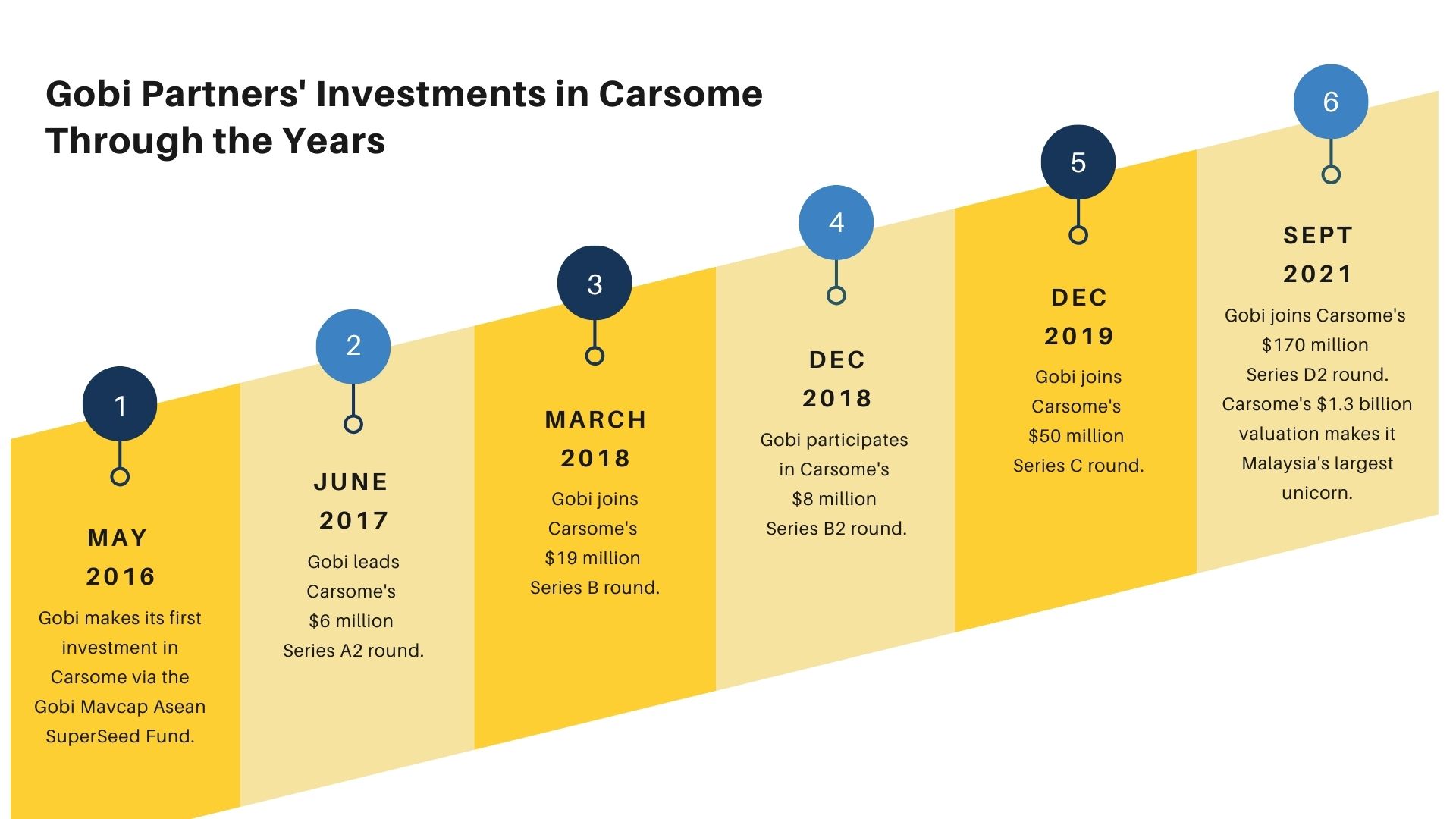 "Apart from being long-term and committed investors, Gobi accelerated some of our market expansion, especially in Malaysia through their direct relationship with the government-related agencies such as MAVCAP. Gobi also introduced us to multiple global peers that operate in the same business. These meetings helped facilitate regular engagement and knowledge exchange with fellow founders.
"Thomas and the Gobi team are extremely supportive of our growth plans, geographical expansion and product roadmaps. They are a long-term investor of Carsome and have been investing in the company in every round since the first injection," Cheng said.
Eyeing the entire mobility ecosystem
Carsome has continuously invested these funds into strengthening its market presence in its four existing markets: Malaysia, Indonesia, Thailand, and Singapore.
Cheng said, "We are investing significantly back into our products, infrastructure such as logistics and technology, to ensure our dealers and customers receive the best-in-class services and products.
"We are focused on scaling our market leadership. Although we are already the largest platform in Southeast Asia, we are barely touching 1-2 percent of the total addressable market. We believe our scale, coupled with our technological offerings and strong brand equity will strengthen our market presence and position us to expand our leadership," he added.
In August 2020, Carsome launched its business-to-consumer (B2C) arm, Carsome Certified, effectively sealing its status as Southeast Asia's largest integrated (C2B2C) car e-commerce platform. But the journey is far from over.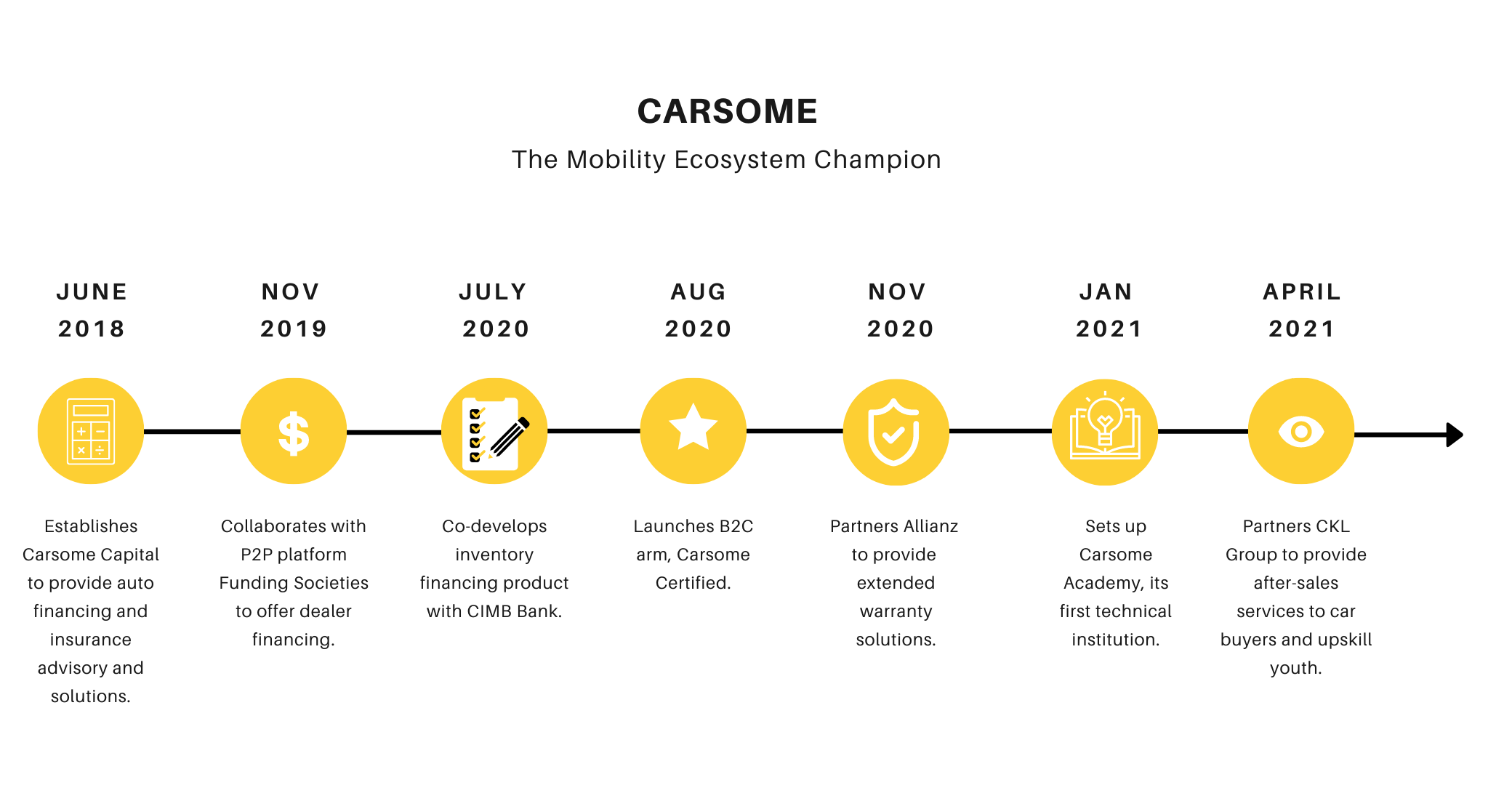 Since its early dealer financing-related partnerships and services, Carsome set its sights on integrating the entire mobility ecosystem. The launch of Carsome Academy in January 2021 signaled the startup's move into the education space while aligning with the startup's overarching goal to put a new coat of paint on the fragmented, opaque used car industry.
This was followed quickly by its very own data center of excellence in May 2021, aimed at making every decision and service in the Carsome ecosystem data-backed – be it dealer financing, auction pricing, value optimizing, or inventory purchasing.
Just this week, Carsome group chief financial officer Juliet Zhu told TechNode Global that it plans to roll out auto financing solutions for graduates in Indonesia and Thailand, after initially introducing it in Malaysia. Carsome's latest product innovation highlights unicorn's ability to leverage data to find new market opportunities and address problems across the mobility ecosystem.
The merger with iCarAsia, followed by the massive $170 million round, signals that Carsome is gearing up to take on international marketplaces such as India's Cars24, U.S.' Carvana and Vroom, and the U.K.'s Cazoo.
In recent weeks, these marketplaces have themselves been loading up on additional firepower: Cars24 recently raised $258.6 million from Tencent, DST Asia, Softbank, and Alpha Wave Incubation while Cazoo raised $1 billion via merger with a special purpose acquisition company (SPAC). Carvana has seen its share price jump 40% in the year to date.
Carvana, Cazoo, and Vroom are publicly traded and have received backing from investors such as PICO Venture Partners, Durable Capital Partners, T Rowe Price, L Catterton, dmg ventures, and General Catalyst.
Carsome has made no secret of its goal to go public in the U.S. In June, Bloomberg reported that the Malaysian unicorn was seeking a valuation of $2 billion, either via the traditional initial public offering route or a SPAC merger by end-2021.
Tsao said, "Carsome is the undisputed leader of the Southeast Asian used car marketplace, with a strong presence in sports car sponsorship, skills training, data innovation, and after-sales services. Now, Carsome is looking beyond just used cars, to the entire mobility ecosystem."
Fragmentation and inefficiencies plague not just the used cars segment, but the entire auto industry. Already new car dealers are being migrated to an agent model, instead of the franchise model, so as to reduce inventory burdens. In the U.S, auto giants Ford and General Motors have both explored the order book or built-to-order model.
Uber may have started out in ridesharing and then food delivery, but the decacorn is now in freight as well. Gobi sees similar ambitions for Carsome.
"Envision this: a one-stop center for all your auto needs. Whether you are buying a new or used car, or renting a car for a short trip, or even renting out your car on weekends like an auto AirBnB, Carsome would have it.
"Carsome already handles the entire car-selling process from C2B2C: validating specifications, inspection, financing, ownership transfer, insurance, warranty, after-sales service and auto skills training. What's stopping them from bringing these data and artificial intelligence-driven services to new cars or even self-driving vehicles? Soon, you won't need to go to different showrooms to view a Lexus or a Tesla, they'll all be under one hood – Carsome's," Tsao said.
Unicorns-in-the-making: The underrated, untapped, and unknown of Malaysia's tech ecosystem