The COVID-19 pandemic has continued to impact the restaurant industry for the first six months of 2021. We are seeing restaurateurs finding new and innovative ways to continue operating in this rapidly changing market.
As of this publication, several Asian countries are forced to lock down again amid new spikes in COVID-19 cases. For example, Taiwan has also been affected and has been under Level 3 restrictions for several months. Amongst other things, dine-in services inside restaurants and bars have been prohibited and the demand for delivery has further exploded. Even though Taiwan just switched to Level 2 restrictions, there are still epidemic prevention rules that impact restaurants businesses negatively. A distance of at least 1.5 meters is required for indoor dining, and 50 or fewer people are allowed to gather indoors.
3 SQUARE is sharing the top trends that will affect restaurants this second half of 2021 and beyond so restaurants do not only survive but thrive in the ultra-competitive (and ever-changing) F&B industry.
Delivery is here to stay
Delivery has grown 50x in the past decade, and COVID-19 has further shifted the demand for food delivery into overdrive. Smart restaurateurs are embracing this shift by reevaluating their entire business and making sure it is optimized for delivery. This includes contactless ordering, menu reevaluation, and updated delivery packaging. Ensuring a seamless experience for customers and riders will allow restaurant owners to take advantage of the industry-wide shift to delivery-only.
Increased online delivery will result in a lot of traffic coming in, whether it be delivery riders or the customers themselves. Smart restauranteurs will look into how to make the entire pick-up experience as quick and easy as possible.
Technology and automation
With the importance of delivery, restaurant owners are leveraging popular delivery apps like foodpanda, UberEATS, Grab and Gojek to maximize exposure, orders, and sales. Forward-thinking owners are ensuring that their brands have optimized delivery-only menus with mouth-watering pictures and clear descriptions.
POS (point of sale) systems that are fully integrated with these key delivery partners are also trending. An integrated and automated POS system streamlines the entire operation by reducing labor costs, food wastage, and other issues resulting from manual entry.
The turn to digital marketing
COVID-19 has changed how marketing is done for restaurants as foot traffic and dine-in have become less important. Traditional marketing no longer reaches your customer base, as your physical restaurant becomes less important than your online restaurant. With the rise of delivery, the importance of a strong digital marketing plan becomes vital. Digital marketing will be the key to push your grand opening, promote your restaurant and get customers excited and ordering. Customer insights can then be leveraged to maximize customer acquisition and retention.
A contactless food delivery experience
More than ever, restaurants need to position themselves as safe and clean. Appropriate measures for health and safety have to be enacted and communicated to employees and customers alike to feel protected during the pandemic.
A contactless food ordering experience that includes QR codes, contactless payments, and online ordering are just a few of the tech strategies that have been adopted by restaurants in 2021. Other safe food delivery practices include using the right packaging and safety seals.
Restaurant locations are shrinking and catering to delivery
Dine-in has been steadily decreasing over the past few years, and COVID-19 has caused an 85 percent decrease this past year. Restaurants are getting smaller in size by design as few customers are eating at restaurants. While restaurants traditionally focused on minimizing guest count and maximizing dine-in seating, now they strategize to increase how many total customers (delivery, takeaway, and dine-in) can be served. Front- and back-of-house designs are changing to the growing delivery market. In other words, restaurants are now designing layouts that reduce the space allocated for on-premise dining and even include specific areas for delivery and takeaway. This may even include having dedicated, easy access for third-party delivery partners.
With dine-in spaces decreasing, an increase in kitchen size has also been trending. Kitchens have grown due to the increase in off-premise (delivery and takeaway) orders.
Reduced dine-in space results in less spent on real estate costs and also helps reduce operating costs. This reduction in costs allows restaurants to be located in better, prime areas.
The rise of cloud kitchens
A cloud kitchen, also referred to as a "ghost kitchen," "shadow kitchen," or "virtual kitchen", is a commercial kitchen space that provides restaurant owners the facilities and services needed to prepare menu items for delivery and takeout. Here are some of the reasons why restaurants are turning to them in record numbers.
Cloud kitchens can offer endless opportunities for rapid expansion;
Cloud kitchens offer substantial and improved margins on infrastructure and operational costs;
The cloud kitchen business model has the advantage in terms of responding to market demands and trends immediately;
Startup costs are dramatically reduced by at least 10X when compared to a traditional brick and mortar restaurant.
---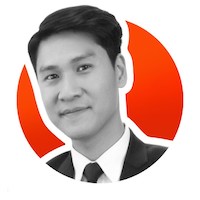 Victor J. Chow is the Founder and CEO of 3 SQUARE, a cloud kitchen network and virtual restaurant group.
He has extensive executive FoodTech experience and has relationships and has serviced 5K restaurants in Taiwan and over 25K restaurants across APAC. He also held various senior management positions in advertising, automotive, and education. He began his career on Wall Street at Deutsche Bank and Morgan Stanley.
His love of food and respect for restaurant owners started at a young age, where he grew up in an immigrant family that owned, operated, and invested in multiple restaurants.
This article was originally published on 3 SQUARE and was submitted as a contribution. TechNode Global publishes contributions relevant to entrepreneurship and innovation. You may submit your own original or published contributions subject to editorial discretion.
A look into how cloud kitchens are driving growth for Taiwan's billion-dollar food delivery industry
Featured image credits: Pexels