Online food delivery has been around as an option in Taiwan for some time. Ordering from our favorite restaurants for delivery or takeaway is easy with service from a number of mobile apps. It is so easy and convenient that it has fundamentally changed consumer behavior and the regular habits of people.
Two decades ago, there were only a couple of types of food being delivered in Taiwan. The traditional Taiwanese bento would be delivered if minimum order values were met (generally $15 to 30). Usually, the boss would deliver it and sometimes reject making the delivery if disinterested or too busy. American fast-food brands like McDonald's, Pizza Hut, and Domino's were also early adopters and brought over the delivery business model from the United States.
Foodpanda entered Taiwan in 2012 and has seen strong growth year after year. With such a strong performance, food delivery competitor UberEATS entered the Taiwan market in 2016. While other local and international competitors have tried to compete, foodpanda and UberEATS have been the two dominant operators in Taiwan for some time. Starting in Taipei, both players are now in almost every city across all of Taiwan and offer 24-hour service.
The global food delivery market has experienced strong growth with experts projecting it to continue. The global food delivery industry is forecasted to grow to $200 billion by 2025 with a compound annual growth rate (CAGR) of 10.3 percent. Asia-Pacific accounts for more than 50 percent of the food delivery market and is the fastest-growing region globally. The Taiwan food delivery market, which is a top market for international food delivery players foodpanda and Uber Eats, is expected to generate $1 billion annually and already does close to 600,000 orders per day.
Taiwan's economy has been growing steadily in the past three decades, providing key macroeconomic stability and growth for increased consumption. Urbanization and the shift from an agrarian to industrial society means that people are moving to and living in cities, creating both supply of labor and demand for food services. With hectic schedules, most people who live in cities don't have enough time to cook food and opt to order their favorite foods from food delivery platforms.
Wide use of the internet and fast adoption of smartphones are key contributors to this growing food delivery trend. Internet penetration in Taiwan stood at 86 percent in January 2020, with 20.51 million internet users. There were 28.43 million mobile connections in Taiwan, and the number of mobile connections in Taiwan in January 2020 was equivalent to 119 percent of the total population.
Taiwan also has the highest proportion of e-commerce shoppers in Asia at 67 percent, as well as the region's highest average revenue per e-commerce user. This connectivity and growing consumer preference for e-commerce transactions have led to growing opportunities for food delivery platforms to be connected with consumers and restaurants.
It is important to note that COVID-19 has also made a sizable impact on food delivery in the past two years. The pandemic shuttered countless restaurants and significantly reduced dine-in business for those that were able to survive. Inversely, consumers are relying more on food delivery than ever, with food delivery app downloads registering 3x growth in Q2 2020 alone.
After the national Level 3 epidemic alert in Taiwan was enacted in May, daily orders have seen an increase of more than 40 percent when compared with pre-alert numbers. The majority of this growth is forecasted to be lasting, as the pandemic has further shifted fundamental consumer behavior with regards to online food delivery on a more permanent basis. Looking at the data, food delivery has seen considerable growth and demand in Taiwan. This is no phase, food delivery is here to stay.
With COVID-19 disrupting the traditional F&B industry, the next phase of food delivery will see the rise of cloud kitchens. Cloud kitchens, also known as ghost kitchens and dark kitchens, are commercial cooking facilities that are built for delivery instead of the traditional sitdown or customer-facing areas. It is an emerging business model with multiple variations.
All cloud kitchen business models take advantage of the lower costs of setup while also saving from not needing staff like servers, cashiers, and other front-of-the-house staff. Market researchers at Euromonitor predict that cloud kitchens may be the next big opportunity in food delivery and reach a potential global market cap of $1 trillion by 2030.
---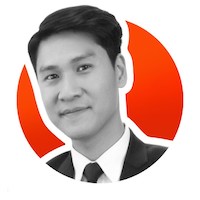 Victor J. Chow is the Founder and CEO of 3 SQUARE, a cloud kitchen network and virtual restaurant group.
He has extensive executive FoodTech experience and has relationships and has serviced 5K restaurants in Taiwan and over 25K restaurants across APAC. He also held various senior management positions in advertising, automotive, and education. He began his career on Wall Street at Deutsche Bank and Morgan Stanley.
His love of food and respect for restaurant owners started at a young age, where he grew up in an immigrant family that owned, operated, and invested in multiple restaurants.
This article was originally published on 3 SQUARE and was submitted as a contribution. TechNode Global publishes contributions relevant to entrepreneurship and innovation. You may submit your own original or published contributions subject to editorial discretion.
How cloud kitchens offer endless opportunities for rapid expansion amid the pandemic