Editor's note: This interview is part of a Q&A series with winners of the ORIGIN Innovation Awards 2020. SandStar is a winner in the category Startup Awards – Artificial Intelligence.
---
Digital retail has gained a foothold amid the pandemic, with online purchases being considered safer than physical transactions. These are seen to have sustained retail even amid social distancing and lockdowns, for example.
"Social distancing measures and lockdowns have deeply affected the Food Delivery and e-commerce sectors, but technology has provided these SMEs with substitute revenue sources," states the e-Conomy SEA 2020 report by Google, Temasek, and Bain & Company.
Such retail advancements also include contactless commerce, such as unmanned retail. The challenge here involves recognizing consumer behavior.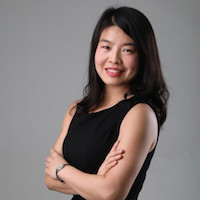 A winner at the ORIGIN Innovation Awards 2020, SandStar's unmanned vending platform provides a dynamic recognition technology and advanced motion semantic recognition aimed at the retail industry.
In this Q&A with TechNode Global, Andrea Wang, Partner and Chief Marketing Officer at SandStar, discusses how retail advancements particularly contactless commerce and unmanned retail involve recognizing consumer behavior and taking advantage of such in optimizing retail actions.
What are the key challenges in the industry that SandStar is trying to address?
Recognition accuracy: In the industry of unmanned retail, there occur different technology methods to recognize product and customer behavior. All of the different recognition methods will eventually face the problem of recognition accuracy.
If people take a bottle of milk from the kiosk, but your computer recognized it as a cookie, this will not only matter on the billed price, but it will also have a bad impact on customer experience.
This is the biggest industry challenge that we are trying to address.
What makes your solution unique?
The computer "dynamic" recognition technology and advanced motion semantic recognition adopted by SandStar are the most advanced recognition technology in the market at present. The accuracy of commodity identification and customer behavior identification is relatively high, and the overall scheme is superior to other technical schemes in terms of cost performance and operability.
The continuous establishment of the cooperation relationship with key clients enables us to have an excellent public reputation within the retail industry. We have more than 20 of the world's top 500 customers, including Sinopec, Coca Cola and Pepsi, some of which we have been cooperating with for as long as three years. The demand for our technology and products is still expanding. A lot of big clients learned about us from insider referrals.
The founders of our team are all from prestigious universities such as Tsing Hua and Peking University, with an average of more than 10 years of experience in the retail industry, they have a profound insight into the three key elements of retail: people-product-place. This will help us make a long-term and clear strategy for the future development of the products based on the life cycle of the AI+ retail industry.
In the process of nearly 100 unmanned retail projects we implemented within the past four years, we did not only focus on technological development. We also conquered a lot of tough questions that appeared on-site and accumulated rich experience in this process. We are a Microsoft co-sell partner and we have joined as a member of the Intel IoT Market-Ready Solutions (MRS) program. We enjoy their comprehensive resource support around the global market, enabling us to stand on the shoulders of giants in the world to seek more open commercial landing points.
What are the emerging trends in the retail and AI industry that will drive innovation?
As the COVID-19 pandemic has been affecting the entire world, the demand for contactless payment and unmanned retail is expanding. And the industry does need to improve the technology, aiming at providing a safe and convenient shopping experience.
In our latest upgrade, our Smart Kiosks can turn on the [ultraviolet] blue-light automatically to disinfect the whole cabinet every time after the customer closes the door. That enables us to provide a clean and safe shopping environment for customers.
Announcing the winners for the ORIGIN Innovation Awards 2020