Just like many traditional industries, the business of construction and contracting are considered to be archaic. This is how Jean Christophe Li, Co-Founder at Aespada describes the industry that his company is disrupting.
Aespada is a Construction Technology startup based in Singapore with the vision to accelerate the digitalization of material logistics for the construction industry. Its product, AespadaDMS (Smart Delivery Management System for the Built Environment) enables main contractors to reduce their transportation wastage, thus ensuring a leaner construction site. The technology also enables users to manage, optimize, and track material deliveries in real-time.
Li worked for almost a decade in the construction industry in Singapore prior to founding the company. He says that extensive domain knowledge in the construction and contracting business enabled him and co-founder Charles Ng to have a deeper understanding of the pain points of the stakeholders.
According to Li, they conceptualized the idea during their graduate studies at Nanyang Technological University, Singapore, and the company started out as an on-demand booking platform.
"Instead of booking cars, we booked heavy vehicles for construction companies. We identified opportunities in this sector, and in 2020 we launched a construction logistics software that enabled builders and contractors to manage and optimize their inbound logistics," he said in a Q&A with TechNode Global.
He shared that with the pandemic, digitalization has caught up with industries that have held out on such innovations. The situation in Singapore presents a unique challenge.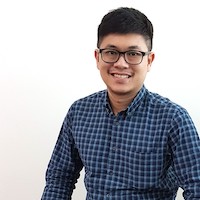 "During this pandemic, the construction industry is experiencing a very difficult situation with limited construction workers available. This has accelerated the digitalization of few processes and we can see more requests for remote checking and monitoring of site progress works," Li said.
With 6 staff on board and assisted by industry experts, Aespada has partnered with construction firms and service providers, helping optimize their operations through data and smart logistics. For instance, it recently entered a partnership with Novade, a field management software for the construction industry. This Integration allows main contractors to keep track and have seamless logistics updates on their PPVC or precast elements from the fabrication yard to the construction sites.
The company was among the winners of the BEAMP in 2019 and 2020–an initiative by Building & Construction Authority of Singapore, JTC Corporation, and Enterprise Singapore to develop and push forward innovative solutions for the Built Environment.
Aespada has not raised venture capital, but Li said the company will be actively looking in 2022.
What are the three key challenges faced by the construction industry that Aespada is addressing?
Traffic and Bottleneck on congested construction sites due to multiple ongoing deliveries, unplanned, and late deliveries.
Inadequate tracking and control of material inventory from fabrication yard to construction sites such as PPVC (Prefabricated Prefinished Volumetric Construction) units.
Inability to know the accurate time of arrival of materials to the construction sites.
How is Aespada addressing these, and what gives you a unique edge?
Our software AespadaDMS is an Onsite Construction Logistics Management tool that allows main contractors to manage, optimize and track real-time deliveries to their construction sites by implementing the following key features:
Scheduling;
Tracking;
Geo-fencing;
Material Inventory.
AespadaDMS gives them total control and full visibility over what and when material deliveries are happening so that main contractors can mobilize resources on time and keep the project on track.
What makes it unique is the integration of AespadaDMS to an On-Demand Booking Platform for Heavy Vehicles (AespadaSL). Whoever needs to make a delivery to the construction site, but does not have a lorry, can now use AespadaSL to order a lorry from our pool of logistics suppliers.
We understand the pain point of the users and aim to make this process seamless.
Can you describe the role of data and IoT in improving operations for your target market?
Our software provides data analytics for users to make more informed decisions such as the number of delays, the number of outstanding material deliveries and the Estimated Time of Arrival of the materials to the construction sites.
We tap onto the Driver's smartphone but can also integrate with the customer's existing GPS tracking devices.
What is the impact that solutions like Aespada contributing to the region?
The construction industry is an archaic and traditional industry, but we can recently see more push from the Building & Construction Authority in Singapore for more digital adoption by main contractors.
Digital adoption will help in attaining a higher productivity rate with the limited resources available on the market. This will actually speed up the construction processes and ensure that the industry operates lean and more sustainably.
What is the future for the construction industry and technology?
I can see the need for more digital solutions that can help to bridge the gap of limited resources with an emphasis on pushing for more off-site fabrication, such as precast elements and PPVC. Further down the road, there is also consideration of using autonomous robots.