Southeast Asia's Gojek said in an internal memo today that it's firing 430 people—about 9% of its total workforce—as it shutters two of its app-based services, according to Bloomberg, e27, and multiple other sources.
Here's what Gojek is closing:
GoLife, which brought cleaners and masseurs (branded GoClean, GoMassage) to your home, among an array of other local amenities, is shuttering at the end of July. First started in 2015 as part of Gojek's initial expansion beyond ride-hailing, the at-home service is now at odds with social-distancing guidelines as well as overall unease about interacting with strangers.
GoFood Festival, a network of food courts, is closing in an apparent consumer shift to meal takeouts or deliveries. Gojek data from last October shows it had 30 GoFood Festival locations across Indonesia.
"Covid-19 has presented us with a big challenge and focusing on our core services is clearly the best strategy for us to continue to make a positive impact on the lives of millions of people and to secure future growth," said Gojek co-CEOs Andre Soelistyo and Kevin Aluwi in a statement provided to Technode Global. The company said "many" of the job losses are on the GoLife and GoFood Festival teams.
Since the home-cleaning and massages made up 90% of demand on GoLife, according to figures from last year, there was little left to the subsidiary without those two elements. Here's a cleaner in Indonesia with GoClean's kit: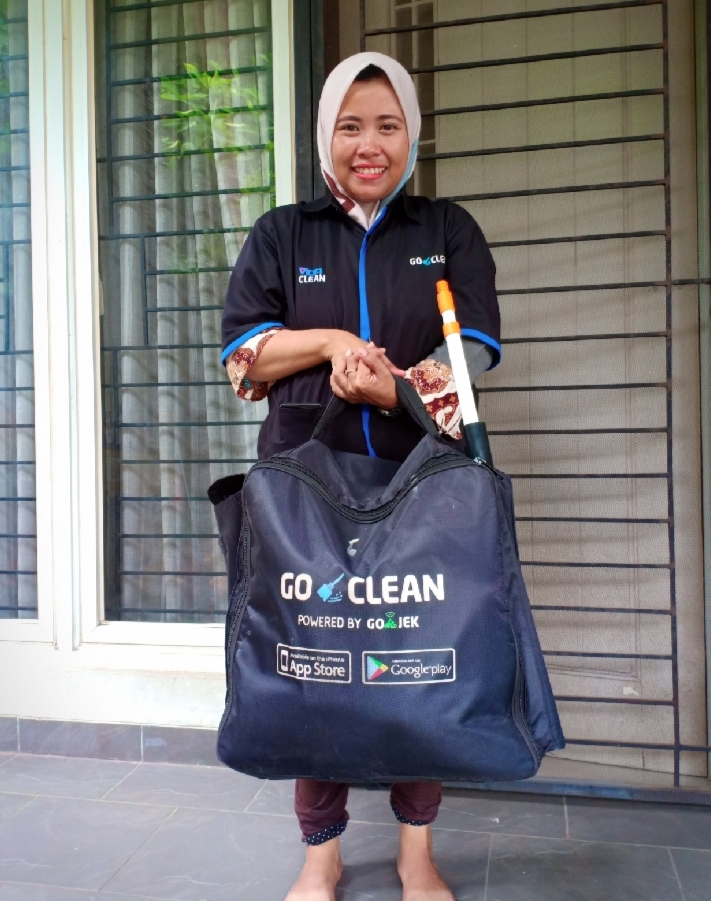 Focus on payments, transport, food
The moves come three weeks after the Indonesia-based startup secured funding from Facebook and Paypal, among a roster of other major backers. And they come just one week after arch-rival Grab let go of 5% of its headcount—360 employees—as part of its own pandemic restructuring.
See: 🪓☠️ Covid–19: Southeast Asia tech layoffs and shutdowns
GoLife was struggling even before the pandemic hit, with a handful of its offerings, such as on-demand mechanics and beauticians, removed from the app in January.
Gojek will put more resources into local services that require less human interaction, particularly ones with fast-rising demand such as meal and grocery deliveries, according to the company's statement this morning. That will boost Gojek's GoFood division. The startup considers "payments, transport, and food" as its three core services for the post-pandemic new normal.
Similarly, Grab has been putting more weight behind GrabFood and GrabMart since the lockdowns began.