In recent years, the modern workforce has evolved greatly. The introduction of new technologies like Artificial Intelligence (AI) and machine learning began to automate various tasks, and sentiments remain positive. In fact, around 41 percent of Asia Pacific employees feel that AI will increase productivity and efficiency at work, while approximately 34 percent of them view it as an opportunity to pick up new skills.
This applies to the HR industry as well. A recent report found that about 80 percent of HR leaders in Singapore expect an increase in AI use in the next few years, automating formerly manual tasks, such as sifting through resumes and coordinating interviews. Candidates can also improve their job-hunting experience by turning to AI-powered platforms that can recommend suitable jobs to relevant candidates.
While AI-based recruitment brings about a host of benefits to both job hunters and recruiters, as with any tool, it is a double-edged sword. It takes a keen understanding and experience to use AI tools to use it to its full potential. AI is certainly impressive and helpful, but it is not a panacea, at least not yet. This technology is still relatively new and continues to advance with each day. As such, human intervention still remains crucial when incorporating AI into the recruitment processes.
Navigating perceived unfairness in AI recruitment
One of the major concerns about AI-based recruitment is perceived unfairness. In a recent study by NUS Business School, the International Institute for Management Development (IMD), and The Hong Kong Polytechnic University, job seekers expressed that they felt AI-driven recruitment was less fair than traditional recruitment processes. This is due to certain AI screening systems that pick up keywords and statistics from the candidate's resume which is then input into an algorithm to streamline the top contenders that match the programmed requirements.
The fear is that AI resume scanners will misrepresent their true abilities and overlook the unique offerings that candidates bring to the table. This worry is not unfounded, a study showed that 88 percent of HR executives know of AI tools that have rejected qualified candidates who miss one or two skills from the list or score low in one important category, despite getting a high score in others. This results in a less than holistic approach to hiring, weeding out potential candidates even though they may be a good fit.
Importance of direct communication during recruitment
Some AI filters can leave little room for their creativity and personality to shine, even though they remain key components of the hiring process, particularly for positions that rely on soft skills and artistic vision including graphic design, sales, and marketing strategy. Additionally, assessing the candidate's alignment with the company's values and culture becomes tricky without direct interaction. It is through human conversations and intuition that recruiters can evaluate applicants' personalities and soft skills to gauge their ability to fit in the current company's working dynamic and culture.
That is why the interview stage is seen as crucial to talent acquisition, however, it can be time-consuming. 67 percent of recruiters spend between 30 minutes and 2 hours to schedule an interview. However, interviews are not the only way that companies or hiring managers can interact with the candidate, a quick conversation via call or chat acts as a pre-interview screening to give recruiters a better sense of the candidate's suitability before they advance to the interview stage. Both recruiters and candidates save time and get important questions answered beforehand, streamlining the process with tech-enabled communication without fully relying on AI.
Integrating human interaction in tech strikes a balance between utilizing human talent alongside AI tools to increase the chances of employee success. Thus, Bossjob has focused on improving the current recruitment process by offering a direct chat function and highly accurate AI-matching for both talents and employers on its platform.
Using AI to find the right fit
To successfully utilize AI technologies recruiters must first understand the way it works, and how to leverage its strengths whilst being cognisant of the accompanying weaknesses. It is no easy feat, but candidates do see the benefits of AI in recruitment. Recruiters and candidates can utilize AI in job matching by using it to power recommendations by matching the right positions to the most suitable candidates.
Job-search anxiety has long plagued job-seekers, when faced with pressure to secure a position many resort to applying for as many job listings as possible and hope for a favorable outcome. On the other hand, an average corporate job listing can attract 118 applications that recruiters have to look through, of which only 20 percent will be called for an interview. The sheer volume of applications lengthens the hiring process which can be frustrating for both sides and potentially hurt recruitment outcomes as well. In fact, a study of Singaporean job seekers, waiting too long for a reply has resulted in more than 7 in 10 (74%) candidates taking a second-choice job offer instead.
This is where AI comes in to ease the frustration for both parties. Recent research showed that most candidates, (69%) agreed that using AI in recruitment helps to save time and quicken the process. AI-powered recommendations can identify the opening that is just right for job seekers, and the candidate that best fits the job description. Instead of relying on the quantity of applications, using data-driven insights from AI shifts the focus to the quality of applications ensuring that the right recruiters and candidates will find each other, leading to suitable placements. By integrating a chat function, both recruiters and job seekers can reach out if they find themselves to be a good fit.
Leveraging AI with a human touch for a better, brighter recruitment landscape
In response to the growing emphasis and concerns about fairness in the field of AI,  the developers and experts are constantly upgrading and developing algorithms to improve efficiency and streamline the workflow thus freeing up time for human resource professionals to step in to assess the candidate directly.
In talent acquisition, it is important to frame AI as a power tool in the hands of an HR professional. The recruitment and job hunting process can be smoothened when employing AI-powered HR tools to help with writing job descriptions, optimize resumes, formulate quick replies, and even suggest potential applicants — but it is with direct communication that allows the humans behind the screen to step in and find the right candidate.
---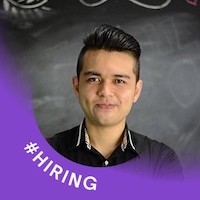 Kiat How Quak, Co-Founder and Chief Operating Officer of Bossjob, a leading chat-driven job portal in Southeast Asia, with more than 2.9M registered users and 10,000 partnered businesses.
TNGlobal INSIDER publishes contributions relevant to entrepreneurship and innovation. You may submit your own original or published contributions subject to editorial discretion.
The game changer for online retail in Asia: Digital shelf AI-driven analytics and beyond