Despite the revival in the physical retail store landscape during 2022, the trend of online buying and selling remains steadfast among retailers and consumers in 2023.
The retail e-commerce industry witnessed exceptional growth in 2022, with sales exceeding $5.7 trillion globally. Projections indicate a continued surge, reaching $8.1 trillion by 2026. The APAC region will generate over US$4 trillion in e-commerce sales by 2024, which makes up 65.9% of the global market. This exponential growth is observed in both developed and developing countries, highlighting the widespread impact of online retail.
The convenience of online shopping has led to an unprecedented influx of consumers, as exemplified by platforms like Shopee processing 2 billion orders in Q3 2022 alone. However, this surge in sales has intensified competition among brands. Marketplaces, such as Amazon, are predominantly occupied by third-party (3P) sellers, representing 60 percent of total sales.
Due to this high competition in the market, retailers have been struggling to identify and reduce potential gaps with competitors' offerings to stay ahead. Furthermore, the lack of key capabilities to analyze sales performance and brand visibility has potentially amplified ongoing issues – leading to a decrease in market share, revenue, and price wars.
Laying the foundation with digital shelf AI-driven analytics
To remain outstanding in the competitive arena of the e-commerce landscape, brands & retailers must establish a strong presence and differentiation strategy to capture consumer loyalty. To do so, analyzing competitors, making an impeccable brand image with accurate product data, and maintaining control over distribution networks are crucial factors in gaining consumer trust and delivering exceptional customer experiences.
For that, a digital shelf analytics platform is crucial. In the context of e-commerce, a digital shelf is the online version of product shelves at a brick-and-mortar store. It is a collection of digital experiences through which consumers discover, learn about, compare, and ultimately make purchases of products. Digital Shelf platforms provide AI-powered insights into brands' health and product performance.
However, generating and extracting digital shelf data is only the first step. To stay ahead of the curve, it is paramount to use this information effectively, which is new to many e-commerce retailers. The digital shelf is the heart and soul of a brand's online presence, and its health is paramount to thriving in the fiercely evolving e-commerce landscape.
6 ways in which a healthy digital shelf can empower retailers in Asia
Strategic Pricing: A solid pricing strategy enhances profitability. Yet, most lack one. Competitive prices influence 51% of shoppers to switch brands. Brands can avoid price wars and boost brand image with insights on price trends and competitor pricing. This maintains competitiveness and earnings.
Enhanced Content: Real-time shelf health data informs sales and revenue. Informed strategies improve customer experience through better content. Market sentiment scores from reviews help brands address concerns. Comparing visibility, engagement, and traffic with rivals fine-tunes approaches.
Efficient Replenishment: Maintaining stock is vital. Insights on product availability across channels aid tracking. Monitoring competitors' launches is easier. Comparing sales helps meet demand when rivals run out of stock.
Optimized Revenue: Accurate analytics reveal GMV by marketplace, brands, and more. Monitoring top-performing products streamlines efforts. Detailed charts identify bestsellers, enabling data-driven decisions and revenue optimization.
Reduced Losses: Analyzing product comparisons reveals revenue loss to unauthorized sellers. Digital shelf analytics integrated into operations protect brand value, flagging violations and building trust.
Staying Ahead: Comparing products with competitors aids differentiation. Analyzing parameters like price, reviews, and discounts identifies improvement areas. Detailed information supports strategic decisions. Armed with this knowledge, retailers make informed decisions and adapt strategies for a competitive edge. Understanding competitors' strengths highlights areas for enhancement.
In conclusion, the digital shelf represents a vital cornerstone of e-commerce, transforming the way consumers interact with products and brands within online marketplaces. By amplifying product visibility, facilitating product discovery and evaluation, driving seamless omnichannel experiences, and harnessing data-driven insights, the digital shelf empowers businesses to thrive and succeed in the digital era. Understanding the importance of digital shelf health is no longer an option; it has become imperative for e-commerce retailers worldwide seeking to remain competitive and propel growth in the dynamic world of e-commerce.
---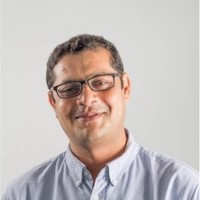 Vaibhav Dabhade is the Founder and Chief Executive Officer of Anchanto.
TNGlobal INSIDER publishes contributions relevant to entrepreneurship and innovation. You may submit your own original or published contributions subject to editorial discretion.
For Anchanto's Vaibhav Dabhade, digitalization requires a deep structural shift for companies getting into e-commerce [Q&A]