In this TechNode Global Q&A, we learn about the importance of the innovation ecosystem from Dr. Tarit Nimmanwudipong, General Manager of True Digital Park.
For the coming years, True Digital Park will not stop at just an ecosystem for startups, but for students and researchers as well.

We have been providing upskill/reskill courses for the new digital talents to be ready for digital transformation and provide co-learning space for students.

While on the research front, as part of the subsidiary of CP Group, True Digital Park will soon house a research center for universities, researchers, startups, innovators and experts to have a common space to collaborate.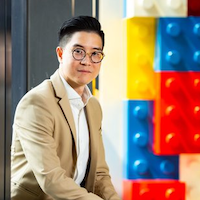 Kindly share a brief background of yourself and True Digital Park.
True Digital Park is Southeast Asia's largest tech and startup hub, spanning over 200,000 sqm. The whole project is divided into East and West. True Digital Park East open in 2019 is the first phase of the project, while True Digital Park West open in 2022 is the new development that has been designed under the concept of "Tomorrow Life Campus."
The park is a critical driver for the development of the startup and innovation ecosystem in Thailand. All under one roof, startups, entrepreneurs, tech companies, investors, accelerators, incubators, academies and government agencies co-exist in our interconnected ecosystem.
Situated in the East of Bangkok – right off Punnawithi BTS Station and located in the emerging Bangkok CyberTech District (Innovation District), True Digital Park gives vast expansion opportunities across digital domains and geographical spaces.
What are the trends driving innovation today?
For Thailand, the socio-economic problems would lead the trends. Innovation today is focused mainly about decarbonization, environment, plant-based food, the aged society, among others. These are emerging trends we have seen on top of other global mega-trends that always drive innovation.
What role does community play in ensuring sustainable innovations?
For almost four years, True Digital Park wants to ensure that all key players get the opportunity to join and connect in our ecosystem. We continue to organize programs, events, talks, and activities—all of which cannot happen if we do not have the people in our ecosystem.
As Southeast Asia's largest tech and startup hub, True Digital Park is here to support foreign startups, no matter where you are from. If you are looking to start a business or already have a small business in Thailand, 'Startup Booster' Program is one of our signature programs that offers knowledge, connections, mentorship, smart visa endorsement, and other support needed to strengthen your capabilities.
For Thai startups, we offer Startup Sandbox program that is aimed to support startups in Thailand with workspace, knowledge, community, opportunities to meet investors, and other fundamental assistance. This is an innovative sandbox program that provides suitable environment and resources to allow innovations, new ideas, and businesses to grow with proper support and guidance from the startup ecosystem of True Digital Park.
We are able to have all of these programs and activities because we have the people in the ecosystem, no matter business experts, VCs, to participate in it, providing guidance and advice to those who need them.
Define impact. How do you innovate with impact in mind?
Impact for us means change regardless of form. Positive impact that rises as a result of innovation is what True Digital Park has been looking to create. We continually empower startups and corporates to develop new ideas therefore becoming new products/services to create positive impact in both B2C and B2B markets.
What are the three (3) key challenges in sustainable innovation? How does your company/team support the ecosystem in addressing these challenges?
Challenges would be (1) support either from the government or big organizations, (2) funding, (3) opportunities that these sustainable innovations be applied.
All of the three challenges are linked. As an ecosystem builder, we are the linkage for everyone, the government, associations, tech giants, startups, SMEs, and more. We organize events for them to meet and especially for little people to have their voice heard.
Please share any case studies, success stories, data, or industry insights that can highlight these.
We played an important role in helping National Innovation Agency organize Thailand Startup Ecosystem Report, which is a public hearing activity for people to present and discuss a draft report "Developing Thailand Startup Ecosystem Year 2021." It was the ideal opportunity for startups to share opinions and exchange ideas with fellow entrepreneurs working in various fields to push Thailand towards an innovation-based economy as well as developing the country's economy and society.
Additionally, we also have TDPK One Stop Service for Startups as a consulting center to help and solve problems in running a startup/business. Meanwhile, our "Let's Talk to the VCs" –an exclusive 30-minute consultation session with VCs, has also been helping startups improve their business model and giving opportunity for funding. Our community events have been providing knowledge from industry's experts and networking opportunities for startups to meet with industry's experts.
True Digital Park has also been approved by the Board of Investment of Thailand as a special economic zone, entitled tenants who have companies registered at True Digital Park an extra 1-year corporate income tax exemption. And for small companies, we offer affordable office that is suited for scaling companies.
---
This TechNode Global Q&A is part of the ORIGIN Innovation Awards 2022 series. True Digital Park is a winner in the Most Active Community Builders award category.
ORIGIN Innovation Awards 2022 winners: Outstanding Ecosystem Leaders