TechNode Global is pleased to announce the winners of the Outstanding Ecosystem Leader category of the ORIGIN Innovation Awards 2022.
This year, ORIGIN Innovation Awards launched with the theme, Sustainable Innovations, Lasting Impacts. The awards focus on how innovations are making an impact on sustainable development goals.
"We congratulate the winners for their strong commitment to incorporating sustainable practices by applying innovations and technologies to the business models and operations in line with the UNSDGs. We look forward to their greater contribution to the future of sustainable development," says Stanley Chong, Director, TechNode Global.
Nominations for the ORIGIN Innovation Awards began on June 15, 2022 and ended on August 31, 2022. The eligible nominees across the 10 Categories were put up for judging and public voting from October 3, 2022 to October 28, 2022. Final decisions about the awards were made by a committee of advisors, informed by public voting.
Together with the all-star advisory team, TechNode Global spent close to two weeks evaluating every nomination and determining the finalists. The ORIGIN Innovation Awards advisory committee is made up of representatives from the following partners:
Advisors:
AC Ventures, Fuchsia Venture Capital, Gobi Partners, Kairous Capital, Ondine Capital, Vertex Ventures, and 500 TukTuks.
Strategic Partners:
Alibaba Cloud, BLOCK71, MRANTI, Tencent WeStart (Hong Kong), The Great Room Thailand, WORQ, Athena Mentor, and Tilleke & Gibbins
Supporting Partners:
Brinc, Disrupt Technology Venture, HKSTP, Lever VC, Manila Angel Investors Network, Malaysia Digital Economy Corporation, New Energy Nexus, Plug and Play APAC, REAPRA, RISE Corporate Innovation Powerhouse, RevvX Ventures, Sasin Sustainability & Entrepreneurship Center, Singapore Management University, Startup Grind, True Digital Park, TechShake, Cyberport, Techsauce, and Disrupt Impact Fund.
Here are the winners.
Venture Visionaries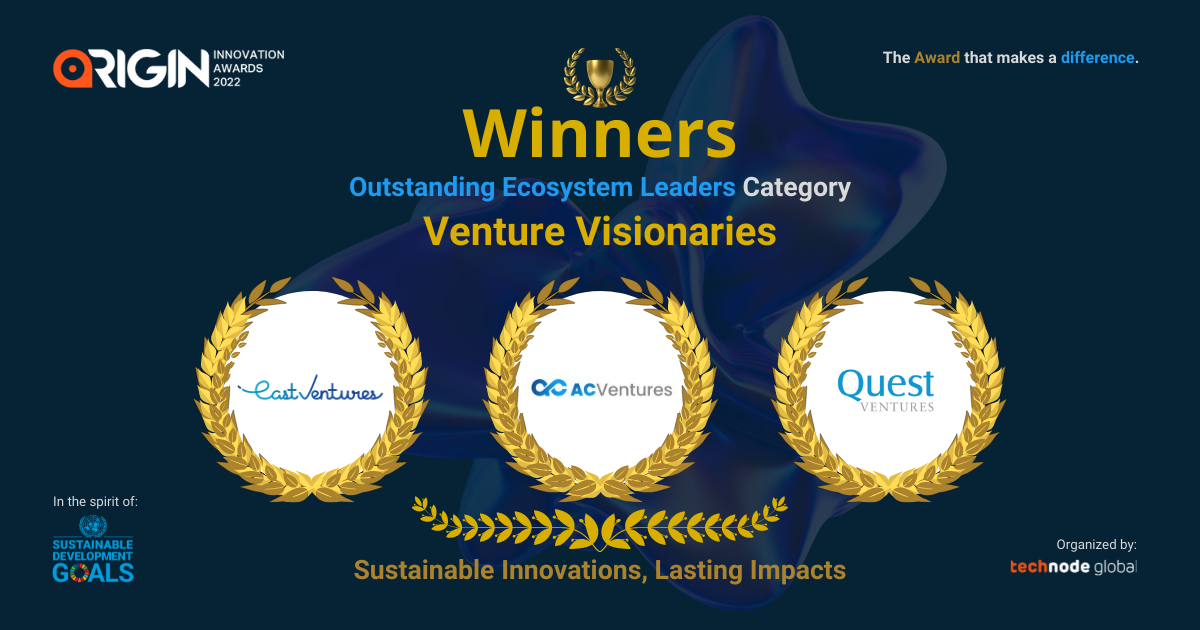 East Ventures
A pioneer venture capital firm that provides multi-stage investment for over 250 companies in Southeast Asia with a focus on Indonesia, East Ventures is committed to creating positive impacts and achieving sustainable development.
AC Ventures
A leading Southeast Asian venture capital firm investing in early-stage startups focused on Indonesia and ASEAN, the mission of AC Ventures is to partner with and empower entrepreneurs with more than capital.
Quest Ventures
Sustainable Impact Accelerator is Asia's first VC-backed accelerator for socially impactful enterprises, powered by a top VC and experts in social impact.
Most Active Community Builders

Vertex Ventures Southeast Asia and India
One of the largest and long-standing funds in the region, Vertex Ventures Southeast Asia and India has a strong reputation for being especially selective, but very founder-friendly and supportive even during difficult times.
Youth Venture Asia
Designed to map the talent pipeline across Southeast Asia by creating a technology-enabled ecosystem for youth to achieve their career or entrepreneurial goal, Youth Venture Asia has helped more than 10,000 youths to pursue their passion.
True Digital Park
Thailand's largest tech and startup hub, True Digital Park provides workspace, co-working space, innovation space, and event spaces for the tech community. TDPK is the only place that completes all of the needs of startups.
Outstanding Accelerator & Incubator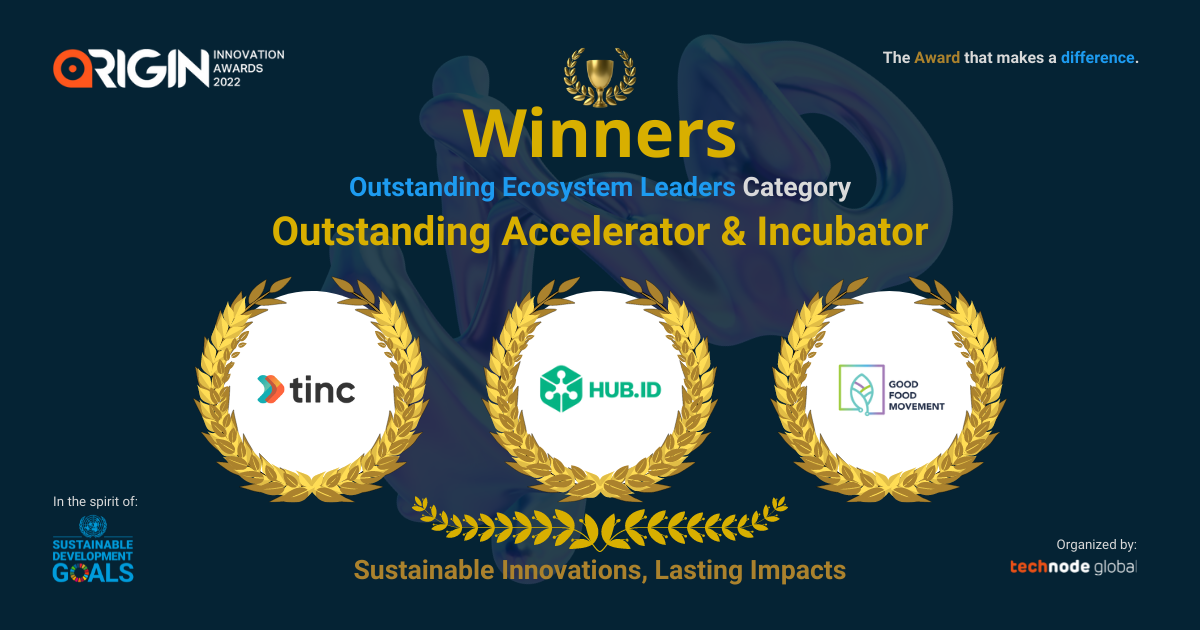 Tinc
An accelerator by Telkomsel, Indonesia's leading digital telco company, Tinc is an innovation-focused initiative that engages innovative startups delving into the entrepreneurial landscape.
Good Food Movement
A leading FoodTech ecosystem in Hong Kong, Good Food Movement's ESG investment thesis supports innovations that can create a positive impact on the environment for the next generation.
HUB.ID
A fully government-funded accelerator program, HUB.ID focuses on helping digital startups strengthen their business networks by providing business matchmaking with stakeholders from the government, state-owned enterprises, and private corporates.
---
Congratulations to the winners!