In this TechNode Global Q&A with Jockie Heruseon, Vice President of Business Development and Innovation at Telkomsel, we learn how digital solutions can support a country's readiness to face sustainable innovation challenges in the future.
"Telkomsel contributes to the acceleration of Indonesian startups that can deliver positive impact to society through our Tinc program. We hope this award will resonate with Telkomsel's intention to contribute to the emergence of  Indonesia's digital economy and inspire more to join and create meaningful impact from value creation. We will continue to collaborate and open all opportunities to build digital innovations for a sustainable Indonesia."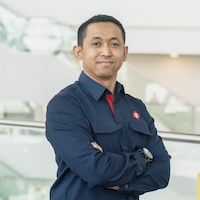 Can you share a brief background of yourself and your company?
Hi, my name is Jockie Heruseon, VP of Business Development and Innovation at Telkomsel. I am responsible for managing the innovation and acceleration program at Telkomsel (Tinc) and to catalyze value creation from synergistic initiatives resulting from the collaboration of Telkomsel business units with the digital portfolio that we manage.
As Indonesia's largest telecommunications company, we are aiming to become the largest digital enabler by producing innovative digital product developments that involve our digital ecosystem.
Our team in Business Development and Innovation consists of various backgrounds and capabilities, starting from managing incubation and acceleration with exit values, scale-up solutions, and follow-on funding,  overseeing the synergy process, and also a team that focuses on innovation exposure. What inspires me and the team is how we don't just stick to hard work,  because hard work only secures our current job and output – but how we can reach beyond in creating impact for the company and for Indonesia.
The program we manage includes Tinc corporate accelerator program, Polaris internal incubation program, and several other innovations born from internal incubation in verticals such as agriculture, lifestyle, and education. We also oversee the birth of several synergistic solutions from the results of the  Telkomsel JV and Investment in subsidiaries.
How important is ESG in doing business today? What differentiates ESG simply for compliance with doing ESG with the aim of true sustainability?
The private sector is a key actor who plays an important role in ESGs. First, by helping to raise the standard of living through the creation of fair and equal human resources and capability, the development of skills and technology, and a more equitable distribution of wealth. The business provides a foundation for the achievement of ESG and the most relevant contribution to sustainability itself by transforming its strategies, operational flow, standards, and metrics to integrate sustainable development within the core of its missions.
Fund and investment are also very important in certain areas such as agriculture and nutrition, health, education, water supply and sanitation, climate and energy, infrastructure, biodiversity, ecosystem services, and technology, including a data insight revolution. Finally, a business is an important stakeholder on account of its resources, its ability to innovate, and its scale and reach.
Good implementation of sustainability must be measurable, by setting ESG's metrics with clear objectives, carried out by the right resources and organizations within the company that measures the expected output and realization of funding for sustainability whose impact can be seen.
Define impact. How do you innovate with impact in mind?
"Impact" for me is providing benefit to others and to your surroundings. "Innovate with impact" means I always aspire to never settle with my current situation, and always grow with the mindset of giving a positive contribution to others. From my position right now, I have the ability to contribute by catalyzing value creation that can impact stakeholders in Telkomsel's ecosystem. Which is why I strive to keep innovating and strategizing on how we can leverage our assets for other people's benefit.
My role encourages collaboration – working as an ecosystem. The ability to collaborate can set you apart from your competition, secure long-term customers, and brings distinct meaning to your brand and your solution. Without collaboration and value creation, your unique offering will be seen as just another commodity in the eyes of your target market.
What are the three (3) key challenges in sustainable innovation? How are you supporting your portfolio companies in addressing these challenges?
There are several big challenges in implementing sustainable innovation, such as:
Awareness of the importance of sustainable and impactful innovation. Every now and then, sustainability is not everyone's top of mind when it comes to businesses. Little is known about how sustainable innovation can lead to long-term impact that eventually benefits many stakeholders. The challenge here is to translate the message and urge everyone to innovate with such a mindset.
Low endorsement or platform to build and grow innovation Although Indonesia ranked second in South-East Asia for startup ecosystem (Statista, 2022), we still find a stagnant or low endorsement for digital innovation to accelerate. We need a platform or medium consisting of key players with the same vision to help one another to achieve a sustainable impact
Unequal infrastructure development in Indonesia. Even though currently Indonesia is intensively carrying out massive development on the infrastructure side, it is deeply regretted that the development is not achieved 100 percent equity yet, so the application of sustainable innovation technology in several regions of Indonesia will be a  challenge when infrastructure not evenly distributed in all regions of  Indonesia.
To be able to address those challenges, we are trying to strengthen our programs, one of which is with an innovation program (Tinc and Polaris) for startups that also focuses on sustainability, investment arm, and strengthening subsidiary of innovation portfolio management. All of these ecosystems are expected to support the growth and cracking challenges on sustainable innovation with synergy activities.
Some of our portfolios that are relevant to this, are 99% Usahaku, application platforms that support MSMEs, and internal solutions in the acceleration stage related to food security and the digital food ecosystem. We also have Kuncie, an education and learning portfolio for empowering Indonesian people, and various other digital solutions that support our readiness to face sustainable innovation challenges in the future.
Telkomsel Corporate Accelerator (Tinc) is our flagship startup accelerator program as a footprint for the telco industry in supporting other verticals with Telkomsel capability & assets, such as agriculture, fintech, SaaS, and many more. Tinc itself has achieved:
1.5K+ submissions across 19 verticals;
33 startups through 7 cohorts with 10 digital verticals on-boarded;
18 Commercial-ready use cases whereas from all startup that we engaged;
>50 percent commercial ready use cases that are qualified to convert by  Telkomsel's Venture Arm.
We also connect Tinc startup with Telkomsel digital ecosystem, for example:
Kecilin with Telkomsel Enterprise: Delivering innovation for industries by  reducing bandwidth, data storage and operational cost
Ecodoe collaborate with 99% Usahaku: Supplying products to Telkomsel's  99%Usahaku marketplace platform to open more market opportunities for  SMEs
Besides that, we also drive Indonesia economy by optimizing Telkomsel's  portfolio collaboration such as:
Providing special package for Gojek driver partners (paket swadaya).
Supporting MSME partners that connected to 99% Usahaku.
---
This TechNode Global Q&A is part of the ORIGIN Innovation Awards 2022 series. Tinc is a winner of the Outstanding Accelerator & Incubator award.
ORIGIN Innovation Awards 2022 winners: Outstanding Ecosystem Leaders