In this TechNode Global Q&A with Robin Yovianto, Co-Founder and Chief Executive Officer of AMODA, we learn how technology and innovation provide better efficiency and productivity in the construction industry.
The conventional construction techniques that have existed for the last 120 years have been the continuing driver of why the sector is filled with inefficiencies and pain points for all stakeholders. AMODA's tech-enabled property management and construction solutions provide increased productivity and transparency in the real estate market by making cost-effective, sustainable, time-efficient, and flexible construction accessible to everyone.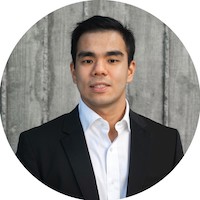 Can you share a brief background of yourself and AMODA?
AMODA is a Property and Construction Technology company whose vision is to make space utilization limitless. In our effort to achieve this, we provide an end-to-end ecosystem where businesses/individuals can experience transparency, efficiency, and most importantly peace of mind when dealing with property management and construction.
What are the trends driving innovation in urban development and planning?
Conventional construction and property management processes have been the core issue that inhibits us from fulfilling the demand. With global supply chain disruption, this is even getting worse. The building process needs to be more transparent, and efficient from the time and cost perspectives for us to be able to cope with the demand and building-price growth that keeps outpacing the income growth.
Digitizing the building process makes it easier to track all the components involved, which in turn makes it easier to measure and calculate carbon output for each deployment. Global housing shortage that could impact some 1.6 billion people by 2025, as house-price growth continues to outpace income growth. On top of that, houses aren't being built quickly enough, with an estimated shortfall of at least 4 million homes in England and 5 million in the U.S.
Would you agree that sustainability is important in designing and running smart cities? Why so?
Yes, the sustainability aspect is more than critical in smart cities. Property and construction are the backbones of all nations' economic growth and critical, if not the most important, needs for every human being. Leveraging technology to significantly reduce material waste from the building process and extend the life cycle of the building is imperative as building construction and household emissions contribute up to 33 percent of global carbon emissions, which is massive.
Define impact. What role does this play in urban innovation?
By making data-driven property management more transparent and construction more efficient, flexible, and reusable, we unlock what was perceived as impossible previously. The AMODA ecosystem unlocks easier access to scalability and risk mitigation – businesses and individuals can now scale their businesses more efficiently without having to worry about high investment CapEx as their risk has been mitigated by at least 60 percent.
What are the three (3) key challenges in sustainable innovation? How is your company/team able to address these challenges?
Quick and massive demands from every part of Indonesia. As we are relying on the cloud-manufacturing process for our construction, our team has relentlessly been working to keep expanding our manufacturing partners and their capacity so that makes the lead time faster and transportation costs more efficient
Applying new solutions in a constantly ever-evolving environment. In this post-pandemic era, there is a constant need to pivot and innovate in order to solve real-world issues. Our team kept hearing what our customers need that might change from time to time. We have pledged to keep innovating and utilizing new technologies to deliver the best solution that addresses these pain points that 99 percent of people experience.
Good Talent scarcity has always been an issue, but right now it has become a real obstacle. We expanded our presence immensely so that a lot of people are more aware of us. In providing technology solutions, we have always been unique and this approach has been effective in attracting great talents as it inspires more people who want to revolutionize this humongous sector.
Please share any case studies, success stories, data, or industry insights that can highlight these.
The average commercial space monthly rent in Indonesia is about IDR 15 million and most asset owners want this to be paid upfront so we have to pay IDR 180 million. Adding the cost of tenant improvement it might cost 1 business roughly IDR 580 million to just start their business. That is an insane amount of money knowing that during this period they should utilize the investment to start scaling their business.
By utilizing our ecosystem instead of putting all of the money into 1 basket (1 location), all businesses can experience 30 percent reduced cost/sqm, and build more efficient spaces while doing trial and error to find the best locations for their business through our relocation service.
---
This TechNode Global Q&A is part of the ORIGIN Innovation Awards 2022 series. AMODA is a winner in the Startup Leader of the Year: Smart City Idols award.
ORIGIN Innovation Awards 2022 winners: Startup Leaders of the Year and Corporate Sustainability Champions