As we continue to enjoy user-generated content (UGC) and applications enabled by the current Social Web (Web 2.0), we cannot ignore the imminent rise of Web 3.0 (Web3).
Dubbed the Semantic Web, Web3 is essentially a decentralized version of Web 2.0 that omits centralized servers and data silos. With a decentralized architecture, Web3 requires no trusted intermediary – meaning that the domain is permissionless and the power of online data management is completely democratized among the users themselves.
This upcoming web version is expected to harness advanced technologies such as artificial intelligence (AI), machine learning (ML), and the blockchain to enable and optimize transparent and real-time social connections online. Web3 applications are also expected to compensate users with dual-functioning virtual asset tokens for maintaining their network. These tokens can act as monetary rewards and voting shares that govern the development and even fee structure of Web3 applications.
Data ownership – what to expect from Web3
Web3 is built on optimizing user experience – and maximizing data privacy is a key priority. Leveraging its decentralized nature, Web3 gives data control power back to the user. The domain will be peer-to-peer managed, and its publicly available distributed ledgers can enable excellent transparency for users regarding their data records and verification. This results in users essentially owning all their data, and this extends to online connections, social media posts, and more.
Ownership status in Web3 hence calls for explicit user consent, where no platform can access or share data without users' permission. Additionally, users can access their social data across multiple platforms without the need to re-upload or re-post it. This enhanced data privacy through user data ownership has various positive ramifications for future Web3 users. However, for businesses to be truly ready to embrace the Web3 ecosystem, they must also understand the specific security and privacy considerations that it entails.
Maximizing data and digital identity protection
Boosting cybersecurity
Web3 helps to enforce user data confidentiality and integrity primarily because it is built on the blockchain, requiring users to have private keys should they wish to own a dataset. Furthermore, the data existing on the blockchain is also unchanging due to its framework's immutable nature. Hence, Web3 has the potential to exist publicly in perpetuity as data remains transparent and permanent on the domain.
Moreover, auto-adjusting mechanisms are enabled in the blockchain thanks to its accompanying AI technology. Requiring no human intervention, the presence of AI makes the Web3 equipped with independent functioning cybersecurity programs that holistically cover breach risk predictions, incident response, and automated allocation of resources in the event of a data breach
Digital identity safety
The utility of AI in Web3 does not just stop with general cybersecurity; its auto-sensory nature is also pivotal for effective identity verification procedures. For example, by merging AI with know-your-customer technologies, companies can implement automated regulatory search engines that can analyze real-time digital footprints, conduct background research or even filter sensitive keywords that can deter malicious activity on Web3.
With the abundance of online data today, hackers are increasingly committing digital identity theft to gain full access to users' virtual wealth. In fact, losses associated with fraudulent transactions made from stolen digital identities amounted to approximately $52 billion in the United States alone, along with millions of personal consumer data being robbed. These criminal activities illustrate the great pertinence of identity protection online, which Web3 can provide using its unique AI-enabled capabilities.
Cementing & optimizing data ownership (virtual assets)
Smart contracts
Under the umbrella of digital safety, data security on Web3 is also highly emphasized – especially through the implementation of smart contracts. A self-executing code that automatically runs on an immutable public ledger, these contracts enable two parties online to conduct digital transactions directly and transparently without needing a mediator. Therefore, the opacity and immutability of smart contracts can allow users who transact on Web3 to enjoy a more streamlined process of virtual asset ownership through having contracted data that is unchanging and existing in perpetuity.
 AI's supplementary role
Further leveraging AI, Web3 can be a conduit for efficient information gathering. For instance, users who are fund managers can leverage AI to develop automated asset allocation models on Web3 that are based on real-time news, reports, or feeds. These models are relevant in forecasting risk variables and make more accurate investment returns and variance predictions. Therefore, in addition to securing cemented data ownership, Web3 can enrich its users' financial capabilities by providing the tools needed for creating diversified portfolios of profitable virtual assets.
How to ensure an optimal adoption of Web 3.0
Evaluate risks to utilize Web3's fullest potential
Just like how users should conduct comprehensive information gathering before making an investment decision, they must do the same before choosing to adopt Web3 in the first place. While Web3 seamlessly converges various novel technologies to produce many user benefits, it can also come with risks such as a lack of content moderation of data and more. Considering such risks, users must be prudent in their initial adoption strategies to safeguard against possible data upload mistakes in the future.
Producing the best coding to optimize Web3
Risk considerations aside, the ultimate way to optimize the future adoption of Web3 is for companies to invest in experts that can understand the complexities of Web3 technologies to formulate the best codes. For example, developers with a comprehensive understanding of algorithmic cryptography methods can help their employers boost the quality of codes that maximize data security development in Web3.
Building an optimistic online future with Web3
Overall, the vast potential of ensuring solid cybersecurity and data ownership makes Web3 an exciting prospect to behold. On top of that, its various technologies can offer many digital opportunities, possibly even becoming a novel gateway to the greatly talked about metaverse. Thus, we look forward to keeping our pulse on the dynamic prospect of Web3.
---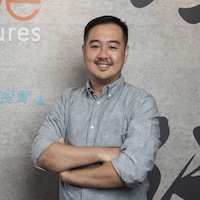 Yan Lee is the Founder and Managing Partner at Hive Ventures – a Taiwan-focused global seed to early stage venture capital firm, with a focus on artificial intelligence (AI) and Internet of Things (IoT) and its applications. He brings his strong past experience as an entrepreneur in the fields of Big Data and AI to offer strategic support to Hive Ventures' portfolio companies. Yan is a passionate venture builder and aims to support top talents in Taiwan to foster its next wave of unicorn technopreneurs.
Yan was the Founder and CEO of Buzzinate, a leading Big Data platform and service provider in China that merged with iClick in 2014. He played a central role in Buzzinate's success, which led him to be included in Forbes' "30 under 30 Entrepreneurs of China" in 2012 as well as Campaign Asia's "40 under 40" in 2018. Yan went on to become the Chief Product Officer and Head of International Business of iClick Interactive (Nasdaq: ICLK), where he spearheaded product innovations and drove business growth globally.
Yan holds an MBA from the China Europe International Business School (CEIBS) in Shanghai. He is also an alumnus of the London Business School (LBS) and National Chengchi University (NCCU) in Taiwan.
TechNode Global INSIDER publishes contributions relevant to entrepreneurship and innovation. You may submit your own original or published contributions subject to editorial discretion.
Will web3 interoperability fortify a unified metaverse ecosystem? [Podcast]