Editor's note: In line with the rapid growth and interest in Web3, TechNode Global has introduced the "Web3 Disruptors", under The Startup Leader of The Year category in the third edition of ORIGIN Innovation Awards. Nomination will be closed soon. Check it out here. 
---
In an article published in June, The New York Times explained that "Web3" as a term some technologists use to describe the idea of a new version of the web made up of blockchain-based platforms and services fueled by cryptocurrency.
"At its core, Web3 aims to replace centralized corporate platforms with open protocols and decentralized, community-run networks. The term has been around for years, but it has become trendy in the past year or so," the US-based newspaper said. "Packy McCormick, an investor who helped popularize Web3, has defined it as 'the internet owned by the builders and users, orchestrated with tokens.'"
Web3 is being touted as the future of the internet, according to Harvard Business Review.
"The vision for this new, blockchain-based web includes cryptocurrencies, NFTs, DAOs, decentralized finance, and more. It offers a read/write/own version of the web, in which users have a financial stake in and more control over the web communities they belong to," the magazine wrote in May this year.
While Web 3 is a rather new term and concept for the man on the street, it has become a hot topic in many parts of the world since last year. Startups providing Web3 services are getting attention from investors and governments.
Last Thursday, TechCrunch reported that decentralized Ethereum scaling platform Polygon founder has raised $50 million for emerging markets-focused Web3 venture fund. The fund has already made about 15 investments, including in web3 gaming studio BlinkMoon, Polygon-based metaverse Planet Mojo and esports platform Community Gaming, the report added.
Last month, Japan's Ministry of Economy, Trade, and Industry announced the establishment of a Web3 policy office in the Minister's Secretariat, Forbes reported, quoting a statement from the Ministry. "Given that some entrepreneurs pursuing Web3-related business are leaving Japan for opportunities overseas, deliberations toward developing the business environment in Japan need to be accelerated," the statement wrote.
According to The Crunchbase Web3 Tracker (as at Aug 29), Web3 startups- including crypto, blockchain and others – have raised $16 billion this year. Crunchbase numbers also showed that VC-backed Web3 builders, crypto startups and blockchain developers raised more than $30 billion last year, compared to less than $5 billion in 2020.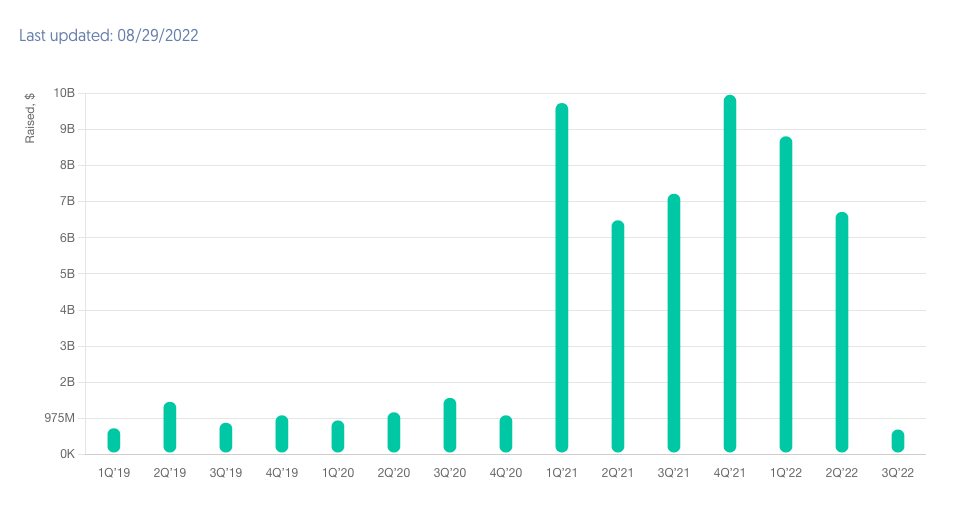 Asia Pacific to grow fastest with high demand from BSFI, e-commerce, retail, healthcare
According to Canada-based market research and strategy consulting company Emergen Research, the global Web3 market size is expected to reach $81.5 billion in 2030 growing at a compound annual growth rate of 43.7 percent.
The emergence of 5G and 6G networks, as well as blockchain technologies and the launch of new Web3 Apps and Web3 wallets, is expected to be a major factor driving market revenue growth between 2021 and 2030. Machine Learning (ML) and Artificial Intelligence (AI) power Web3, allowing computers to analyze large amounts of data and aid in the distribution of content based on a user's specific needs, the firm added.
Market in Asia Pacific is expected to register fastest revenue growth rate during the forecast period due to consistently high demand for Web3 systems from various end-use sectors such as banking, financial services and insurance (BSFI), e-Commerce and retail, healthcare and pharmaceuticals, and others.
"The greatest opportunity of being a Web3 startup is developing a decentralized space. This is partly because our community can actively participate in our growth through feedback, suggestions, product testing and so forth, in real-time," Thai-UK Web3 startup Perception Founder and Chief Executive Officer Dr. Sirisilp Kongsilp told TechNode Global.
Dr Sirisilp is the founder and CEO of Perception and The Morpheus Project. Perception is an immersive technology company while The Morpheus Project is the first-ever Holo-NFT art community that allows artists and galleries to display their holographic collectibles to sell them to supporters.
Founded in 2019, the startup initially received a grant from Siam Commercial Bank, one of the biggest and oldest banks in Thailand. It is also supported by the Government Savings Bank of Thailand and several investors. Last year, the company qualified for the UK's Global Entrepreneur Program (GEP). The now UK-based company specializes in Desktop Augmented Reality (Desktop AR). It develops Software Development Kit for developers to make computer applications, turning 2D computers into an immersive and interactive 3D content display.
"By creating a democratized space, like The Morpheus Metaverse, we are adding a social aspect to it, where we can directly connect with the community. By doing so, our immersive learning experience can be tailored to be considerate of the multitude of needs, of different types of learners and educators. Web3 startups like Perception have a direct connection to their community in a democratic environment which emphasises collaboration," he added.
Gusto Collective: Asia holds great potential for Web3
Hong Kong-based brandtech firm Gusto Collective, which plans to provide Web3 services and products following its fundraising in May, opined that Asia holds great potential for the development of Web3.
"We believe Asia holds great potential with a young population, who is amongst the world's most 'digitally native'. Asia has some of the highest internet and gaming penetration amongst this young generation," Gusto Collective Chairman and Chief Executive Officer Aaron Lau told TechNode Global in an interview in June.
"To them, Web3 is just a natural evolution of their gaming experience. Asian economies are creating a fast growing middle-class who are eager for amazing experiences, whether physical or digital. As such, it is drawing multinational brands to market to cater to this important audience with a "phygital" strategy, of which Web3 plays a major part," he added.
Lau also said that Web3 is also "intrinsically in the metaverse", so not necessarily limited by geography like other mediums.
"For Web3, we think that Asia, ex-China, is actually quite similar with the US and Europe. Mainland China obviously has the aspect that cryptocurrencies are not allowed, making the state-of-play more limited in terms of funding NFT purchases and participating in other crypto-ecosystems," he shared.
Gusto Collective, which provides content production services, raised $11 million in its seed plus funding round led by Animoca Brands and Gaw Capital in May. The oversubscribed round also received participation from BlackPine, YCI Limited, and several existing shareholders including ClearVue Partners.
The funding will support Gusto Collective's growth in geographic expansion into other parts of Asia; Web3 services and products, and recurring-revenue product development.
Hong Kong's brandtech firm Gusto Collective eyes expansion to SG, Tokyo, Bangkok after recent fundraising [Q&A]
Risks & challenges
Financial media website Investopedia was quick to point out the potential and pitfalls of Web3.
Web3 has the potential to provide users with far greater utility, going well beyond the social media, streaming, and online shopping that comprised the majority of Web 2.0 applications consumers use. Capabilities such as Semantic Web, AI, and machine learning, which are at the core of Web3, have the potential to significantly increase application in new areas and vastly improve user interaction, Investopedia noted.
"Core features of Web3, such as decentralization and permissionless systems, will also give users much greater control over their personal data. This may help limit the practice of data extraction—which refers to information collected from web users without their consent or compensation—and curb the network effects that have enabled the technology giants to become near-monopolies through exploitative advertising and marketing practices," it explained.
However, decentralization also brings with it significant legal and regulatory risks, Investopedia noted. Cybercrime, hate speech, and misinformation will become even more difficult to police in a decentralized structure due to the lack of central control. A decentralized web would also make regulation and enforcement difficult, the website pointed out.
While Web3 seems to be gaining traction and many startups in this space are able to secure funding from investors, they do face various challenges.
"A challenge that we have noticed in the space, has been startups struggling to find a way to introduce their niche project into the larger community of everyday internet users," Dr. Sirisilp, who is also a university lecturer in software engineering, said.
Many of the startups that have an idea in mind cannot expand the scope of their project to attract investors and close themselves off from connecting with a larger community, he noted.
"We are facing a similar challenge in that sense. How do we bring Web3 projects into daily life? Fortunately, education is something that transcends the internet, but we are not blind to the fact that roughly only 63 percent of people on earth have internet access. This is something that startups, especially those in Web3 must keep in mind," he said.
More competitive to secure funding
Lack of awareness and securing funding are often issues faced by tech startups. Startups in the Web3 space, however, have the advantage of being the "hot topic" in a new space, according to Dr. Sirisilp.
"There are a lot of conversations in traditional and social media about what Web3 is and will become. Venture capital investors (VCs) have been at the forefront of accelerating these conversations and driving Web3's success because they see the value in what we are collectively doing. This of course is great for startups looking for funding, but it has also created an extremely competitive landscape – which is inevitable – but has led to a delay in streamlining investment from both sides," he noticed.
The due diligence done by VCs is updated constantly to filter out projects which do not have a real-world impact and are not sustainable, he said.
Another challenge is guiding traditional VCs into the Web3 space.
"Fear of missing out will only get a VC's first glance into a project. Anything substantial will come from a start-up showing the real-world value it is capable of. This is exactly what we have set out to prove, not only for ourselves but for other sustainable and trustworthy projects to be aware of," Dr. Sirisilp concluded.
Photo credit: Perception