Southeast Asia's leading tech conference, Techsauce Global Summit, has announced on Friday its new Thailand Accelerator and Pathfinder Club program on day one of the event.
Taking a unique twist this year, TSGS is bringing technology and innovation to the big screen, with all speaker sessions taking place in the 13 screen Icon Cineconic, Bangkok's most futuristic cinema experience.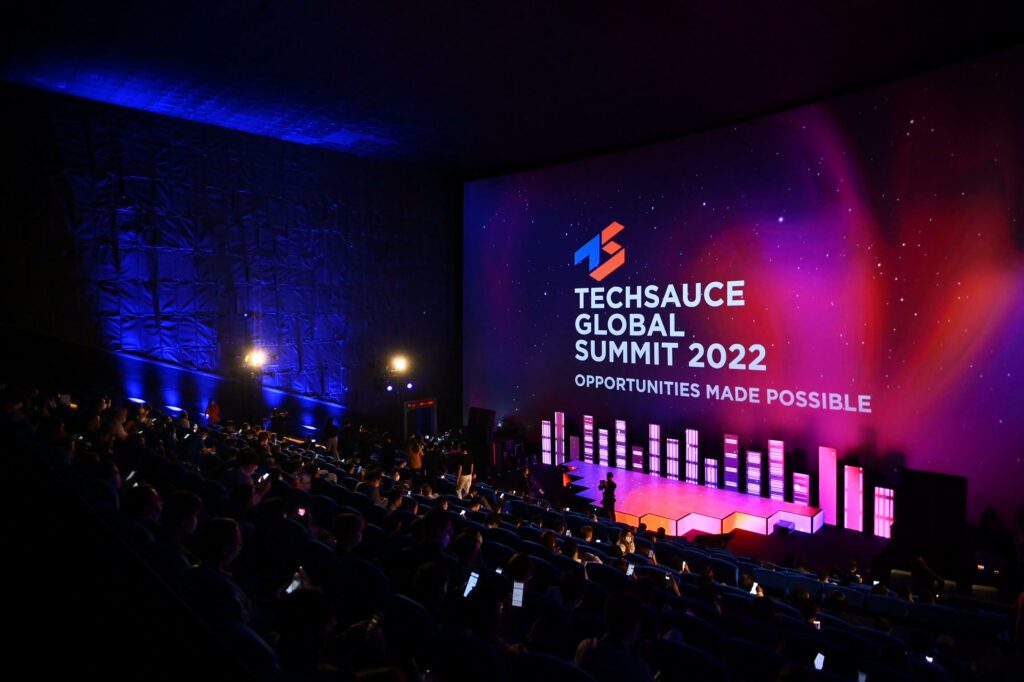 An estimated 10,000 attendees, 1,500 startups, 300 speakers are expected to turnout by the end of the two-day event, which is currently underway in physical form at ICONSIAM, Bangkok for the first time in two years. Techsauce Global Summit acts as an international gateway for global leaders in technology, startups, corporations, investors and venture capitals, allowing them to come together, network and co-create.
The all-new Thailand Accelerator is aimed at helping startups and SMEs grow across all industries across Southeast Asia, Techsauce said in a statement. It was established to assist entrepreneurs scale during market volatility and aims to provide startups with access to funding so that they can launch into the global market. Stock market fluctuations have weighed on valuations, forcing some startups to accept markdowns over the past few months.
According to research from Jungle Ventures, Southeast Asia's technology startups had a combined valuation of $340 billion in 2020 pre-COVID.
The all-new Pathfinder Club, in partnership with Marco Polo which was also announced. People who attend the conference can use NFT's to avail of Techsauce supports.
There is also new addition to the conference is the ClimateTech podium, which aims to help address climate change and promote sustainable solutions across the Southeast Asia region. Other stages include Fintech, Climate Tech, the Metaverse, AI/Data, NFTs/Digital Assets, Deeptech, Smart Cities, Health Tech, Startups/VC and Corporate Innovation.
A number of leading tech innovators and distributors are set to take to the stage including:
Bin Xu, Director, Digital Innovation Lab Lead, Pfizer, Kobkarn Wattanavrangkul, Chairperson, Toshiba Thailand Co. Ltd, Mark Twaalfhoven, President, Valuec, Erin Meyer, Author, No Rules Rules: Netflix and the Culture of Reinvention, Dr. Carole Robin, Co-Founder & Head of Faculty, Leaders in Tech and Chris Yeh, Co-Founder, Blitzcaling Academy.
The conference on Friday was opened by Techsauce Global Summit CEO and Co-founder, Oranuch Lerdsuwankij. Speaking about the launch of the new programs she said, "We are thrilled to open Techsauce Global Summit with the announcement of two fresh initiatives, Thailand Accelerator and Pathfinder Club. Thailand Accelerator aims to help startups and SMEs scale during one of the toughest times facing Southeast Asia. In addition to this, our new Pathfinder Club has been developed on our passion for digital transformation, helping co-create future eco-systems by providing access to communities and activities."
Commenting on Techsauce Global Summit's decision to hold Southeast Asia's biggest tech conference speaking sessions in a cinema, she added: "This year we were looking to do something different, and we thought it was a good time to combine people's pet loves of tech and cinema through providing a unique theater experience. Through attending speaker sessions in Icon Cineconic, attendees can be assured of a memorable tech conference that takes innovation to the big screen, making it a more enjoyable experience no popcorn required."
For further information, please visit www.summit.techsauce.co
Techsauce Global Summit to return to Bangkok in physical form