Editor's note: In this first part, we briefly look into the opportunities awaiting Malaysia drone tech startups. We talked to drone startups, MDEC, MRANTI and Gobi Partners, which invested in Aerodyne. 
---
The groundwork for Malaysia to become a drone tech hub in the region can be traced back to as far as 2017 when government agency Malaysian Digital Economy Corporation (MDEC) kicked off initiatives to support drone startups and organized roundtables to address concerns in developing and managing the growing drone scene.
Later between 2019 and 2021, MDEC and other government agencies introduced more initiatives and programs in a bid to develop a robust and comprehensive drone tech ecosystem in the country.
Several years down the road, while Malaysia-headquartered drone tech firm Aerodyne has become the world's number one drone solution firm following its expansion and numerous acquisitions, industry observers said more needs to be done before Malaysia can become a drone tech hub. Also, there are potential and opportunities within the industry that has yet to be tapped.
With the internet of things (IoT), artificial intelligence (AI) technology and data analytics, drones' usage and applications have gone beyond aerial photography, parcel delivery or fancy drone light shows at the Olympic Games opening ceremony. Dronetech can be used to support various sectors, such as oil and gas, agriculture, energy sectors.
"In the past, drone technology was closely associated with the military. Nowadays, drone tech is widely-used commercially and even by amateur pilots for their own personal use. This expansion into new markets represents a huge potential for growth," MDEC CEO Mahadhir Aziz told TechNode Global in an interview. "Drones have come a long way since their primary functions of flight and navigation. They are now used in commercial industries such as security, infrastructure, logistics, agriculture, transportation and even education."
In Malaysia, drones have been deployed for commercial uses such as inspection, surveillance, photography, delivery, among others.
Drones were deployed to facilitate flood relief operations, including sending critical supplies such as food, medicines in several flooded areas in the country in December last year. Drones were also used by the authorities during the Movement Control Order (MCO) to maintain social safety and distancing as part of efforts to curb the spread of the Covid-19 pandemic.
"The integration of drones with IoT or AI technology has created new avenues of application such as drones with IoT sensors helps to monitor land and crops, drones with AI in data analyzing is also used for detection and monitoring of road damage, among others," Mahadhir said.
The drone industry has the potential job creation for locals as there is an ongoing demand for drone pilots and drone mechanics across various sectors.
"We believe the opportunities for drone application are limitless," VStream Revolution CEO Saravanan Chettiar told TechNode Global. "Drones are being used for many applications including inspection, surveillance, agriculture – crop monitoring and spraying, project progress monitoring, among others," he said, adding that drones are also being deployed for border security and also for search and rescue.
Established in 2016 and started as a video surveillance solution provider, the drone solutions firm which is currently in seed stage, specialized in drone-based enterprise solutions and services. The firm is a pioneer in drone insurance in Malaysia. VStream has deployed enterprise drones for port surveillance in Malaysia, assisting on facility inspection, site progress inspection, search mission, data capturing, safety compliance.
Palm oil, petroleum, solar energy sectors
As the second-largest producer of palm oil in the world, Malaysia has great potential to develop drone tech. The deployment of drones could also help the oil palm industry which has experienced labor shortage after the government banned the intake of new foreign workers in March 2020 due to COVID-19.
For instance, Oryctes Dual, developed by Malaysia drone startup Poladrone, is the first agricultural drone which is able to carry out spot and blanket spraying missions. Created specifically for oil palm application, Oryctes Dual is a proven solution for damaging pests such as the rhinoceros beetle (kumbang tanduk), according to Poladrone's website.
"Drones are being deployed in oil palm estates for tree-counting, crop health monitoring and spraying. Malaysia is also a petroleum-producing country, Drones are vastly used for pipeline monitoring and inspection of on-shore and off-shore facilities," Saravanan said.
As the country moves towards a developed nation, with more infrastructure being built including roads and highways, railways, skyscrapers, drones are being used for project progress monitoring and reporting, he added.
Malaysia's effort to promote green energy and the upcoming large-scale solar farms will encourage the development of drone tech as drones can be used to help detect and monitor the performance and maintenance of solar panels, Saravanan said.
According to Global Drone Market Report 2021 – 2026 by drone market research firm Drone Industry Insights, the global drone market size could reach up to $41.3 billion by 2026 at a 9.4 percent compound annual growth rate (CAGR).
"Drone tech is [still] considered as an emerging technology sector just a couple of years prior. [but] The momentum in drone tech is exciting as the global drone market is forecast to grow to $41.3 billion in 2026. The market for drone revenue is expected to double to $17.9 billion in 2025 in Asia alone," Dzuleira Abu Bakar, the Chief Executive Officer of government agency Malaysian Research Accelerator for Technology and Innovation (MRANTI) told TechNode Global. MRANTI's primary focus will be to accelerate the commercialization of technology.
According to the data from Malaysia Aerospace Industry Association 2021, Dzuleira said Malaysia has potential for $12.13 billion drone tech value of technology GDP by 2030, which is 4.3 percent of the global market.
"Malaysian players [should] ready themselves to take on opportunities in various sectors such as e-commerce, logistics, or mobilization of pertinent resources or medicine to rural, remote areas, or those affected by natural disasters. It also offers important value in infrastructure management and security surveillance in smart building maintenance, maritime surveillance, urban agriculture, and more," she added.
Besides Aerodyne, Dzuleira noted that Malaysia has several other drone service providers and operators including Meraque, Poladrone, VStream, Alphaswif, GeoPrecision, UTHM and others – which offer a variety of industrial drones for deliveries, mapping, surveillance and more.
Opportunities aplenty? – An investor's view
One of Aerodyne's investors, Gobi Partners, which invested in the firm's Series B funding round in 2019, expects to see rapid growth in drone tech industry.
"The civil drone market is currently a $7.5 billion market and is expected to grow at 15 percent per annum to reach $21 billion by 2027, according to Insight Partners. But we believe the industry will grow faster than that as there are many new applications coming into the market from the agriculture, logistics and security sectors," Gobi Partners Managing Director (KL) Jamaludin Bujang told TechNode Global.
"These sectors are highly labor-intensive. The labor-substitution strategy will be more prominent in the future as labor shortages worsen," he said.
In the area of logistics and mobility, he opined that drones will be used to deliver products directly to the targeted user from its source, allowing faster, safer and cheaper delivery methods compared to the current traditional ways of delivering products.
"While this will never replace the current ways of delivery, we think drone delivery will fill in the demand for delivery of critical items, especially in remote locations and markets where it is challenging to get logistics services," he said.
The demand for inspection using drones is expected to grow further as utility firms and telcos are relying more on drone tech as the technology is providing cheaper and more efficient solutions for them, Jamaludin said.
Elsewhere in the US, e-commerce giant Amazon announced an experimental drone delivery service in 2013. Packages would be delivered by drones, arriving at customers' doorstep. The drone will later fly away after landing and dropping the parcel. Amazon said Prime Air has great potential to enhance the services it already provides to millions of customers by providing rapid parcel delivery that will also increase the overall safety and efficiency of the transportation system.
While the so-called Prime Air program has yet to roll out, Time Magazine reported in November last year that Amazon is committed to "making its goal of delivering packages by drones a reality".
In Malaysia, Teleport, the logistics venture of airasia Digital, has in March last year partnered with Malaysian Global Innovation and Creativity Center (MaGIC), the Lead Secretariat of the National Technology and Innovation Sandbox (NTIS), to launch the Urban Drone Delivery Sandbox and develop a long-term viability of urban drone delivery service.
The pilot project for the delivery of goods from airasia's e-commerce platforms using automated drones is set to be carried out through a 6-month phased approach at the third NTIS test site.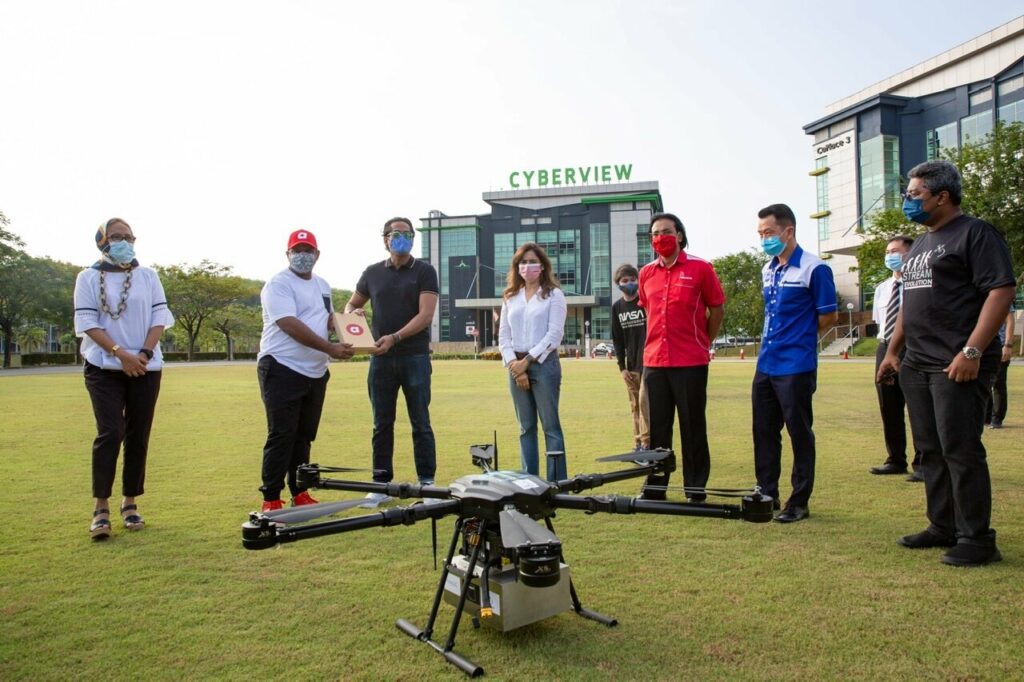 Data is king
While most people will think that drone services are all about replacing manpower, providing cheaper and more efficient services to users, Jamaludin pointed out that drone services also include data technology.
"Drone solutions do not only capture data, but provide useful data analytics for users", he said.
Drones can gather a massive amount of data—far too much for humans to make sense of—but the use of AI can significantly shorten the time to value, Aerodyne said on its website. "Our AI-powered cloud-based asset management solution – vertikaliti, harnesses the value from drone data, providing deep analytics and actionable insights to help industries with their optimisation goals," the company added.
One of its products, vertikalitiGRID, a Cloud-based powerline inspection and management solutions (https://aerodyne.group/infra.html), claimed to be able to help save cost of up to 30 percent and provide time savings of up to 400 percent. The firm has similar cloud-based inspection and management solutions for oil and gas, telco tower, solar and ports.
Aerodyne has also developed The Agrimor SuperApp for precision agriculture, allowing farmers, agencies and agriculture service providers to request drones and pilots for agriculture seeding, spraying, plant analysis, mapping and more. The use of new technologies such as drones and IoT helps to increase crop yields and profitability, allowing farmers to use less resources (land, water, fertilizers, herbicides) to grow more.
Last month, Aerodyne announced it has made a strategic investment in Synapse Innovation, a Malaysian AI and data analytics company that focuses on designing and developing machine learning algorithms for cloud-based predictive analytics services for various sectors including agriculture, infrastructure and oil and gas. Together with Synapse, Aerodyne said they will be developing the next generation drone data intelligence platform coupled with smart nested autonomous drone solutions.
Drone startups raising funds locally & abroad
Malaysia-based drone startups are beginning to attract investors locally and abroad as they grow.
In October last year, Poladrone, an end-to-end drone solutions provider headquartered in Malaysia, announced that it has raised $4.29 million in a seed round led by Southeast Asia venture capital firm Wavemaker Partners.
Other investors that participated in the round include the Malaysian Technology Development Corporation (MTDC), a strategic investment fund wholly-owned by Malaysia sovereign wealth fund Khazanah Nasional, Hong Kong-based investment firm ZB Capital Ltd and angel investors. The funding round is said to be the largest known seed round in the country.
Aerodyne, a DT3 (Drone Tech, Data Tech, and Digital Transformation) drone-based enterprise solutions provider, is also planning to raise between $100 million and $200 million in its Series C funding this year, its Founder ​​and Chief Executive Officer Kamarul A Muhamed told TechNode Global in a recent interview.
Aerodyne has raised an undisclosed amount in its Series B+ round in May last year, welcoming Japan investors including VC firm Real Tech Fund, industrial equipment supplier Kobashi Holdings, and drone and robotics tech firm ACSL as strategic partners. In October 2019, the company has also raised $30 million led by InterVest and Kejora Ventures.
Aerodyne also counts North Summit Capital, Indorama Corp, Leave a Nest, Axiata Digital Innovation Fund, Gobi Ventures, 500 Startups, and ventureTECH, as some of its investors.
The Malaysia-based company is ranked number one in the remote-sensing drone service provider rankings for the first time last year, according to drone market research firm Drone Industry Insights.
But funding remains a challenge for drone tech startups, Kamarul said.
"Funding is always an issue, not limited to drone tech companies but other tech startups in Malaysia. Generally, companies in the more advanced economies, like the US, Middle East and Europe, are able to raise higher amount of funding at a significantly higher valuation," he said.
"You have money, you can do wonders. That's another gap that we need to be looking at as well. If you have the ideas to do this, you still need to attract the best talent. And in order to attract the best talents, the best technology, you need to have that funding," he explained.
---
In Part 2 of this series, TechNode Global will discuss the challenges Malaysia faced to become a drone tech hub. We talked to Aerodyne's Founder ​​and Chief Executive Officer Kamarul A Muhamed on his views and suggestions for the drone tech industry. We also asked MDEC & MRANTI what are the initiatives available now and what's next for the industry to move forward.  
Malaysian drone tech firm Aerodyne explores dual-listing as it starts IPO process