Malaysia's drone tech firm Aerodyne Group is exploring a dual-listing to also float its shares on the Malaysian stock exchange besides listing the company overseas.
"We have yet to appoint investment bank but we've started the [IPO] process. We are also looking at dual-listing on Bursa Malaysia," Aerodyne Founder ​​and Chief Executive Officer Kamarul A Muhamed told TechNode Global in an interview.
He expects the IPO, which could take place in the US or Japan, to happen in 2023 or 2024.
"IPO process will take at least two to three years. We are leaving options open. We have three potential options right now. We are exploring [the option to list on] New York Stock Exchange, Tokyo Stock Exchange and NASDAQ," he said. "And of course dual-listing on Bursa [Malaysia]. We are proud Malaysian so if we can do it in Malaysia, we would be very excited about that."
Malaysia's former Science, Technology and Innovation Minister Khairy Jamaluddin said last year that the ministry aims to list Aerodyne outside Malaysia, in markets such as the US's Nasdaq. ventureTECH, which has invested in Aerodyne, is a wholly-owned subsidiary of Malaysian Industry-Government Group for High Technology (MIGHT).
Aerodyne is a DT3 (Drone Tech, Data Tech, and Digital Transformation) drone-based enterprise solutions provider, using of artificial intelligence as an enabling technology for large-scale data operations, analytics, and process optimization.
The firm employs over 700 drone professionals to operate in the Unmanned Aircraft Systems (UAS) services sector, having managed more than 560,000 infrastructure assets with 458,058 flight operations. It has surveyed over 380,000 km of power infrastructure across 35 countries globally.
The drone tech firm currently is in the midst of raising a bridge round ahead of its Series C funding round next year, according to Kamarul.
"Series C would be anything between $100 million to $200 million, next year. But now it's a smaller amount, just a bridge round. It's basically [roping in] strategic investors. We have a very long runway so we don't really need to be doing this. This bridge around is to rope in strategic investors," he said but did not disclose details of the amount expected to be raised in the bridge round.
"The 'bridger' will to help us with the technology. But Series C is about our global expansion. This is about bringing us to the next level, scaling many of the businesses that we are working on now," he said.
Kamarul declined to comment on the firm's current valuation, but earlier reports showed Aerodyne may join the unicorn club after raising its Series C. "Aerodyne could be reaching unicorn status upon IPO listing," he said.
Aerodyne has raised an undisclosed amount in its Series B+ round in May, welcoming Japan investors including VC firm Real Tech Fund, industrial equipment supplier Kobashi Holdings, and drone and robotics tech firm ACSL as strategic partners in May this year. In October 2019, the company has also raised $30 million led by InterVest and Kejora Ventures.
Aerodyne is also backed by North Summit Capital, Indorama Corp, Leave a Nest, Axiata Digital Innovation Fund, Gobi Ventures, 500 Startups, and ventureTECH, among others.
The Malaysia-based company is ranked number one in the remote-sensing drone service provider rankings for the first time this year, according to drone market research firm Drone Industry Insights.
With the acquisitions of Falcon Eye Drones from the United Arab Emirates (ranked 5th last year) and the drones services division of US Measure (narrowly missing the top 40 last year), Aerodyne has continued its strong expansion strategy, growing strongly and entering new markets around the world, the research firm said.
According to Indian research firm The INSIGHT Partners, the global drone service market is expected to grow from $629.2 million in 2018 to $24.88 billion by 2027. This growth is driven by industries such as infrastructure, agriculture and logistics where labor shortage and safety concerns are prominent while reducing costs and environmental impact are top agendas, the research firm said.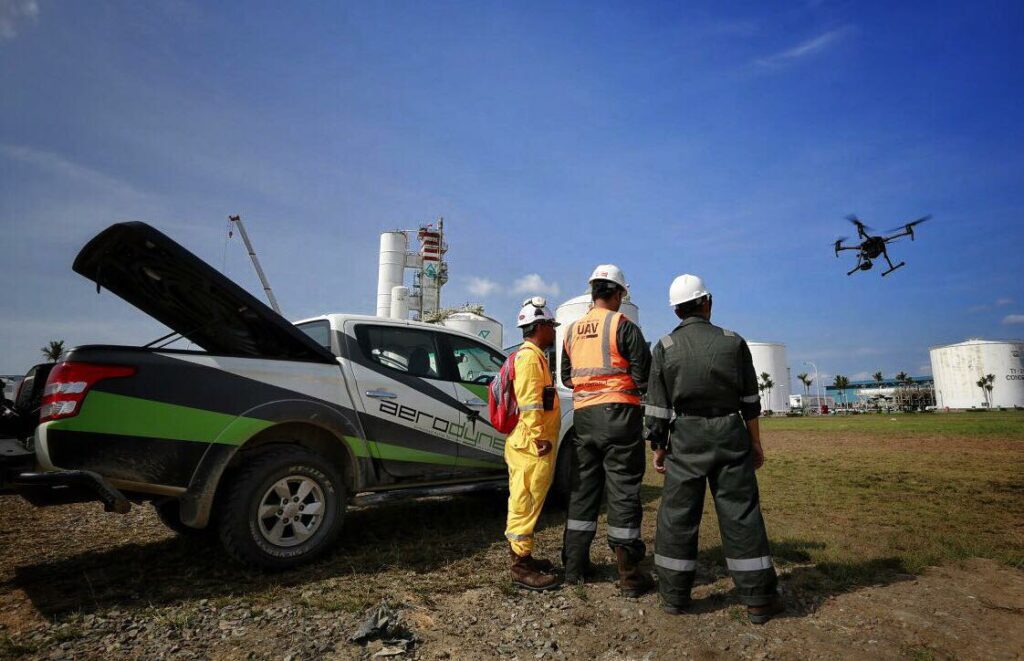 Healthy pipeline awaits
Commenting on Aerodyne's plans moving forward, Kamarul said the firm has expanded globally following about 15 mergers and acquisitions and organic growth over the years.
"We've already planted our flag in almost every continent except Africa. Now it's time to go deeper and scale," he said. "Now it's about execution. We have already built a very solid pipeline."
Kamarul said Aerodyne was affected by the COVID-19 pandemic, mainly due to travel restrictions.
"During the pandemic, the one year and a quarter, we were quite badly hit. Not because of the contract, but because of the travel restriction. We have projects that we needed to execute but we couldn't travel," he said. "Most of them are really just on board. We have a healthy pipeline and contracts-in hand as well."
'Exciting potential' in agriculture segment
Kamarul said its product for the agriculture segment, Agrimore, on-demand drone precision agriculture services, saw a 3000 percent jump in revenue.
"Moving forward, we have two new product line that has shown tremendous growth. One of the product lines has shown about almost 3,000 percent jump since last year, but of course it's just from the beginning. That holds very exciting potential."
"For the first five years of our existence, we were already paying taxes, EBITDA positive. For a tech company, that's unusual. We were profitable from year one. Basically, we were self-funded in the beginning. We [later] shifted focus for global presence, which we focus on new tech over the past two years," he said.
Aerodyne's solutions have been deployed and are currently being used by various industry leaders such as a Malaysian-based FORTUNE Global 500 oil and gas company, the largest listed power company in Southeast Asia as well as the largest port owner in the UK, ACSL said in a statement in May.
Japan-based ACSL, which invested in Aerodyne, also sees the potential for the company in the agricultural market.
"In Southeast Asia, plantation agriculture such as rice, palm, pineapple, etc. has become a major industry. Nevertheless, the farming methods are often labor-intensive, have a high environmental impact, and there is great potential for improving efficiency," it said in the statement.
Aerodyne's Agrimor service enables data-driven precision agriculture by using drones to monitor crop health and in turn increasing productivity and harvest yield, benefiting farmers, agriculture landowners and ultimately the economy of the host country, ACSL said. The company is running demonstration projects with several of the largest farm landowners in Malaysia and plans to expand the service to India, Indonesia and Thailand after 2022.
One of Aerodyne's investors, Gobi Partners, which invested in its Series B in 2019, also expects Aerodyne to generate more income from its overseas market moving forward.
"A large part of Aerodyne's current revenue is driven by the local market. However, this is expected to change drastically in the next few years as the company now have presence in more than 30 countries, including markets that are bigger than Malaysia such as the United States and Australia," Gobi Partners Managing Director (KL) Jamaludin Bujang told TechNode Global.
He said Aerodyne has strong relationships with other drone players and it has a list of investors which can help the company to raise capital and enter new markets.
Aerodyne also has a team of data scientists and the team serves all the markets outside Malaysia, he noted.
"They also work with other drone service providers in Malaysia through Area 57 drone-related Sandbox Program to test and develop new services," Jamaludin said.
"We truly believe Aerodyne will be able to become another unicorn for Malaysia sooner, rather than later, given the progress they have achieved so far and the prospects that are waiting for them ahead," he said.
ORIGIN Innovation Awards 2021: Announcing the Startup Leader of the Year winners