This article is part of TechNode Global's partnership with CEO Roundtable Podcast and Asian Investors Podcast hosted by David Kim wherein we publish the revised transcripts from the podcast's interviews with inspiring entrepreneurs and experienced VCs. This edited Q&A is based on the show's original transcript. For the full interview listen to the podcast here.
---
"About four and a half years ago, five years ago, Pokemon GO came out and became this huge world sensation. A lot of people don't know, but it was the fastest company in history to hit a billion dollars in revenue. Back then, we thought to ourselves, "What if we can build the next Pokemon GO?" What if we could build a world–a place where the next 1,000 Pokemon Go's are built?" – Hrish Lotlikar
Hrish Lotlikar is the Co-founder and Chief Executive Officer at SuperWorld. Previously, he co-founded Rogue Initiative Studios, a Hollywood film, TV, gaming, and immersive entertainment studio. Hrish was born in India and grew up in the United States. He also has spent many years living around the world in Europe, Asia, and South America.
SuperWorld is a virtual world in augmented reality (AR), digitally mapped over the surface of the Earth. Plots of SuperWorld land are represented as 64.8 billion non-fungible tokens (NFTs) corresponding to real-world space. Any user in SuperWorld can explore and create AR content, engage in a virtual real estate marketplace, or buy and sell NFTs in the SuperWorld NFT Salon.
How is your platform helping people buy and sell virtual real estate? Can you walk us through the customer experience at Super World? How does that work?
In SuperWorld, You can buy locations that you love, whether it's Central Park, the pyramids in Egypt, or your own backyard. What you're buying is the digital, or "virtual "land that covers the earth at those locations.
With the Superworld platform being established in 2017, can you give me some idea how virtual real property has appreciated in the past five years? How about some interesting examples?
Properties in SuperWorld are all priced as 0.1 ETH. When SuperWorld virtual real estate first launched, the price of ETH was $200, and now the price of ETH is $4,500. Thus, the price of land in SuperWorld went up significantly. So the price of some land got appreciated more than 200 times for the last 3 years.  Properties have sold for $25K+ already on the secondary market.
What kinds of digital assets do you or your members use?
The first one is land based on real-world earth, and others are digital assets created by individuals based on NFT like building, music, video, podcast, arts, membership, etc.
How are NFTs enhancing the platform?
Alongside our AR app, SuperWorld hosts its own non-fungible token (NFT) marketplace,  the "NFT Salon," which hosts NFT drops that aren't just following the standard NFT formula, but give back to communities most in need, including work with indigenous peoples in the Amazon Rainforest, at-risk communities in the Caribbean, the rebuilding of Beirut, and helping to bring clean water to Flint, Michigan, just to name a few.
I'm very interested in projects that help us in our mission. Our "why" at SuperWorld is how do we build a better world? How do we leverage technologies like augmented reality and virtual reality, blockchain, artificial intelligence? How do we bring all these technologies together to actually improve the world and enhance humanity? Those are the kinds of questions that propel us forward.
Who are the competitors? What does set SuperWorld apart from others?
There are a variety of "worlds" out there. They are all "Metaverse." As you know, all Metaverses consist of virtual world and internet–a kind of improvement of internet. Probably, the most well-known metaverse "worlds" you may know are The Sandbox (CRYPTO:SAND) and Decentraland (CRYPTO:MANA).
One main differentiator what we are doing on SupwerWorld vs the other virtual worlds I just named are that other virtual worlds are virtually based on virtual places, but SuperWorld is mapped again on top of the real world. We are on SuperWorld right now. Because you can buy lands around you or you can buy a location anywhere where people live in the real world.
SuperWorld is the world, it is not just about NFT, digital assets, VR, AR, and AI.
SuperWorld is a movement. A movement behind SuperWorld is how to leverage technology to improve our lives and improve the real world. We believe we are an entry point to metaverse to improve your real-world life. That is what we are doing.
How many members or visitors do you have? How about your acquisition model/
We have 100K+ monthly website visitors and our average paying user spends $3,900 in the first month.
Can you tell us about any activities that currently connect the real world and SuperWorld? What is a plan to increase that interaction going forward?
As a platform that prides itself on building a better world "in real life" through the metaverse, SuperWorld has initiated a number of social impact projects that begin in the digital and yet have real-world impact, including our partnerships with Disaster Fighters (backed by the World Bank) to help at-risk communities in the Caribbean; Monograma, with whom we've partnered to increase awareness indigenous peoples in the Amazon Rain Forest; UNESCO, to help assist in the rebuilding of Beirut, in addition to partnerships with numerous other artists, companies, and organizations that aim to improve the lives of others here on our physical Earth through digital mediums.
A few weeks ago, we sold members NFTs, digital asset that gave purchasers lifetime membership to a private luxury club in New Yorl and Miami. So buying that digital NFT they get access to a real physical place in NY and Miami, called "Custom house."
So that is an example of how we take activity that is virtual to provide real-world benefits, and vice versa, as well.
Tell us about your investors.
We are proud to be backed by many of the top venture capital funds in the space: DraperGorenHolm, SOSV, Outlier Ventures, RedBeard Ventures, 186 Ventures, White Paper Capital, Altered Ventures, Capital Factory, Predictive Capital, and Cadenza Venture Capital.
What is your next step and vision?
We are building a World that enables you to create your own SuperWorld, whatever that means for you. We are helping owners of lands and digital assets on SuperWorld to create anything anywhere and sell those digital assets anyplace in the Real World.
We are also launching "token" in SuperWorld. That token launch will enable anyone to gain currency in SuperWorld and earn a yield based on staking and voting and decision in building SuperWorld.
As the first augmented reality(AR) virtual world on blockchain, our overall goal is to improve and enhance the world and your personal life through AR in a fully decentralized way. Applying a combination of technologies in a user-friendly format, we enable everyone to create, connect, and monetize through content in new and unique ways. As technologies improve across all spectrums interconnectedly, the metaverse will enable data-rich and immersive experiences across all aspects of life.
---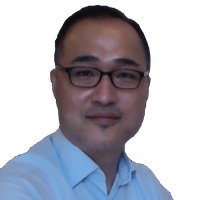 David Kim is the founder and Chairman of North Head Capital Partners based in Hong Kong.
David is an experienced CEO, seasoned banker, and global strategy professional with nearly three decades of cross-functional expertise. He worked at eight international companies and banks living in six Asian countries, during which he has successfully closed highly structured investment and financing deals for over 200 companies of various industries totaling more than $4 billion.
Prior to joining North Head, David was acting CEO at Leading Investment and Securities based in Hong Kong and Senior Executive Managing Director at W Bank based in Korea. David also worked as Managing Director and country head of corporate financing group at GE Capital Korea for seven years.
He started his career at Korea Development Bank Capital in Korea and helped to set up multiple Joint Venture non-bank finance companies and banks in emerging markets, including Nepal, Vietnam, and Thailand in the mid-1990s and also worked as CFO for MILC in Thailand. David is also a frequent lecturer at various seminars, MBA, and banks on the topics of M&A. international joint venture, and fundraising.
TechNode Global publishes contributions relevant to entrepreneurship and innovation. You may submit your own original or published contributions subject to editorial discretion.
Image Copyright: katisa