Digital transformation is playing a big part in the strategy and operations of businesses today. The market size for digital transformation will grow from $1.5 trillion annually this year to $2.8 trillion by 2025. And yet some businesses might find challenges in complexity, manpower, and resources.
In this TechNode Global Q&A with the founding team at Botsync, we learn how collaborative automation is geared toward addressing these challenges. The company is a robotics startup founded in Singapore that specializes in AMR-based (Autonomous Mobile Robot) automation solutions. Botsync has journeyed from seed funding and accelerator programs to securing a co-created innovation project with Bollore Logistics Singapore to transform its conventional warehouse handling with an AMR-based automation solution.
Below is our Q&A with the founding team, which consists of Rahul Nambiar, Prashant Trivedi, Singaram Venkatachalam, and Nikhil Venkatesh.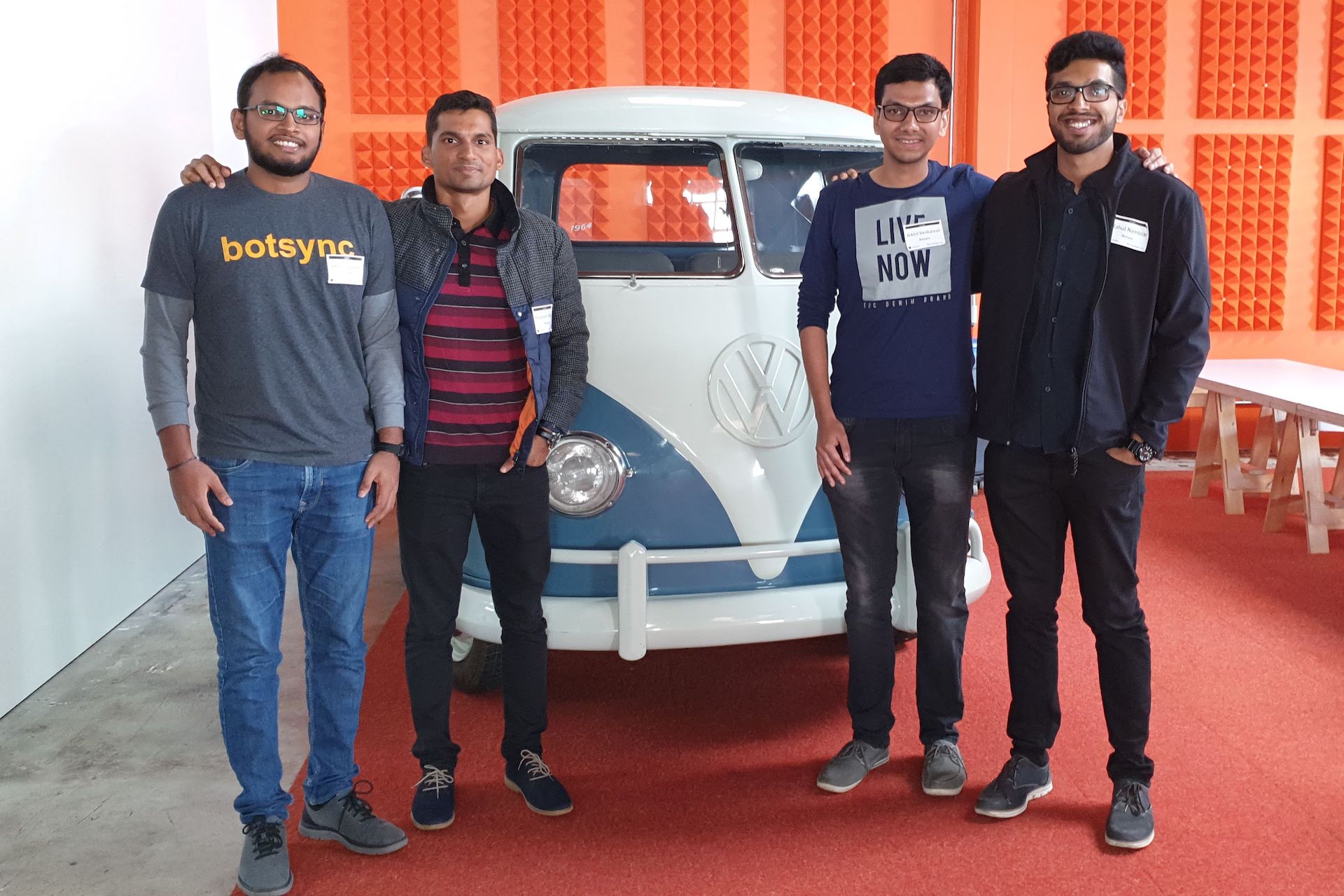 What are the key trends driving innovation in the logistics industry?
Digitalization: Companies more than ever before are looking at digitalizing their entire supply chain starting at the factory floor. Having this level of transparency is key to making quick decisions to respond effectively to severe market conditions and staying competitive
The increasing complexity of logistics: The complexity of logistics has grown significantly with the growth in e-commerce. Faster delivery expectations and every increasing type and size of parts being handled warrant significant growth in the entire logistics process.
Minimizing contact points: In recent times, it is becoming critical to evaluate operations and find ways to ensure minimum human contact. With growing economic opportunities present in today's digital age, the availability of general workers for manual logistics operations is decreasing all over the world. And with the bulk of logistics operations still dependent on manual labor, automation and digitalization will soon become crucial factors to ensure business continuity.
Collaborative automation: With companies increasingly looking at automation implementations, automation systems need to be able to co-exist with other manual processes on the warehouse and factory. This is critical as most companies cannot afford a complete transition to an automated facility, hence collaborative robotics will be key to ensure a successful transition to automation.
What are the three key challenges for businesses that Botsync is addressing?
Lower productivity: Daily operations within warehouses or factories are currently not running at their maximum productivity which is impacting them to realize their true potential of business.
Business continuity: Businesses are more vulnerable to operations disruption in current times than ever before.
Manpower shortage: Companies are finding it difficult to maintain required throughput due to shortage of manpower
How is Botsync solving these challenges uniquely?
With our adaptable automation solution, we are enabling companies to automate their existing warehouses and factories without changing their existing infrastructure or operations.
At the same time, we wanted to design our system in a way that allowed operators to use the products without any extensive technical training or background in robotics. This is why we built our no-code automation platform called syncOS which allows operators to modify, edit, or re-deploy the automation solution by themselves using a simple graphical interface. This allows customers to fully utilize the robotics systems and ensure that it truly fits their own unique requirements.
How would you define impact in the logistics industry? How is automation making an impact on the industry?
Business continuity: Automation is helping companies to set up sustainable operations that are resilient to external threat and ensure business continuity even in unpredictable situations.
Higher productivity: With streamlining of operations that automation brings, companies can enjoy higher productivity and efficiencies with the same resources
Employee well-being: With the automation solution complementing the human workforce by taking over repeatable operations, workers can be instead be upskilled and re-deployed to less injury-prone and more value-adding activities. This can help enable and improve employee well-being.
Sustainability: Automation helps further digitalize the overall operational process. This in addition to improved productivity, can help cut down on unnecessary consumption of materials especially in production logistics, thereby improving the overall sustainability of operations.
How did you start with your entrepreneurship journey? Are there support structures that you can particularly credit your success to?
We started our journey in university where we had worked on multiple robotics projects and developed various types of autonomous systems. During this early prototype stages, the support environment at Nanyang Technological University, Singapore played a pivotal role
Our early-stage investors like Brinc, Artesian Venture Partners, Wong Fong Industries, Enterprise Singapore, and AngelHub showed strong conviction in us from an early stage and believed in the growth of the company.
The support of our early customers like Bollore Logistics who were willing to work with early-stage technology companies like us and help refine our solutions together.
Any latest updates about the company, such as funding and expansion plans?
Funding: We close our seed round in Jan 2020. We are in the midst of closing our Pre-Series A round, on which we will be announcing in Q1 2022.
Expansion: Since our seed round in 2020, we have grown our annual revenue by close to 400% this year with key deployments in Singapore and Thailand despite the supply chain and operational challenges we faced due to COVID-19. We are now looking to aggressively expand further in Southeast Asia and India to deliver our solutions to those looking to take their first step towards automation.
Team: We expect to expand our team size across the region to double by end of the next 12 months.
Kata.ai is optimizing customer touchpoints through automation and intelligent engagement [ORIGIN Innovation Awards Q&A]