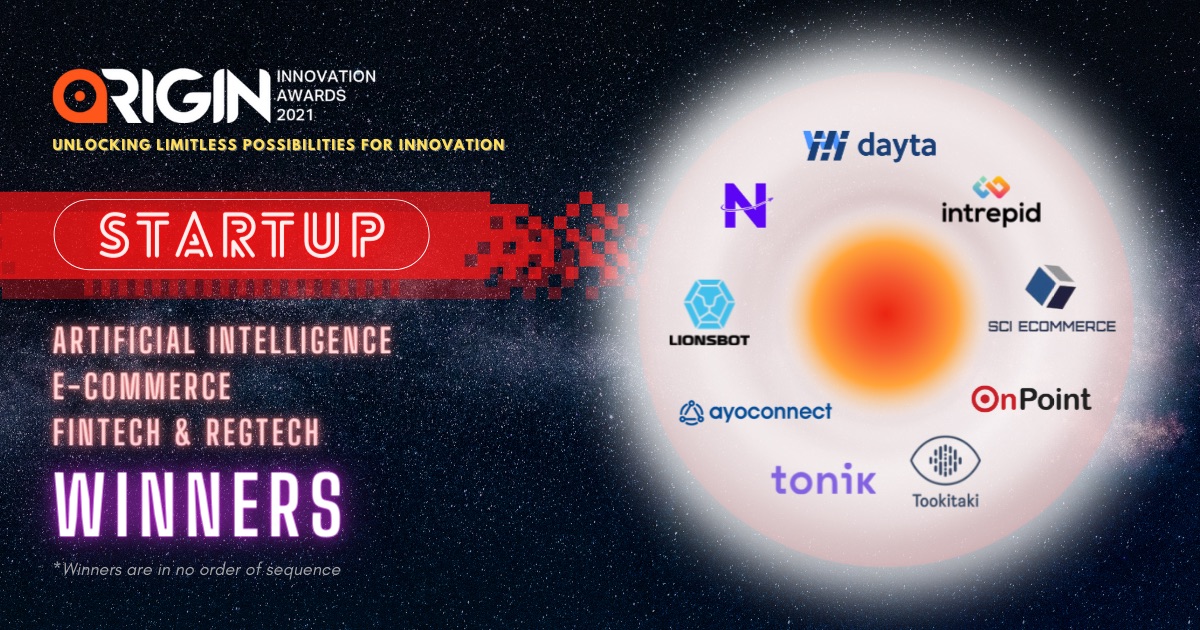 We are thrilled to announce the Startup Winners – AI, E-commerce, FinTech & RegTech for the second edition of the ORIGIN Innovation Awards.
The ORIGIN Innovation Awards recognizes outstanding startups, corporate innovators, and movers and shakers in the Asia Pacific region poised for growth. The awards celebrate the spirit of innovation and entrepreneurship, and also seek to inspire the dreamer in all of us.
We'd like to express our deepest thanks to everyone who participated. All the nominations are truly inspirational, and we would like to congratulate everyone for your efforts and nominations.
Nominations for the ORIGIN Innovation Awards began on June 15 and ended on September 15, 2021. The eligible nominees for the Startup Awards were put up for judging and public voting from September 16 to October 31, 2021. Final decisions about the awards were made by a committee of advisors, informed by the public voting.
Together with the all-star advisory team, TechNode Global spent close to two weeks evaluating every nomination and determining the finalists. The ORIGIN Innovation Awards advisory committee is made up of representatives from BeeNext, Innoven Capital, and Kairous Capital.
Here are the winners for Startup – AI, E-commerce, FinTech & RegTech:
Artificial Intelligence
Dayta.Ai is a platform that aims to become an all-in-one total solution for operators to collect, analyze, and interpret big data.
Lionsbot International Pte Ltd. is a creator of industrial cleaning robots.
Nudgyt Pte. Ltd. helps customers act on data quickly by converting complex data into easy-to-understand nudges.
E-commerce
Intrepid is a one-stop-shop partner for brands that want to win online, offering services across three business areas: Omni-Channel End-to-End Ecommerce Management, Digital Marketing, and Insights & Analytics, all enabled by advanced in-house technology.
Onpoint is the No1. eCommerce enabler in Vietnam with many years of experience in various product categories. In 2021, OnPoint has served more than 100 brands, including L'Oreal, Shiseido, Unicharm, Nestle, Samsung, Procter & Gamble, Bosch, Hafele, Unilever International, CJ, Zuellig Pharma, TH True Milk, Nutifood and among others. OnPoint provides one-stop solutions to help these brands sell and establish an online presence on e-commerce platforms, social channels, and their own websites. OnPoint directly manage brands' online stores, covering product listing, pricing, creative production, customer service, order fulfillment, and last-mile delivery. We also formulate, manage, execute, and measure the performance of online campaigns and commercial management
SCI Ecommerce is the fastest growing & leading e-commerce solution provider in Southeast Asia, enabling brands to sell products via online platforms across national borders, such as from China to Southeast Asia, and vice versa.
FinTech and Regtech
Ayoconnect is Indonesia's largest API platform. It enables developers to choose from a wide range of financial white-label products on Ayoconnect's API platform and quickly launch them to their users. Ayoconnect remains in the background, focused on building and operating the necessary infrastructure while allowing their clients to monetize and
expand their business in a fast and massive way.
Tonik Financial PTE Ltd is officially the Philippines' first neobank to secure a digital bank license from the Bangko Sentral ng Pilipinas (BSP). Deposits are insured by the Philippine Deposit Insurance Corporation (PDIC).
Tookitaki Holding Pte Ltd is an enterprise software solutions provider that create sustainable compliance programs for the financial services industry. We are innovating the regulatory compliance space by developing software solutions to maximize the efficiency and effectiveness of compliance processes.
Congratulations to all the winners!
---
Learn more about ORIGIN Innovation Awards here. Stay tuned for more announcements in the coming days.