Malaysia is expected to end 2021 with a 4.5 percent GDP growth even with the new COVID-19 surges in the country. Is this the proof of Malaysia's resilience and success at innovating? How is Malaysia adjusting to the lingering effects of the pandemic? What is innovation's role in the goal of boosting the country's economy to weather the challenges of the new world?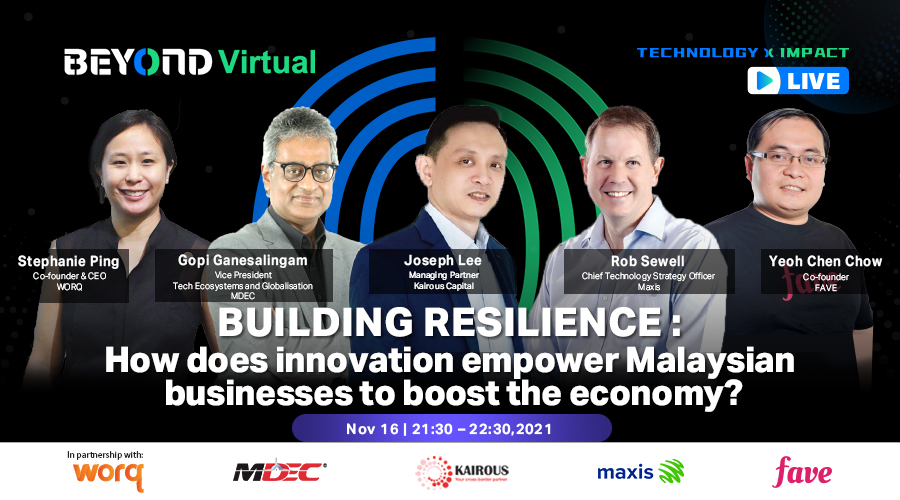 The panel members for this Beyond Virtual session were the following:
The discussions in this panel focused on how Malaysian businesses are innovating and finding new ways not only to survive the pandemic but also to become more enduring as they continue to battle the coronavirus threat and anticipate other serious problems that can trample the Malaysian economy once more.
The panel had experts from different industries who shared their experiences and insights in surviving in the context of the pandemic. They agreed that Malaysia has been innovating but the country needs to exert more effort to keep up with the world's innovation leaders.
Here's a list of highlights from the panel exchanges:
Digitalization and innovation have been very important during the pandemic as businesses struggled to cope with the drastic changes in the way people live, work, and do business.
Almost any kind of business can be taken into the digital space successfully. With the right innovations and strategies, companies including small and midsize ones have the ability not only to survive but also become more enduring in the midst of a pandemic.
Collaboration is also a crucial part of innovation. It's great that Malaysia has already built a community bound by technology to enable cooperation among businesses as well as government agencies.
Digitalization is the way to go, and Malaysia knew this even before COVID-19. Unfortunately, it had to take a pandemic for the country to progress significantly towards digitalization.
SMEs were the ones most affected by the pandemic since an overwhelming majority–around 90 percent of them–are not digital. The Malaysian government has been helping these businesses to achieve digital transformation or at least take advantage of digital tools and innovations.
The Malaysian government also initiated projects to help Malaysians in becoming part of the digital online workforce. Around 85,000 have participated in training sessions to become online workers and over 54,000 are reportedly already earning incomes through the work-from-home setup.
Malaysia has not been moving fast enough with its digital transformation. One of the reasons for this is the insufficiency of talent and mismatch in technologies and partners.
According to MDEC VP Ganselingam, Malaysia enjoys the advantage of having a proactive government that is eager to help non-digital businesses go digital through grants and support programs. It is also fortunate to be part of the ASEAN, which has the distinction of being the fastest-growing economic bloc in the world.
Malaysia still has some catching up to do with its counterparts in other parts of Asia particularly China and Singapore. It can make great use of innovations such as the use of the short video format for online selling and the more prevalent and efficient deployment of telehealth services.
Malaysia, however, is not exactly a laggard when it comes to innovating. It has already exported some of its innovative homegrown technologies to other parts of the world like the online commerce solution developed by the company of one of the panelists.
Innovation is not a smooth sailing journey. There are many challenges along the way, but through collaboration and government support, the difficulties start to diminish.
"Digitization really has been the backbone for any company's ability to cope during these COVID circumstances. Everything has changed about the way we work, live and play and that's true for every business and I guess in many ways even more true for small and medium enterprise businesses." – Rob Sewell

"It's important to build communities that can collaborate, and from there you know just make more and more prosperous living for everyone … We don't need to be the smartest. As long as we can work with people, and then we can achieve a lot of things." – Stephanie Ping

"I think it [Malaysia's digital transformation] is never fast enough. I think we all can do things faster. One of the reasons it's not fast enough is the need to upscale and rescale our talent." – Gopi Ganesalingam

"As things get saturated (referring to the e-commerce industry), in the platform perspective, then there will be a lot of different verticals that will create opportunities." – Joseph Lee

"I think in terms of people (on how to build an innovative mindset), I think a lot of it is I think putting the people at heart. I think it's thinking about the people at each juncture…. I think the second bit of it is a continuous learning journey. From time to time we brought in a lot of different speakers to share (their insights and experiences)…And also we allow and encourage our own team to share." – Yeoh Chen  Chow
---
Watch the panels across the week here. Click to check out the FULL virtual programs.
To access all our BEYOND Virtual prime content, register a FREE account now. You will receive an email confirmation and signup guideline before the online sessions.
BEYOND Expo on-site event will be held on December 2 to 4, 2021 at the Venetian Macao Convention and Exhibition Centre. See you there!