Automated solutions are revolutionizing the retail sector. For this BEYOND Virtual Panel held on November 10, 2021, TechNode Global brought together experts who discussed the existing and future use cases in the coffee segment, including coffee robots, 5G cafes, and automated coffee corners. These are all aimed at increasing convenience for the customer while empowering baristas and nutritionists to focus on what they do best: create new recipes, educate customers on the drinks served, and deliver the best human-friendly customer experience.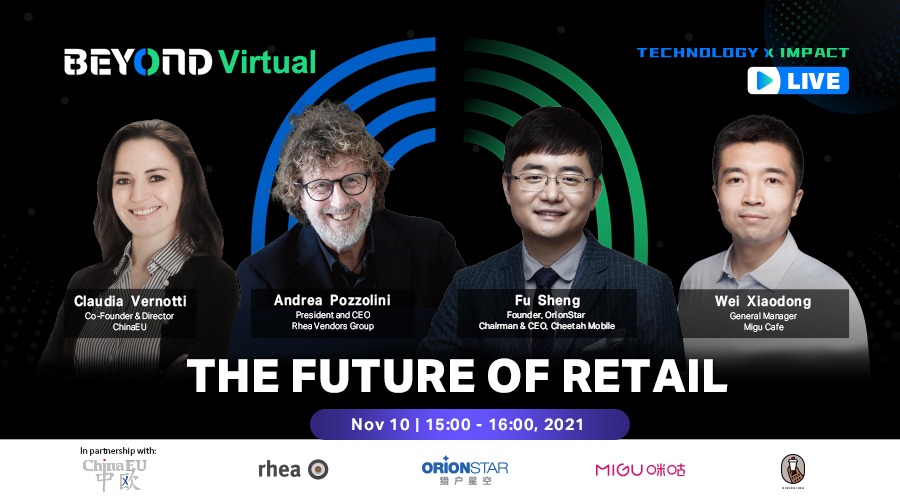 The panel featured the following:
Claudia Vernotti, Co-Founder and Director, ChinaEU (Moderator)
Andrea Pozzolini, President and CEO, Rhea Vendors Group
Fu Sheng, Chairman and CEO, Cheetah Mobile
Wei Xiaodong, General Manager Migu Cafe
Tha panel also included "Bear Paw," an avatar from Bear Paw Cafe, a coffee shop considered a safe space for its staff who live with disabilities or mental illness. The establishment is literally a "hole in the wall" where customers are served by "fluffy bears" to minimize face-to-face interaction between the staff and customers to ensure maximum comfort for the staff while at the same time providing an interesting means of interaction with customers.
Some highlights of the discussion on The Future of Retail include how automation and the next normal are shaping the way retail companies are delivering products and services to customers.
Even with increased digitalization, face-to-face retail is not going away anytime soon. In fact, it will be further improved and amplified by technologies that optimize the user experience with physical retail.
In the case of cafes, automation drives efficiency and consistency in service, and it can also lead to the provision of more targeted or personalized services through data.
Automated robotic baristas supported by 5G connectivity can service customers 24/7, creating an all-new experience for coffee drinkers. This also reduces costly and lengthy personnel training for human baristas.
Through data, retail companies are able to customize their product for customers, enabling the brand to provide the best customer experience.
Even with automation and robotics, it does not mean that humans will be edged out in terms of work and labor. We can delegate the repetitive work to robots in order find other more creative work and to enjoy a better quality of life.
Legacy retail companies need to find a balance between having a traditional business model and digitalization.
Retail businesses like coffee shops need to work more toward sustainable practices.
"We're not here to predict the end of brick-and-mortar shops. Actually, it's quite the opposite. We're here to talk about their revivial, thanks to technology solutions that aim to improve the experience of the customer." – Claudia Vernotti

"We've reached a tipping point. It's not just about the cool factor … Data supports better operations and decision-making." – Fu Sheng

"Perfection is not only about quality. Perfection is about customization of the product. This reflects our idea of the future for retail." – Andrea Pozzolini

"We define this as building a social space for customers with coffee as the background element and 5G tech and digital content experience at its core." – Xiaodong Wei

"We believe that social entrepreneurship is the right way to build." – Bear Paw

There's no such thing as conflicts between machines and humans. Instead, the conflicts lie in how society has adopted to the developments in technology and made changes due to it." – Fu Sheng
Watch the panels across the week here. Click to check out the FULL virtual programs.
To access all our BEYOND Virtual prime content, register a FREE account now. You will receive an email confirmation and signup guideline before the online sessions.
BEYOND Expo on-site event will be held on December 2 to 4, 2021 at the Venetian Macao Convention and Exhibition Centre. See you there!
BEYOND Virtual kicks off on November 9th with 'What's Next?' from global industry leaders & investors