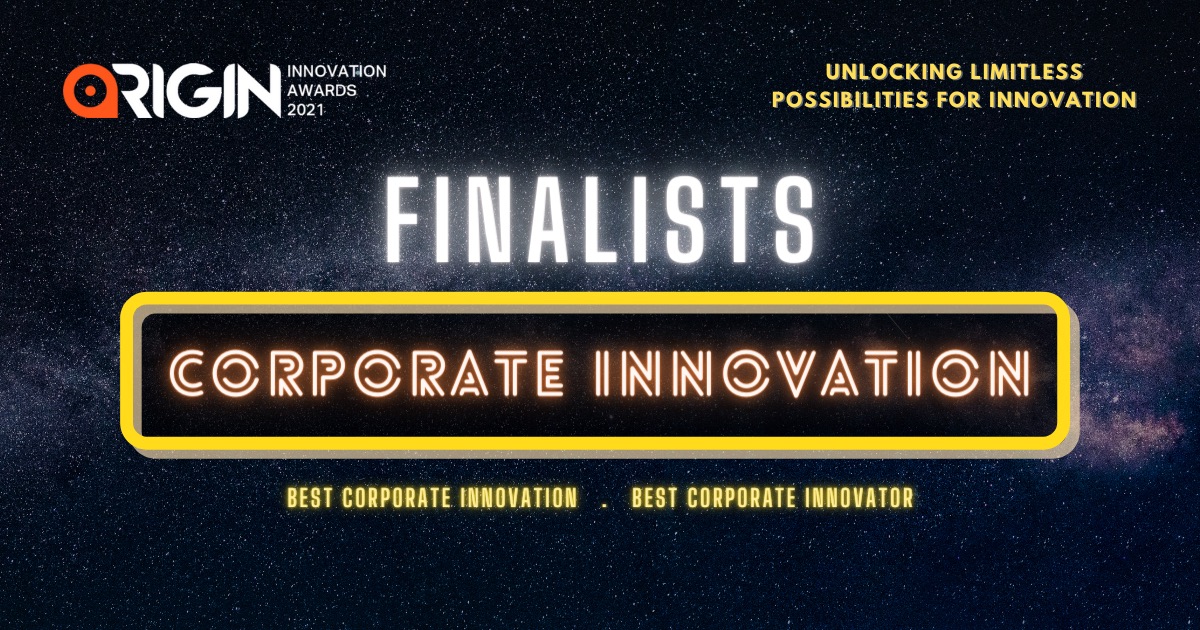 We are thrilled to announce the finalists of the Corporate Innovation Awards for the second edition of the ORIGIN Innovation Awards.
The ORIGIN Innovation Awards recognizes outstanding startups, corporate innovators, and movers and shakers in the Asia Pacific region poised for growth. The awards celebrate the spirit of innovation and entrepreneurship, and also seek to inspire the dreamer in all of us.
We'd like to express our deepest thanks to everyone who participated. All the nominations are truly inspirational, and we would like to congratulate everyone for your efforts and nominations.
Nominations for the ORIGIN Innovation Awards began on June 15 and ended on September 15, 2021. The eligible nominees for the Corporate Innovation Awards were put up for judging from September 16 to October 31, 2021. Final decisions about the awards were made by a committee of advisors, informed by the public voting.
Together with the all-star advisory team, TechNode Global spent close to two weeks evaluating every nomination and determining the finalists. The ORIGIN Innovation Awards advisory committee is made up of representatives from AppWorks, BeeNext, Cocoon Capital, Cyberport, Golden Gate Ventures, Gobi Partners, Innoven Capital, Kairous Capital, MDI, Qiming Venture Partners, Rakuten Capital, Sistema Asia, True Digital Park, and ZWC.
Here are the finalists for the Corporate Innovation Awards category:
NTUC Income
S P Setia Berhad
UPPERVOID LLC
Filinvent.io by F(DEV)
Location Media Xchange
About our finalists:
NTUC Income
NTUC Income is Singapore's leading composite insurer, offering products and services that serve the protection, savings, and investment needs of different life stages and for all segments of society. Income's innovative, data-driven and omnichannel approach puts it at the forefront of customer-centric solutions that meet rapidly evolving needs and empower better financial well-being.
Income was established in 1970 and remains the only insurance co-operative in Singapore. Today, Income serves more than 2 million policyholders. Its financial strength and diversified investment portfolio are reflected by its strong credit ratings which underpin the delivery of Income's commitment to customers.
Read more at TechNode Global's coverage of NTUC Income here.
S P Setia Berhad
S P Setia Berhad is an award-winning real estate player listed on the Main Market of Bursa Securities supported by more than 2,100 highly talented and dedicated employees referred to as Team Setia. Not only has it established a strong presence in Malaysia but also in the United Kingdom, Australia, Singapore, China, Vietnam, and Japan.
Setia develops for every possible need, from townships to eco-sanctuaries, luxury enclaves, high-rise residences, and commercial, retail as well as integrated mixed developments. The company is guided by its brand mantra 'StayTogetherStaySetia' in its approach to holistic living supported by our development philosophy of 'livelearnworkplay' making developments uniquely Setia.
UPPERVOID LLC
UPPERVOID is a functional equipment brand focusing on fabric technology and craftsmanship. It was founded in the early 1920s. The highly technological UPPERVOID continues to break people's traditional definition of clothing, and at the same time endows it with a very vital concept of protective equipment. The brand faces the weakness of the human body as a living body itself, which focuses on breakthrough technology research and development and performance design, and strives to create the first batch of "life body protective equipment" for Martian immigrants from head to toe.
In this way, UPPERVOID will help people to cope with unpredictable environmental changes and survival challenges in the future. UPPERVOID is not just a brand of clothing accessories, it embeds cutting-edge technology by constantly utilizing changing/new materials, while maintaining extreme requirements for product functions and craftsmanship.
Filinvent.io by F(DEV)
Filinvent.io by F(DEV) is the open innovation & startup engagement program of Filinvest Development Corporation (FDC) and its operating companies. The program is facilitated by the Group's venture and innovation arm, F(DEV).
Through Filinvent.io, Filinvest group operating companies can get access to tech startups and disruptive innovations globally and locally to help drive their digital transformation agenda.
Location Media Xchange
Location Media Xchange (LMX), a newly formed subsidiary under the Moving Walls group and is the world's first independent advertising technology company that is powered by a US-Patented multi-sensor measurement approach.
Designed for brands to reach moving audiences, LMX provides a platform for marketers to profile locations based on the types of audiences around there and activate mobile and physical place-based media like digital billboards to reach them during this offline journey.
---
Learn more about ORIGIN Innovation Awards here. Stay tuned for more announcements in the coming weeks.