Today's business environment involves increased digitalization, especially with how the pandemic has accelerated digital transformation across industries. For businesses that have transitioned to remote offices or hybrid work arrangements, the availability of commoditized services provides faster and easier access to tools that will otherwise be costly if done through on-premises infrastructure. Meanwhile, such services enable companies to focus on their core competencies and thus focus on better product development or delivery.
"The commoditization of services and technologies can help enterprises with decreased prices, increased number of services, and improved performance not only in the near term but also in the longer term," says Sridhar Pinnapureddy, Founder and CEO of Cloud4C, in an interview with TechNode Global. He added that the availability of such commoditized services "enables Go-To-Market agility" across all industries.
In this Q&A, we also learn how the cloud leads to improved streamlining and sustainability in business operations. It does not come without its own challenges, however, and Pinnapureddy advises on the importance of support particularly at the enterprise level. Lastly, he also shares his entrepreneurship journey, wherein failure is part of the growth and learning process. "As they say, manners maketh man, I would say challenges maketh entrepreneur," shared Pinnapureddy.
Based in Singapore, Sridhar is a first-generation entrepreneur. He is a cloud-native, having led innovations in the cloud before its importance was fully realized across industries. Following the advent of the internet, e-commerce, and large-scale digital adoption in the early 2000s, he founded several companies and has been credited with launching several industry firsts, including Disaster Recovery-as-a-Service (DRaaS) and the world's first Community Cloud for Banks.
He spent the last two decades building innovative technology solutions in the areas of cloud computing and infrastructure, energy management, and software development for both multinational companies and startups. However, this did not come easy for Sridhar having faced bankruptcy twice in his entrepreneurial journey.
Here is the edited Q&A in full.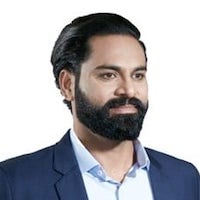 What are the trends driving innovation in the cloud services market today?
The Asia-Pacific region comprises over 30 countries, with each country being at different technology maturity stages — with some countries being more ready for cloud adoption than others. Overall, the region is the fastest-growing market for enterprise cloud computing-related services with a compound annual growth of 19 percent over the next three years. Here at Cloud4C, we have seen growth in the range of 40 percent year-on-year in the region.
As we move towards a post-COVID-19 environment, we have observed that many businesses are eager to embrace cloud adoption to unlock strategic values and tap into their business potential. We have seen more local governments implementing policies to encourage cloud adoption among businesses to help accelerate innovation, increase industry growth, and boost customer engagement.
Compared to a year ago, there now exists a much better understanding of the cloud as almost every enterprise has shifted online to adapt to new work-from-home arrangements and continued social distancing measures. The pandemic has amplified the importance of digitalization and how the cloud is no longer an option but a necessity for many organizations. With remote working becoming the preferred mode of operations, many businesses have adopted cloud solutions to facilitate their day-to-day functions such as online meetings and conferences.
As we gradually move toward the next phase of remote working, which will take a more hybrid form, we expect to see more businesses to fast-track their cloud adoption journey and will see the emergence of hybrid cloud solutions as the desired cloud strategy. This allows organizations to run their business on both public and private servers, and most importantly, will require less intense training which allows for faster and seamless cloud adoption.
What are the key business challenges in cloud adoption, and how can these be addressed?
While the cloud might be a universe of unending transformative possibilities, there are still some challenges faced by enterprises when it comes to cloud adoption. Traditionally, enterprises have been resistant to transformation, and this can be attributed to comfort with existing systems which defer their replacement with anything new. Despite an increased priority in cloud adoption, cloud ecosystems are still in their initial phases and would take a while to deliver the revolutionary promise it holds.
One of the most significant challenges faced by businesses with regard to cloud adoption is the lack of proper talent and skills. Even though enterprises avail managed service providers, such as Cloud4C, to streamline their cloud adoptions successfully, there are insufficient cloud engineers and talent in infrastructure designing, software development, maintenance, security monitoring, and applications testing to help facilitate end-to-end support cycles. The lack of a proper cloud-IT and engineering team limits their capabilities on the cloud, subjecting them to accelerating devalues in the long run.
Another challenge faced by businesses is the abundance of cloud providers or managed service providers and not being able to opt for the one that best understands their business strategy needs on the cloud. Partnerships with a single provider often lock the IT asset's architectural capabilities of businesses within a single cloud ecosystem, making it difficult to adopt new solutions and architectures. The risks enhance when considered that disasters occurring to this vendor could jeopardize the businesses' operations in their entirety.
Here at Cloud4C, we offer a unique service offering in the form of cloud managed services providing consulting, architectural, and deployment support for most prominent public cloud players. Our global footprint gives us a strong understanding of the global regulatory frameworks and compliances to help them meet the security and compliance standards for each country.
What benefits does the commoditization of services and technologies (e.g., "X-as-a-service") bring to the table for businesses and enterprises? How can businesses take advantage?
There has been a significant shift in the way IT services are delivered in the cloud era. Traditional IT service models are no longer applicable to the current cloud age as these traditional approaches are very different from the cloud-born managed service providers or application worked service providers such as Cloud4C.
Going digital means businesses can use powerful digital tools to streamline business operations and improve collaboration, both of which are essential in today's work-from-home environment. Service-as-a-solution applications, such as video conferencing tools, are becoming more popular because they can enhance collaboration and productivity. Digitalization is nearly synonymous with business survival and the commoditization of services and technologies can help enterprises address significant challenges.
The key problem we have noticed is that the cloud migration process is fraught with risks and very high costs. Furthermore, companies end up spending much more than they budgeted once they have moved to the cloud, making them question the economic rationale of moving to the cloud. The commoditization of services and technologies can help enterprises with decreased prices, increased number of services, and improved performance not only in the near term but also in the longer term. This will allow enterprises to benefit from future technology advancements, cloud efficiencies, and market competition.
To give you an example, we offer Compliance-as-a-Service to banks and financial institutions. Compliance in times of strict regulatory environment is a very important function, but at the same time, it can be very difficult to comply, track and report across many important functions and technology implementations. Our services automate compliance for our clients. This kind of commoditization enables Go-To-Market agility for our clients.
There is a lot of growth in decentralized technologies, such as in industries like finance. What will be the impact of this on the future of the cloud?
No doubt, decentralization and blockchain technologies will have the same impact as the internet had on the world a couple of decades ago. For businesses that are looking for data integrity, safety, and absolute privacy, decentralization is a cost-effective way to adapt and grow long-term as compared to existing centralized systems.
Decentralized technologies offer the possibility of adopting and implementing cloud solutions and applications from different vendors into a modular approach and provide an additional layer of security and offer redundancy protection. Additionally, decentralized technologies can also allow businesses and vendors to leverage each other's services on the same network. Eventually, we foresee that this will lead to a free market that is made up more democratically of distributed service providers while benefiting from additional flexibility and interoperability.
In what concrete ways does the cloud enhance sustainability in business operations? Can you cite case studies and/or industry figures?
A recent IDC forecast suggests that the cloud migration to occur from 2021 to 2024 will prevent 1,014 million metric tons of CO2 from being released into the atmosphere — the equivalent of taking over 220 million passenger vehicles off the road for a year.
There are several ways in which the cloud can help enhance sustainability within business operations. Firstly, the cloud can utilize technology to deliver sustainable solutions and incorporate environmental-friendly IT practices. Cloud will be essential in helping an organization's internal structure to achieve sustainability goals.
Migrating to the cloud will replace high carbon-emitting machines with virtual equivalents and can help reduce an organization's carbon footprint significantly. For example, with a shift towards remote working, the flexibility of the cloud can help reduce energy waste, cost, effort, and environmental impact while boosting productivity within organizations.
Tell us about your journey as an entrepreneur and how this has led you to focus on the cloud. Your profile mentions that you have faced challenges like bankruptcies. How have these shaped you as an entrepreneur?
In 2005, I had this intuition, that datacenters — then largely used by websites — would be the future powerhouses of the economy. In February 2008, CtrlS built India's first Tier-4 data center in Hyderabad. From thereon, we have moved to become the World's largest Rated-4 data center company with a laser-sharp focus on sustainability.
Today, CtrlS is trusted by Fortune 500 Global Multinationals and ET500 Indian companies including three of the top-5 banks in the World, two of the top-5 global car manufacturers, two of the top-5 pharma companies, two of the top-5 media companies and the world's largest cloud players.
Innovation is at the core of CtrlS' organizational DNA, which led us to start Cloud4C in 2014 as India's first 4th Copy public cloud. Soon after, we launched community cloud for different industries such as banking, healthcare, and insurance with a core offering around compliance as a service.
Since 2017, we have started offering managed services over public cloud platforms such as Azure, Amazon Web Services (AWS), Google Cloud Platform (GCP), and Oracle. Today, we are an Azure Expert Managed Services Provider (MSP) holding Advanced Specialization in 7 core areas, an AWS Advanced consulting partner, and the chosen partner for GCP and Oracle Cloud Infrastructure across many geographies. We are also the launch partners for AWS Outposts in India. Cloud4C is now present in 25 countries and 52 locations worldwide.
As they say, manners maketh man, I would say challenges maketh entrepreneur. I never feared failure and was always resilient to keep making mistakes and learn from them to apply and grow. And here I am today, still learning and growing in my own way possible.
How would you describe the environment for entrepreneurs and innovators in Singapore and in Southeast Asia? What advice can you share with entrepreneurs and innovators based on your own experiences?
As I shared earlier, the global innovation landscape is shifting. Vietnam, India, and the Philippines are consistently on the rise. Over the years, these are the economies with the most significant progress in their Global Innovation Index (GII) innovation ranking.
In recent years, Singapore has solidified its position as Southeast Asia's Silicon Valley and has emerged as the leading innovation hub in the region. This is underpinned by a healthy and vibrant startup ecosystem that is attributed to a deep technical talent pool, a forward-looking government, and an active innovation community.
Indonesia, Thailand, and Vietnam are also leading the way as more entrepreneurs and innovators enter the ecosystem. Similar to Singapore, these countries have introduced a series of initiatives to encourage entrepreneurship and innovation and promote collaborative opportunities to develop innovative programs, mentoring, and technical training.
Overall, Southeast Asia has been providing a great oasis for technology start-ups like us, helping us in our expansion plans. The skilled talent pool that exists within the region is definitely a boon in helping us to overcome the language barrier in the few non-English speaking Southeast Asian countries.
With cybersecurity risks from the global shift to remote work, what are key ingredients in making it secure and viable?
Featured image credits: Pixabay