How the pseudonymous nature of decentralized technology makes digital avatars an essential aspect of engaging investors and users
---
The decentralized finance (DeFi) market has been ceaselessly expanding. According to DeFi Pulse, the total value locked in the DeFi market stands at $59.88 billion. "Whether it's cross-chain technology or the e-wallets that grant access to dApps, tech developments and attitudes in the DeFi space over the next few years will determine its success. The latest developments suggest the future of DeFi looks promising," says Forbes Entrepreneur Leadership Network founder Ariel Shapira.
With this growth in value comes the rise of numerous DeFi projects. Based on data from DeFi Prime, there are already 233 DeFi projects in the market. This may not be that high a number, but it is numerous enough when taking variety into account.
Unfortunately, most DeFi projects in the market today tend to be repetitive or similar to many other projects. This is unsurprising, though, given how DeFi and crypto appear to be abstract concepts to many. Investors who are looking for promising ideas in the DeFi space may have a hard time getting through all the "noise" and incomprehensibility of the ideas being offered to them. Similarly, customers have a hard time knowing what exactly makes a DeFi project worth patronizing or what makes it better than others.
DJs of DeFi
To convey their innovation and distinctiveness, the companies behind DeFi projects need to pay attention to engagement. Investors and customers typically do not go out of their way to get to know certain DeFi projects more, especially since not many of them have a solid grasp of what crypto and DeFi actually are.
However, these investors and customers will turn their attention to promotion materials or explanations when they encounter interesting marketing approaches. They would consider reading, viewing, or hearing out something that piques their curiosity.
It is along this line of thought that the team at CDzExchange, a cross-chain decentralized derivatives exchange, realized how important branding and engagement are for DeFi projects. Innovative ideas are certainly crucial, but they are only a part of the success of a DeFi project. Equally important is the effectiveness in communicating the idea, benefits, and distinctive attributes of a project.
Thus the DJs of DeFi concept was born. These "DJs" serve as ambassadors, advocates, or influencers for different DeFi projects or companies. Their primary goal is to become more relatable representatives of DeFi projects, particularly when it comes to discussing and offering crypto derivatives.
Debuting the concept
One of the very first public demonstrations of the DJs of DeFi was in an interview with The Human & Machine Podcast. Here, representatives appeared as avatars called DJ DeBullz and MC Liquid. They did not reveal their real names and other personal information. Instead, they took on DJ personas with appearance modification filters or "masks" on, voice change, and made-up personalities.
They discussed what their decentralized service was about without the boring traditional discussions interviewers usually have with startup executives and business leaders. With their DJ personalities, they attempted to spice up the discussions on crypto derivative swapping, staking, and earning. They also tackled the idea of cross-chain decentralized derivatives exchange.
What this demonstrates is that it is possible to pseudonymously pitch DeFi business ideas and be taken seriously. At the very least, avatars can get more attention towards an innovative product idea.
DJs of DeFi avatars
The DJs of DeFi avatars were developed as a novel means for companies to brand and communicate to the DeFi community. Different avatars will be created for different companies. These unique avatars are supposed to have distinct personas that represent their respective brands or companies.
The avatars are essentially like the skins on Snapchat that change the appearance of someone in a video call. With voice modification and the adoption of a certain personality, new characters are there to talk about DeFi projects in ways that are expected to be more engaging, interesting, and fun.
Established as the first in the world to power a blockchain project with DJ avatars, DJs for DeFi aims to offer a fun way to promote decentralized finance projects, especially as businesses make more use of virtual meetings.
The use of avatars for brand communication is relatively new, but the idea of using avatars in teleconferencing already existed for quite some time. At the height of Zoom's popularity last year, for example, there were reports of people developing the so-called "Zoom fatigue." The use of avatars was floated as one of the ways to combat this problem.
DJs of DeFi avatars go beyond addressing teleconferencing fatigue by providing an exciting and fun way to enable interactions among DeFi entrepreneurs and advocates. It allows users to take on different personalities to be used in the multiple meetings they have to participate in during the day, eliminating the monotony and tediousness of highly repetitive routines, which are often inevitable when promoting DeFi business ideas.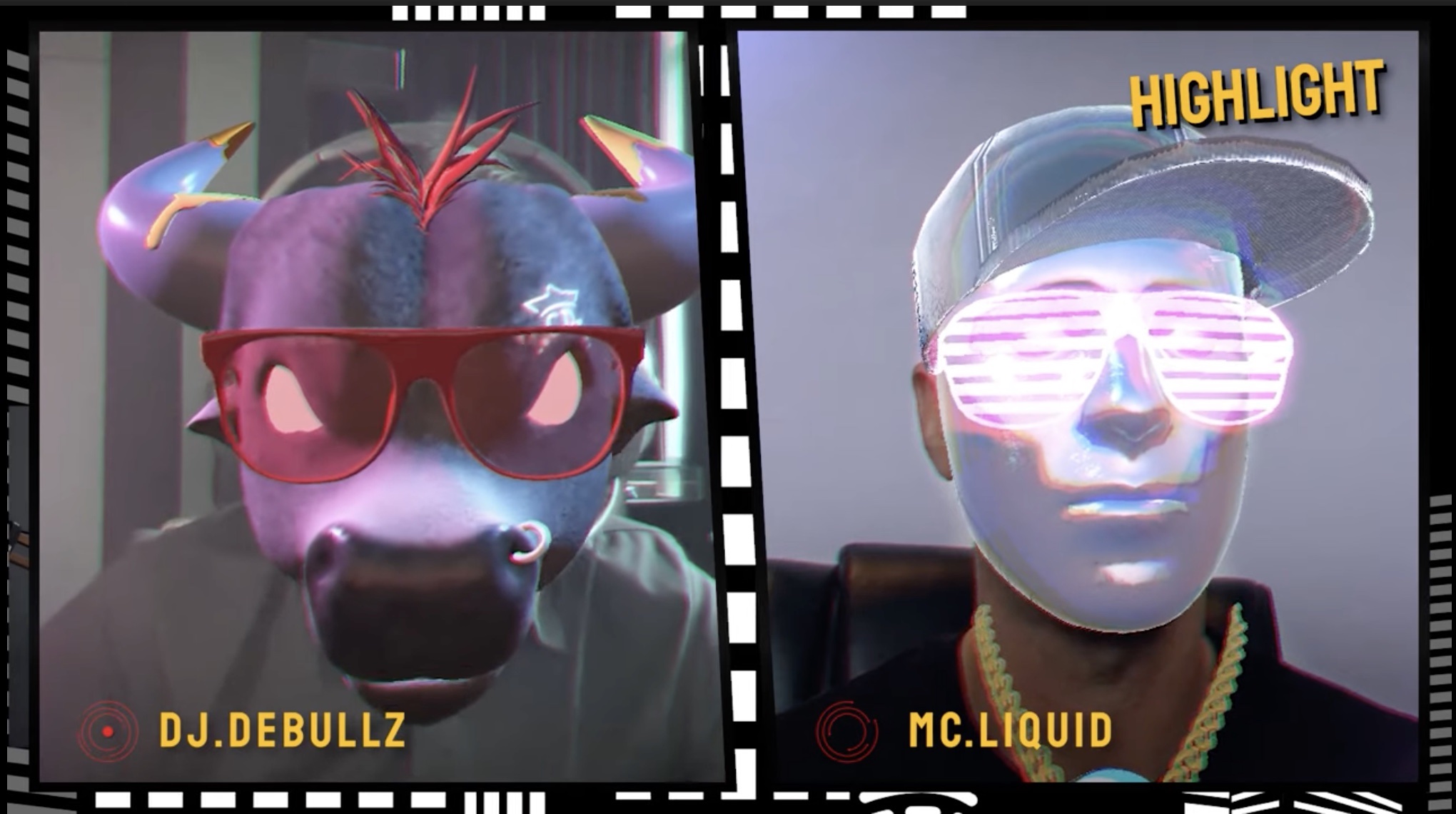 The freedom to speak out novel ideas through avatars
So why the need for avatars? Aside from introducing something novel and intriguing, the avatars make it easy for anyone to discuss even the wildest DeFi ideas they have in mind without hesitation. DeFi entrepreneurs will not be tied to specific ideas, especially given the risk of failure and longevity associated with many projects–since avatars are the ones front lining for them.
It also plays into the idea of pseudonymity, which is prevalent in the crypto and DeFi world, wherein people transact or deal with other people through their pseudonyms or online account identities. They do not need to show who they really are to establish trust. Under the blockchain trustless system, for instance, people do not need to build trust between each other. The system itself is built to be trustworthy enough to enable transactions to push through without the need for the transacting parties to reveal their real-world identities.
Balaji Srinivasan, angel investor, entrepreneur, and former CTO of Coinbase, calls pseudonymity the "key to building a better society in our modern age." The DJs of DeFi is a real-world case study of this concept.
Sometimes, entrepreneurs avoid throwing their ideas out in the open because they think they can be perceived as wacky, ridiculous, or too radical. They refuse to stake their reputation on a DeFi business model, fearing that mistakes in a few ventures might prevent them from finding success in other endeavors. The avatars are a great way to intrepidly float innovative businesses or concepts in an exciting way.
As engagement expert David Hassell wrote in his piece, "Failure Is Not an Option, It Is Required," it is important not to be paralyzed by the fear of failure. "The next thing you know, you have built a stagnant culture with low engagement. There is zero collaboration because nobody wants to associate with someone else's failure. And with that attitude, your business will never be competitive in the marketplace," Hassell says. A healthy exchange of ideas and the freedom from the fear of being associated with failures is a boon for the DeFi space.
The team behind DJs of DeFi says that an eponymous weekly streaming show is in the works. This show will serve as an avenue for DeFi entrepreneurs, through their avatars, to discuss various crypto and DeFi projects, market developments, and other related ideas. It will also feature trading experts, industry KOLs, and entertainment guests, particularly real DJs. Companies are encouraged to take part in the show using their avatars.
Do these all make sense?
The main goal of DJs of DeFi is to create a platform for an exciting way to communicate DeFi projects to investors and customers. DJs of DeFi is an attempt to demonstrate the possibilities for differentiation and innovation in the DeFi and crypto market. The emphasis on using avatars to promote DeFi projects has not been done before. It may appear less-than-feasible to some, but the project is definitely worth exploring especially in the context of reaching out to DeFi investors and potential customers.
---
TechNode Global publishes contributions relevant to entrepreneurship and innovation. You may submit your own original or published contributions subject to editorial discretion.
Featured image credits: Unsplash