What are some best practices for companies to overcome adversity as they seek to expand into China? This session looked back at the tech veteran's entrepreneurship journey: co-founding Baidu and KuWo Music, before switching gears to the angel investment and artificial intelligence sector.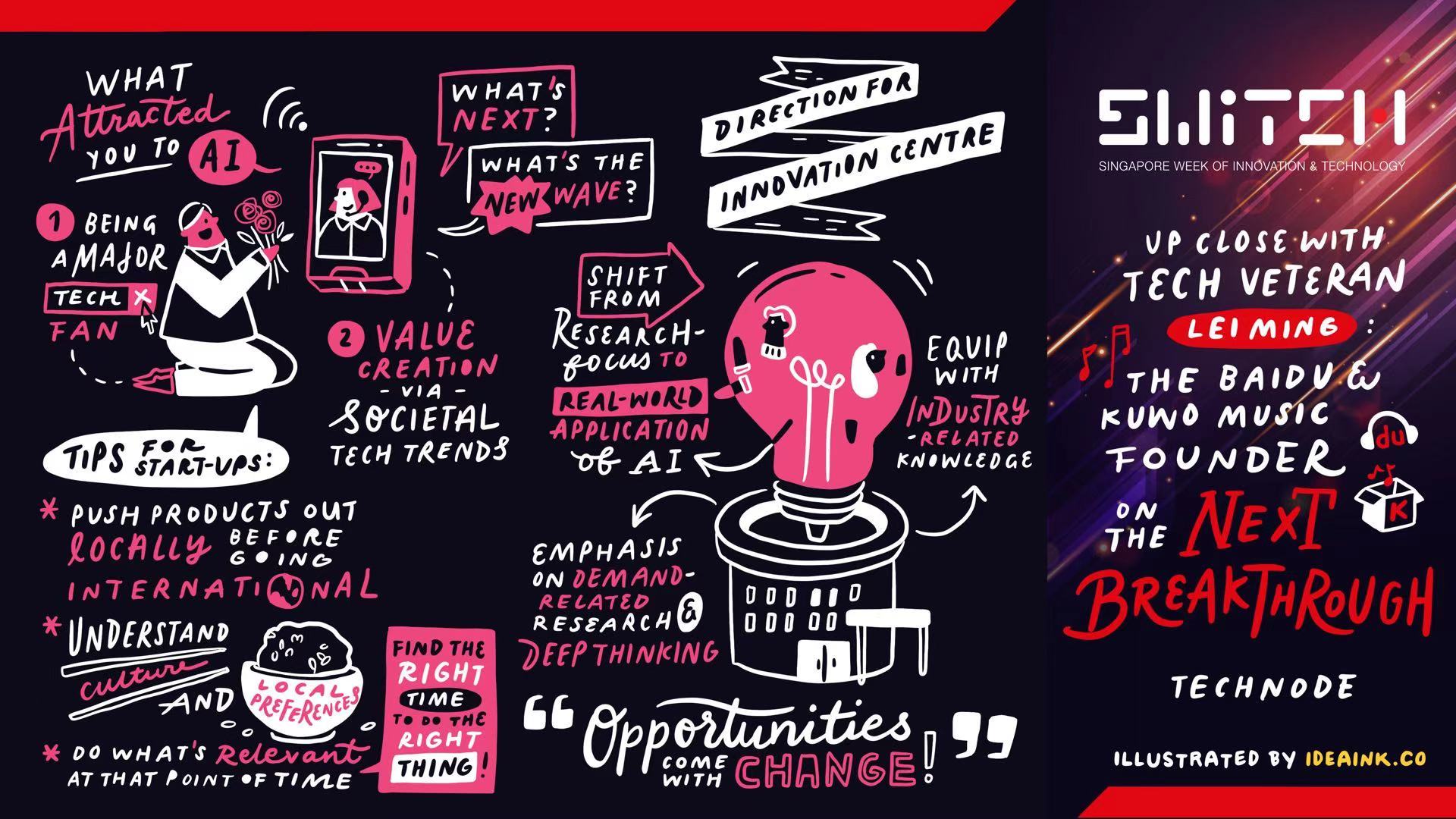 We have seen multiple advancements in technology and innovations that can change the way we live our daily lives in the near future. We may not have noticed it, but there are numerous things that we take for granted that have paved the road to the things we enjoy today. The Internet has become faster, cheaper, and more accessible. We also have new technology like virtual reality, artificial intelligence, and IoT appliances that have drastically changed our lifestyles. With the influx of new infrastructure changing technology, tech entrepreneurs have the opportunity to think of new and exciting ways to make our lives easier.
In this panel, Ken Chia of Baker McKenzie Wong & Leow moderated a conversation on tech entrepreneurship and the different trends in China and Southeast Asia with one of China's pioneering tech veterans, Lei Ming. The two discussed Lei Ming's tech journey, his current ventures in angel investment and artificial intelligence, and tips for start-ups and any entrepreneurs looking to start a tech industry business.
The rise of Baidu and Kuwo
Lei Ming was one of the first senior engineers for one of China's biggest social media platforms, Baidu. He joined the team early on, right after graduating, to work with Baidu's research and development team. He described his experience back then as very different from his classmates, who decided to join big corporations. With start-ups, you would be learning on your feet and based on experience rather than learning from elsewhere. Fresh from graduation, he was forced to step up and handle teams of engineers and develop products and features from prototypes to final release products. This is where he realized that he was truly an entrepreneur at heart.
Lei Ming then took everything he learned from being a Senior Engineer in Baidu to start his own company. Kuwo is one of the biggest music streaming platforms in China. Having gone through all the challenges with Baidu, Lei Ming admitted that when it came to Kuwo, it was a little less challenging as he had some solid ground to follow at that point. Within 3 years of launching, Kuwo was able to amass 200 million daily active users. Later on, he would let go of Kuwo to start concentrating on new ventures.
The new frontier
With the experience and success under his belt, Lei Ming decided to take on completely new challenges in the tech world after letting go of Kuwo. His next focus was investing in the future and artificial intelligence. Lei Ming is one of the founding partners of AIBasis Ventures. He has invested heavily in artificial intelligence and has multiple incubation and innovation centers focused on developing AI products.
When dealing with the students and professors in the centers, the veteran admits that he is an engineer at heart and emphasizes that practicality and timing are two significant factors in creating your product. He finds the need to step back from research-based endeavors and move more towards practical, real-world applications to AI. He emphasized the need for industry and social demand that most people seem to overlook now and then.
To do this, Lei Ming would bring industry leaders in China to give talks and forums to students and professors in the centers. This would allow these entrepreneurs to understand the market better and see where they can fit a product. Lei Ming aims to bring the know-how of great minds and great technology together and give them the industry-related knowledge and research that they would need to create new products.
Tips for startups
When creating a tech industry product, the main thing that these entrepreneurs need to look at is the basic demands that humans need every day. There are daily essential actions that we need, such as eating and transportation. The opportunity here is how these demands are solved.
Lei Ming emphasized that the opportunities come with change. One of the biggest game-changers that we have seen is the continuous advancement of the internet. From slow and expensive, the internet has suddenly become fast, cheap, accessible, and reliable. These conditions made opportunities for new businesses ripe for the picking. We have seen how our means of communication have changed from text to voice, to picture, to video, and even live high definition video chats. This is all made possible due to faster internet connections.
Another industry-changing factor is the emergence of new types of technology, such as AI and IoT. The idea of smart devices has blown a hole in the wall to make room for all sorts of new businesses. However, Lei Ming decided that there may be more opportunity or money with AI. He loved how AI would automatically shape your preferences based on continuous usage of their product to give their users a more tailor-fit experience.
When deciding what to do, Lei Ming advised that entrepreneurs consider finding the right thing to do at the right time. You need to make sure that you are addressing a problem, and you need to see whether or not you have missed your window to enter that opportunity. He mentioned that as early as 2005, there were thousands of video streaming and e-commerce sites competing with each other. Unless you can guarantee that your product can deliver the best quality compared to the rest, then you might end up experiencing more problems than you would like.
If you already have a product, Lei Ming advised that you continue serving your local market and understanding your own country's needs and culture before expanding internationally. When you are ready to go out of your comfort zone and expand to different countries, you must remember to study each country's culture and local preferences.
---
Lei Ming is one of Baidu seven Co-Founders. He was in charge of Baidu Search Engine Research and Development, made Baidu the best Chinese search engine in the world. Ming founded Kuwo in 2005. As CEO and Chairman, Ming led Kuwo to be the leading music platform in China, with more than 200MM active users. After merging with Kugou and QQ Music., Kuwo is part of TME Group, which accounted for 75 percent market share in China and listed in NYSE in 2018. Ming is active in AI-related research and investment. He is the director of AI. Innovation Center at Peking University. At the same time, he is the founding partner of AIBasis, which has invested more than ten AI-related start-ups, including the New AI Era, No.1 AI media in China; Deep Wise, a top medial imaging AI company in China.
Ming got MS degree with honors in 2000 from Peking University, and MBA degree in 2005 from Stanford Business School. He serves as Director of Stanford Business School Management Board, and Director of Peking University Alumni Association.
Ken Chia is a member of Baker McKenzie Wong & Leow's IPTech, International Commercial & Trade and Competition Practice Groups. He has more than 30 years of experience practicing in the areas of IT, telecommunications, intellectual property, trade and commerce, and competition law matters. He routinely assists clients, mostly governments and multinational corporations, in large-scale procurement, outsourcing and regional transactions, and provides sound advice on privacy and e-commerce matters.
Ken is an IAPP Certified International Privacy Professional (FIP, CIPP(A), CIPT, CIPM) and a fellow of the Chartered Institute of Arbitrators and the Singapore Institute of Arbitrators. He is regularly ranked as a leading TMT and competition lawyer by top legal directories, including Chambers Asia Pacific and Legal 500 Asia Pacific.