China's telemedicine industry got a big boost this year, offering vital medical services that would have otherwise been unreachable to many patients. But is it too soon to say whether the surge in patients caused by lockdowns has lasted, or whether HealthTech apps will be able to turn a profit?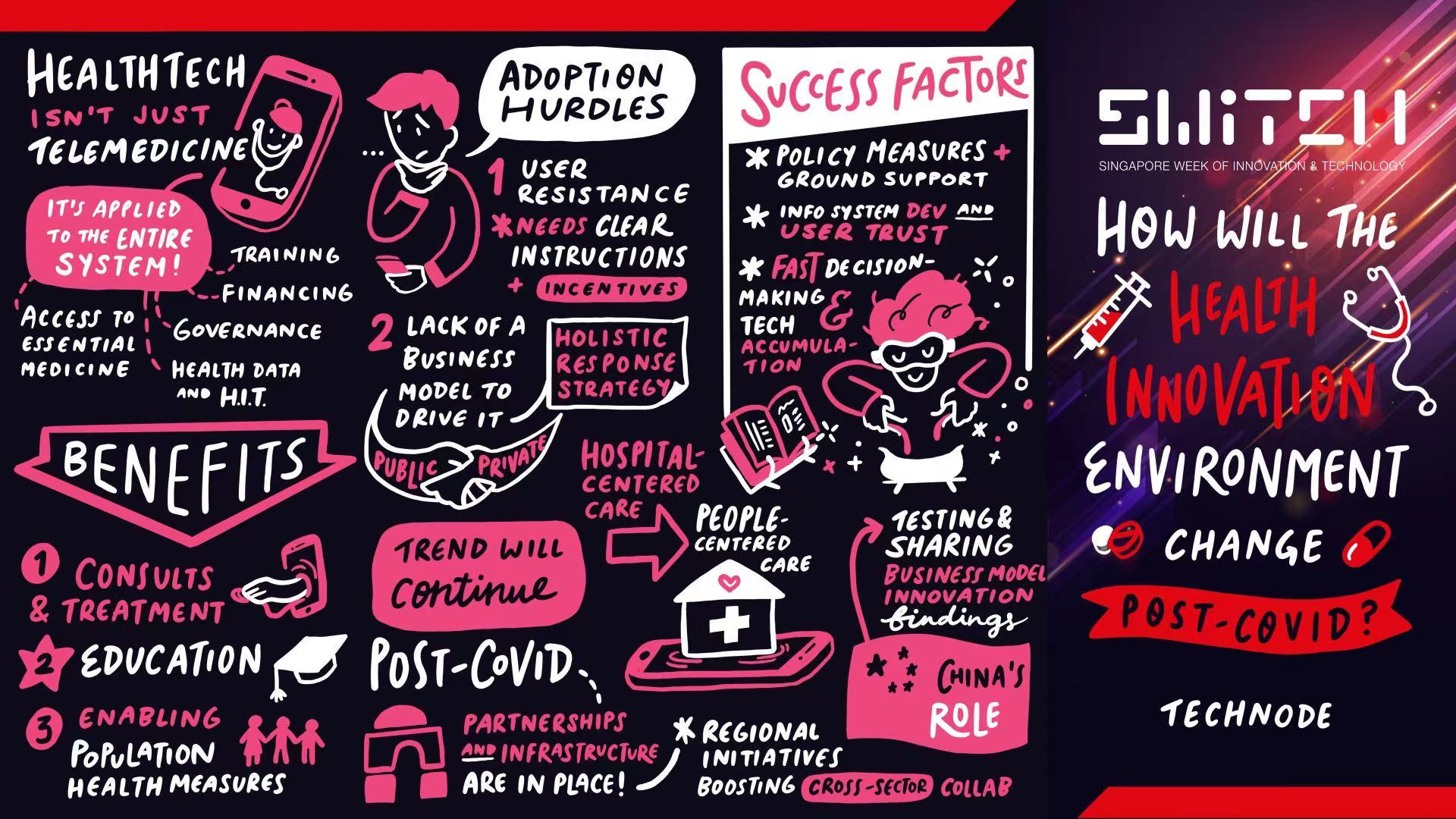 COVID-19 has created panic worldwide, and it has definitely changed the way we are taking part in health care. With hospitals, healthcare professionals are unable to take in non-COVID patients due to quarantine protocols. For patients, people worldwide are scared to step foot inside a hospital and risk contracting the virus. Due to all these challenges, we have been forced to adapt and look for innovative ways to change our healthcare delivery system.
Healthcare systems are changing really fast, and in this panel, we have our very own Christopher Udemans, TechNode Senior Reporter in China, moderating a conversation on innovations in healthcare delivery and how COVID has changed the landscape with Dr. Chang Liu, ACCESS Health International Regional Director for Greater China & Southeast Asia.
For this discussion, Dr. Liu went through a couple of interesting points and trends for healthcare in China and the rest of the world. First off, Dr. Liu gave a brief overview of what HealthTech is. Then, he discussed how COVID has affected the industry. He also went through the key factors that allowed health tech to work so well in China and help other countries. Lastly, it is important to note whether this is all just a trend that will go away once COVID is a thing of the past, or if this is something that is here to stay.
What is HealthTech?
One of the biggest tools that have been utilized to help ease the burden on the healthcare system is telemedicine. Through these platforms, users or patients can access healthcare by accessing an app and receiving consultations from a doctor remotely. However, it isn't as simple as just putting up an app. Healthtech, as a whole, has to be applied to the entire system. This means access to essential medicine, proper training, sufficient financing, government support, and health data.
There were several hurdles that they experienced, even before COVID became a problem. User resistance was one of the clear problems that they had to solve. They needed to add value to the service by providing clear instructions on how to use the platform and its benefits. They also had to incentivize their users to gain interest in using the platform.
The next problem was the lack of a solid business model to drive the product. Creating a sustainable business model proved to be quite a challenge. A holistic response to the problem must be put together with private and public entities collaborating to create a solution. However, with recent events, everyone was forced to adapt.
Healthtech in the time of COVID
COVID-19 has definitely played a critical role in adding attention and value to integrating technology when it comes to healthcare delivery systems. Dr. Liu enumerated three magic ingredients to ensure that health tech will work: social acceptance, government support, and enterprise innovation. Cooperation between private companies and the government needed to come together to generate a holistic solution that would address the problems COVID had brought out.
These were all things that China was able to integrate for a proper system. Social acceptance became a lot easier to deal with as people were now more inclined to learn how to go through telemedicine systems to receive healthcare from the comfort of their homes. The government played a major role in expediting health tech processes by giving favorable policies and subsidies for private entities who chose to help. With the proper policy measures and ground support, it was a lot easier for enterprises to push well-thought services and users to trust the platform more.
Dr. Liu believes that there is a lot that other countries can take note of when it comes to how China, as a whole, has handled the virus so far. Several low/middle-income countries have already studied and adapted systems and protocols that China has already put in place.
However, Dr. Liu also mentioned that it is not that hard to arrive at the solution, and most countries would ultimately end up doing the same thing as China. What sets them apart is the innovations in their business models and China's ability to be a great environment to use these models, given his three magic ingredients. He hopes that this kind of experience can be exchanged globally to help ease the burden of COVID on healthcare systems everywhere.
Is HealthTech here to stay?
These changes were being pushed before COVID even came into the picture, though. It was harder to get acceptance from society, but companies and governments have all been trying to reform their healthcare systems to create a better overall experience for all parties involved. Covid just pushed society to be more adventurous and force themselves to learn about these innovations.
Over the past couple of months, telemedicine has proven to be a useful platform that can be utilized and fully integrated with any healthcare system in the future. Collated data between Chinese telemedicine providers have shown that out of roughly ten thousand patients, only one will actually make the trip to the hospital to see a doctor in person. With telemedicine, companies can now see that technology is a strong tool that can change how they deal and interact with patients.
Since COVID has started, the infrastructure has been built, and major partnerships have been made, so Dr. Liu sees no reason why this shouldn't be further explored in the future, even without Covid. From here, we will start seeing the shift from hospital-centered care to people-centered care.
---
Chang Liu, PhD, is responsible for the health and aging innovation platforms and leads research and consulting work for ACCESS Health International in the Greater China and ASEAN region. Dr. Liu has a held teaching positions at Duke-NUS, the National University of Singapore Enterprise, and the Chinese University of Hong Kong. He has authored a number of publications, including the Singapore overview for the International Profiles of Health Care Systems published by The Commonwealth Fund and London School of Economics.
Dr. Liu got his PhD in Health Services Research from Brown University, specializing in health economics. He also received Master's in Finance from Guanghua School of Management, Peking University.
Christopher Udemans is a Senior Reporter at TechNode. He has moderated at tech events including RISE, TechCrunch, and CES Asia. Chris has reported on technology from two continents. Before moving to China, he wrote about innovation across Africa for HumanIPO, covering topics including mobile money, cryptocurrencies, and telecommunications.