Chinese carmakers have long sought to expand overseas amid Beijing's ambition to build a world-class auto industry, and the baton has now been passed to young Electric Vehicle makers. Are they well-positioned to sustain high growth rates into the future, and can they prove viability in the market?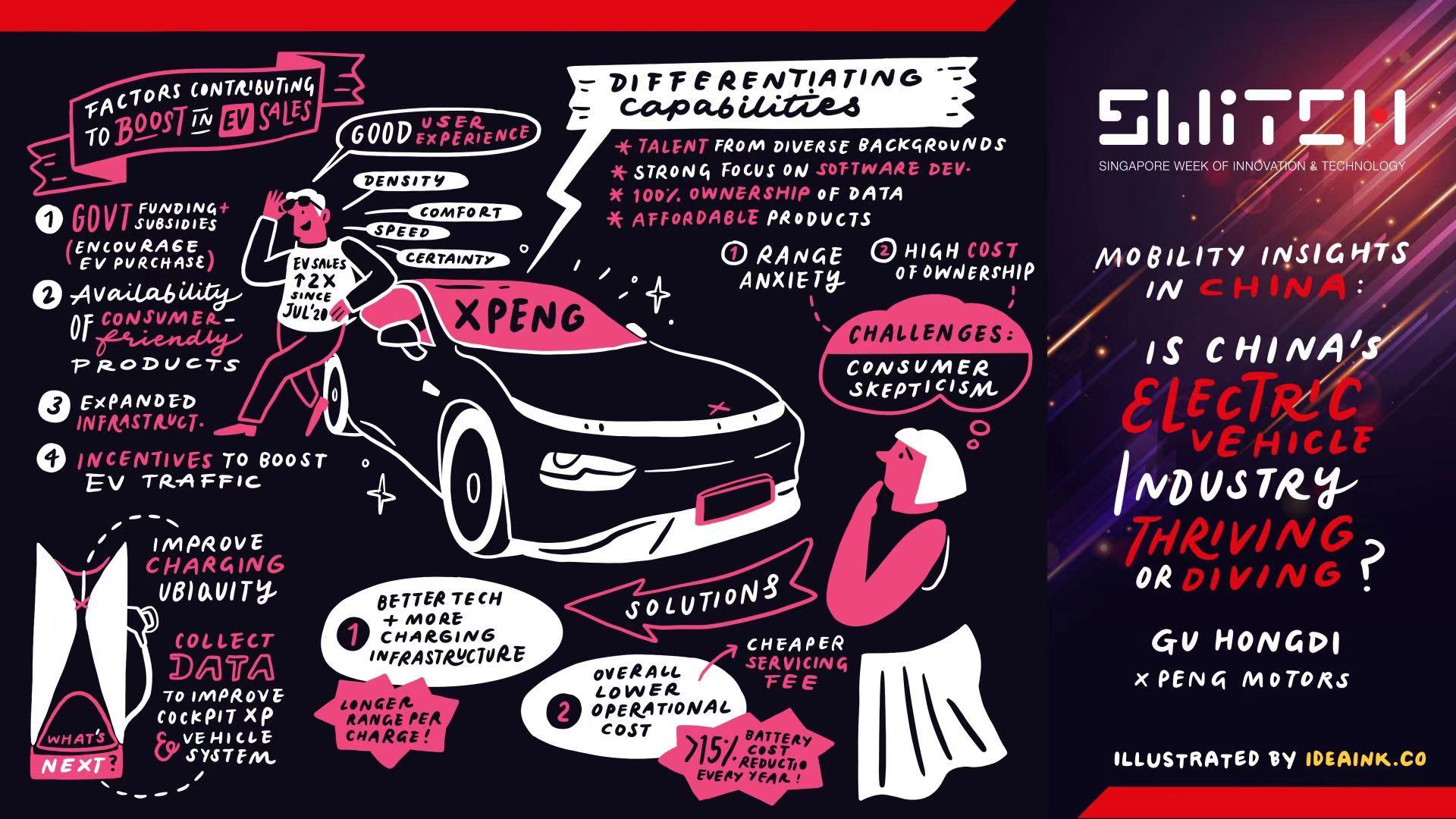 China has done all it can to encourage manufacturers and consumers to consider Electric Vehicles. EV manufacturers such as Xpeng Motors have been planning to take it a step further and bring EVs into the global market. In this panel, moderator Simon Hui of Baker McKenzie discusses the current market positioning and different opportunities for EVs in China and unchartered waters with Dr. Brian, Hongdi Gu, the Vice Chairman & President of Xpeng Motors.
Dr. Gu goes into detail with Hui to give viewers a better understanding of the foundations of the Chinese Electric Vehicle Industry, where it currently stands in China, and where he expects the industry will go in the next couple of years as they plan to expand. He also discusses the main consumer concerns and upcoming opportunities for businesses to venture into as brought out by the EV Industry.
Electric vehicles in China
Hui mentions how EV sales in China have regained momentum in the past couple of months after suffering a drought earlier this year, and Dr. Gu credits this rebound to a couple of different factors that have been in play for a while now.
Over the past couple of years, the Chinese government has offered subsidies and favorable policies for manufacturers and consumers to bring more growth to the EV industry. Players who have entered the industry early on were able to foster the environment, and this has definitely played a big role over the past couple of years in building the infrastructure needed and convincing consumers to make the change.
Next is the presence of more products and competition that prove to make EVs more appealing to consumers. The Tesla Model 3 is a unit manufactured in China and has had outstanding sales numbers since its release. Dr. Gu discusses his own company's latest release, the Xpeng P7 sedan, which has also done very well. These products create a healthy competitive industry to proliferate the market.
Main consumer concerns
Even with everything the government has done to push EVs and what the pioneering companies have done to foster a more appealing environment and product, people remain doubtful about making the change from Internal Combustion vehicles to EVs. The two biggest hindrances were range anxiety and the general cost of an EV.
Dr. Gu admitted that battery life and range was definitely a problem with earlier models. Most EVs would only be able to carry you 200 to 300 kilometers in a single charge. However, current models are now much more capable of carrying you as far as you want. The P7's battery has the capacity to drive for 700 kilometers on a single charge. Knowing that your EV can take you this far will definitely lessen your range anxiety.
He then moves on to the next way to remedy the consumer's range anxiety by providing more charging infrastructure. Creating more charging stations will give consumers more sense of security when it comes to range anxiety. Dr. Gu also mentions that more than 50% of their customers have home charging installed in their garages or parking slots.
Cost is also a big concern as EVs are generally more expensive than internal combustion vehicles (ICVs). A large chunk of the cost of manufacturing an EV goes into its battery. However, batteries have also become a lot cheaper than before. Battery costs are going down by around 15% per year. As the EV industry matures, these batteries will only get cheaper and stronger. Dr. Gu believes that in roughly 2 years, EVs will be on par with ICVs when it comes to cost.
The upkeep cost is also another thing to be considered when it comes to the bigger picture. Gas is a lot more expensive than electricity, and when it comes to servicing your car, EVs are also a lot cheaper to maintain.
Opportunities brought with EV proliferation
As consumers are now a lot more welcoming when it comes to EVs, Dr. Gu sees charging as a lucrative business that companies can venture into. Soon, charging stations will be as convenient to come by as our regular gas stations.
Currently, there are a few companies who are already in the charging business, but later on, we will be seeing the different aspects of charging and how different companies can approach their market. Dr. Gu hopes that the charging industry and the EV industry will bounce off each other to create a more appealing market.
As with any product or business, data is king, and the P7 has multiple sensors, cameras, and radars that Xpeng can utilize to gather data to improve the general customer experience when it comes to smart EVs. Dr. Gu hopes that this data advantage can give them that edge in the growing industry.
As a company, Dr. Gu believes that there is also a huge opportunity for Xpeng and other Chinese EV manufacturers to enter Europe. Surprisingly, EVs have a larger market share in Europe than in China. However, he believes that what sets Xpeng apart from the European manufacturers is their smart capability. They are able to provide a cockpit experience that has yet to be featured by competitors and they believe that smart EVs should not be enjoyed by only the Chinese market. Entering a foreign market may be quite difficult, but Europe seems to be the next step to getting  Chinese EVs out there.
---
Dr. Brian, Hongdi Gu is Vice Chairman and President of Xpeng Motors, a leading electric vehicle company in China. He is responsible for XPENG's strategy, finance, fundraising, investments and globalization efforts. Prior to joining Xpeng, Dr. Gu was a managing director, Chairman of Asia Pacific Investment Banking and a member of J.P. Morgan's Global Strategic Advisory Council, and was instrumental in building J.P. Morgan's franchise in the Asia Pacific region. Between 1998-2004, Dr. Gu also served as an M&A banker at Lehman Brothers in New York.
Dr. Gu has advised numerous global leading companies on their strategy and landmark transactions totaling over $200 billion volume. He currently serves as a co-Chairman of JPMorgan's Asia Pacific Council. He is a member of the Greater China Advisory Committee of Yale School of Management, as well as a trustee of Yale China Association. Dr. Gu holds an MBA from Yale University, a Ph.D. in Biochemistry from the University of Washington Medical School, and a bachelor degree in Chemistry from the University of Oregon.
Simon Hui is Partner at Baker McKenzie, where he leads the Firm's Compliance and Dispute Resolution team in Shanghai. With more than 22 years of practice experience, he has in-depth experience in handling compliance / regulatory matters including anti-bribery/anti-corruption and unfair competition issues.
Simon has conducted complex internal investigations for a large number of multinational companies across a range of industries. He is also a skilled investigator and has experience in dealing with PRC judiciary bodies and regulators such as SPC, SAIC and SAFE. He has been interviewed by leading business media, such as the Financial Times, for his work on assisting the SOE in the establishment of compliance system as the country pushes for its SOEs to participate in the Belt & Road Initiatives.