For many China tech companies, Southeast Asia is both a second market and, increasingly, the most important global office—a home away from home. With the ongoing geopolitical tension, are Southeast Asian businesses still open to Chinese tech partnerships and investment? How can technology companies rethink their global strategies?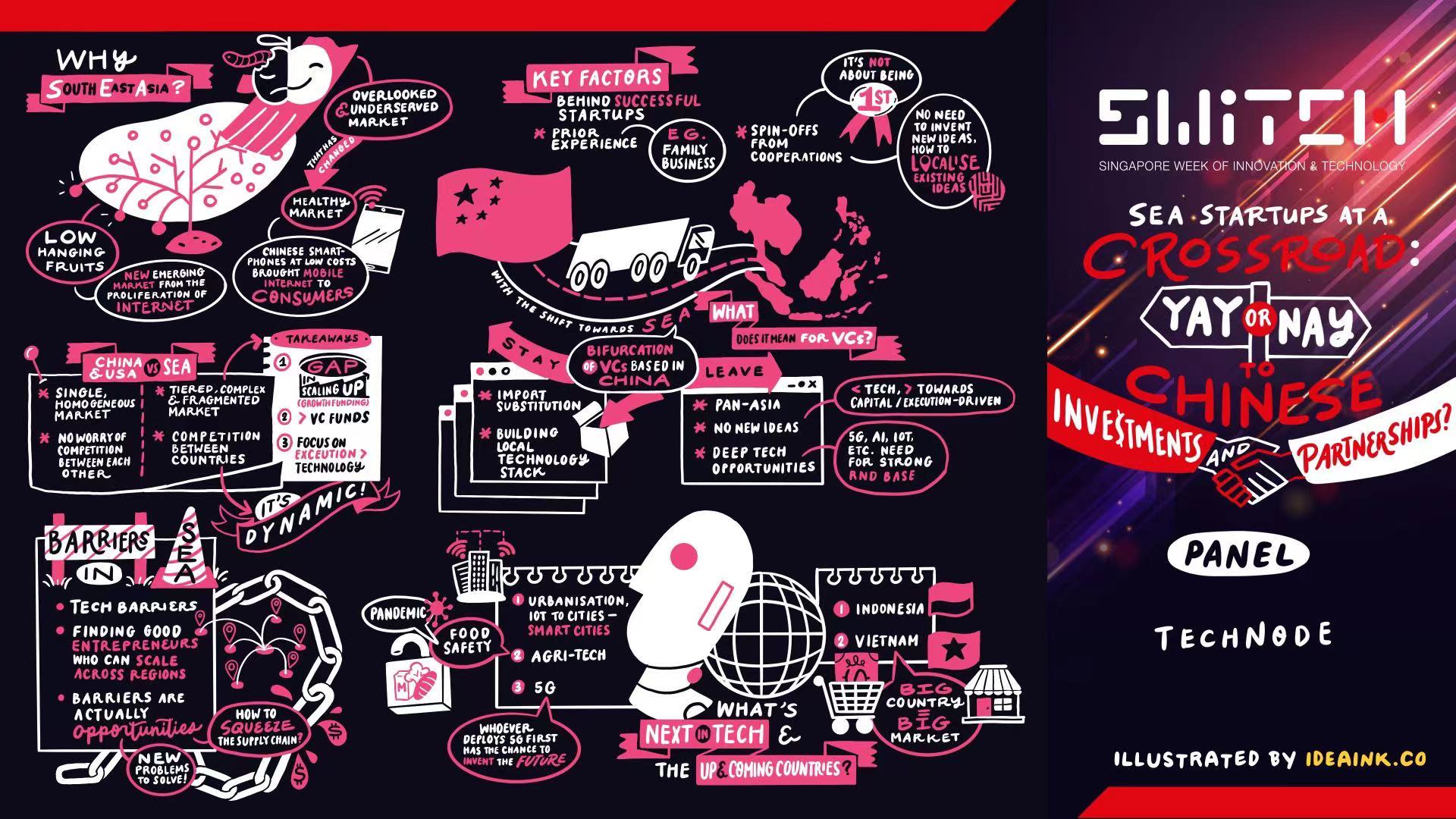 At SWITCH Connect, Elliott Zaagman, co-host of the China Tech Investor Podcast, moderated the panel discussion with Kay-Mok Ku, Managing Partner for Gobi Southeast Asia, and Yi Pin Ng, Co-Founder and Managing Director at Yunqi Partners.
The panel, titled SEA Startups at a Crossroad: Yay or Nay to Chinese Investments and Partnerships? was hosted by TechNode and TechNode Global.
On the topic of Chinese investments and partnerships in Southeast Asia, the panelists went over several dynamics in the region, including maturity of markets, fragmentation, barriers to innovation, localization, bifurcation, and the future of innovation in the region.
Notable is the difference in maturity of markets between China and Southeast Asia. China is considered to be mature in terms of infrastructure and innovation, while Southeast Asia is host to emerging markets, which are rapidly catching up. This leads to so-called "low-hanging fruits" or markets ripe for innovation, particularly with a fast-growing internet base.
Market differences, scale, and growth
One big consideration to factor in investment and partnership decisions is the fact that Southeast Asia is a very fragmented market, in terms of market maturity, culture, and language.
"I think many of the people who are coming to South East Asia for the first time, they say, 'Wow 600 to 800 million people. That sounds fantastic. That sounds great.' What they don't realize is this actually means 10 plus different countries and maybe 50 different languages, that you have to get into different cultures, and different religious backgrounds," said Yi Pin.
It is different compared to markets like China and even the US, which are more homogenized. In China, however, there is a different set of parameters, since many international services and applications are not available or at least not as popular in the local market.
"We see  VC funds focus on early-stage use in particular countries, whereas when you start to scale up, you actually need to look at getting growth funding," said Kay-Mok. "There is a growth funding gap in Southeast Asia, and increasingly because of the pandemic we are seeing private equity funds addressing this funding gap."
Barriers as opportunities
The coronavirus pandemic is sent to have accelerated digital transformation across many of Southeast Asia's industries, prompting businesses to rethink their strategies. While many industries are traditionally funded by conglomerates, the shift toward a paradigm of digital transformation means that venture capital is now behind many of the deal flows in this space.
"In Southeast Asia, I see a lot of these startups actually focus more on policy and execution side of technology. So, for example, the infrastructure side, a lot of logistics companies are being funded and more and more private equity will start to come into this market as well," shared Kay-Mok. "The question is: What are some of those barriers and what are the ones that have been overcome and what are the ones that are still not yet overcome fully."
However, one of the challenges for entrepreneurs both in China and Southeast Asia is finding scale across the region. "Speaking from personal experience, I'll say that because we are doing venture investment, the most tricky thing that we see is actually finding good entrepreneurs that actually can scale across the region," he added.
"A lot of Asia entrepreneurs–they actually obviously very good executing that whole market, but they do have challenges trying to scale up across the region."
Yi Pin said that the mindset should not be focused on barriers but rather opportunities.
"Good entrepreneurs will figure out a way, and whoever solves the problem and can squeeze a bit from the supply chain to make some money, have the chance to consolidate the market. So I don't see it as a challenge or a barrier. In fact, normally in this type of situation, there is actually money to be made because whoever solves the problem then can make a lot by providing that service. And usually, they will be competing against very traditional people who don't know how to leverage on the Internet," said Yi Pin.
An understanding of market needs
An understanding of markets in Southeast Asia and China will be essential to success, however–and in this regard, founders and entrepreneurs will need to have experience and connections across these markets. This includes having an understanding of what consumers want in these markets, as well as having connections in order to scale and expand beyond one's home market.
On to the relevance of Chinese investments in Southeast Asia and beyond, the panel discussed how capital from China can be a game-changer for startups in the region. "Once you have competition from Chinese entrepreneurs or Chinese investors, VCs from the US, for example, will pay better attention," said Yi Pin.
What does the future hold for investment and innovation in Southeast Asia, then? These include smart city initiatives, as well as technologies that address essential demand such as agritech. Still, it's not set in stone.
"A lot of these ideas I see are not technology-driven, but basically capital outlay and execution-driven. We are switching to a next phase where I think a lot of these opportunities will be deep tech opportunities," said Kay-Mok.
---
Kay-Mok Ku is a Managing Partner for Gobi Southeast Asia. He joined Gobi in 2010 and has invested in over 30 companies, including Aptoide, Carsome, Deliveree, Eko, Superatom, and Travelio. Prior to his career with Gobi Partners, Mok held the Vice President position in both Xinya Media and MediaCorp (Singapore). He was also part of the team that managed a US$500 million fund at the Media Development Authority in Singapore and is co-founder of Private Express, a cybersecurity startup based in Silicon Valley. He started his career with the Infocomm Development Authority and has a Computer Science degree from the University of California, Berkeley, and an MBA from San Jose State University.
Yi Pin Ng has worked in the venture capital industry since 2000. Shuttling between China and the US, he is very familiar with startup ecosystems in both countries. Yi Pin has long focused on early and mid-term investment opportunities in the fields of mobile internet, IoT, robot, AI and Big Data. He has played a leading role in investment in Chinese and the U.S. startups, including ACC Technologies (02018), SINOSUN (300333), Meihua Biotech (600873), xFire, Heptagon, PingCAP and TigerGraph. Yi Pin Ng boasts rich experience in intelligent hardware entrepreneurship and supply chain management.
Before founding Yunqi Partners, he had a long service at GGV Capital. From 2004 to 2008, he worked at GGV's Silicon Valley Office to help develop the company's intelligent hardware investment business in the United States. From 2008 to 2014, he worked at GGV's Shanghai Office. In 2014, he and Michael Mao co-founded Yunqui Partners.
Elliott Zaagman is a writer, researcher, communications consultant, and podcast host focusing on the intersection of technology, financial markets, and geopolitics. He advises and consults with many of China's most prominent internet firms and is a regular contributor to the Lowy Institute's Interpreter blog, Al Jazeera English, and CGTN. He is also the co-host of the China Tech Investor Podcast, powered by TechNode.