Six more startups pitched online to big-name Southeast Asia-loving VCs at the most recent running of our Life's A Pitch sessions. They were:
InsureVite (Singapore) – A messaging service sold to insurance firms. The reason: 50% of millennials prefer to do customer service via messaging and are 35 times more likely to read messages than emails.
B2M Asia (Taiwan) – A marketplace for import/export companies that helps them and its merchants avoid exorbitant currency exchange rates via its own FX system.
HomeCrowd (Malaysia) – A lending app aimed at millennials for mortgage and debt consolidation loans. The startup already has a peer-to-peer lending license in Malaysia.
Inochi Care (India) – An electronic medical device built for chronic non-healing wounds like diabetic foot ulcers and pressure sores.
ActiveBuildings (India) – Sensors and software built for rental building managers.
Ottodot (Singapore) – Science revision quizzes for primary school learners.
Thanks to the three participating VCs:
500 Startups
ParticleX
Plug n Play
Thanks to our event partners:
Revvx
True Digital Park
Garage+
SOSV
Wework
500 Startups
Join our next online pitch:
July 30, 2020, 1400hrs (GMT+8)
The slots for our next Life's A Pitch session are limited (and they're free), so scan the QR code or hit this link to head over to our Eventbrite page to apply.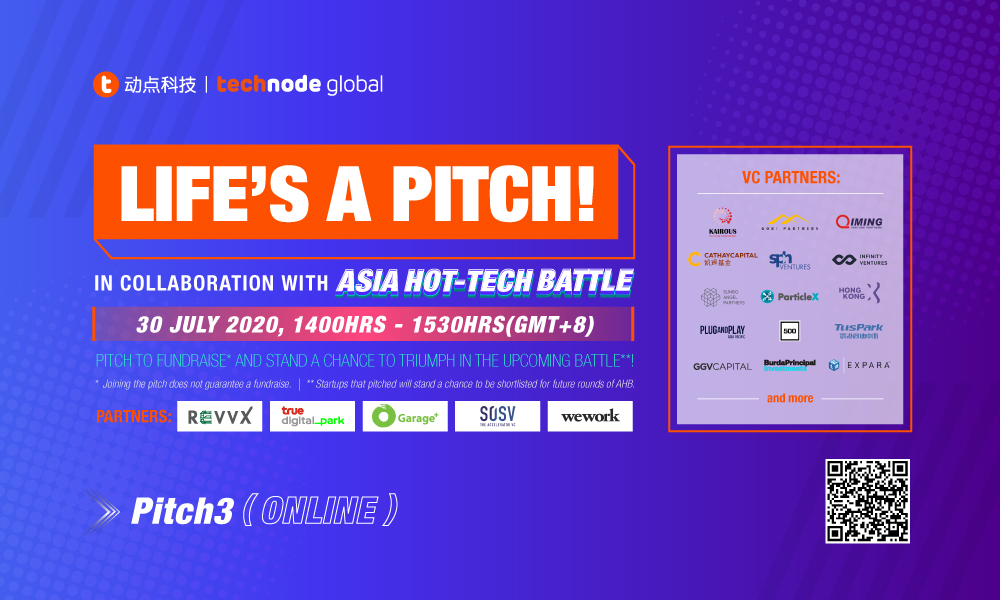 Format: You get five minutes to pitch plus seven minutes for the Q&A.
Joining requirements: Early-stage startup (seed to series B) with proven business traction looking to raise from Southeast Asian or Chinese VCs.