Check out last week's AI Notes on the data value chain behind Generative AI and its implications for company building (with examples from Southeast Asia).
The future of Generative AI (Gen AI) in Southeast Asia is a puzzle with numerous pieces yet to fall into place. Globally, according to a Goldman Sachs report, the Gen AI industry is around $150 billion, compared with $685 billion for the global software industry (22%). Although the region boasts emerging applications and digitalization interest, significant obstacles impede progress. The hurdles range from data collection to talent availability, commercialization, global competition, and regulation.
Current hurdles in AI adoption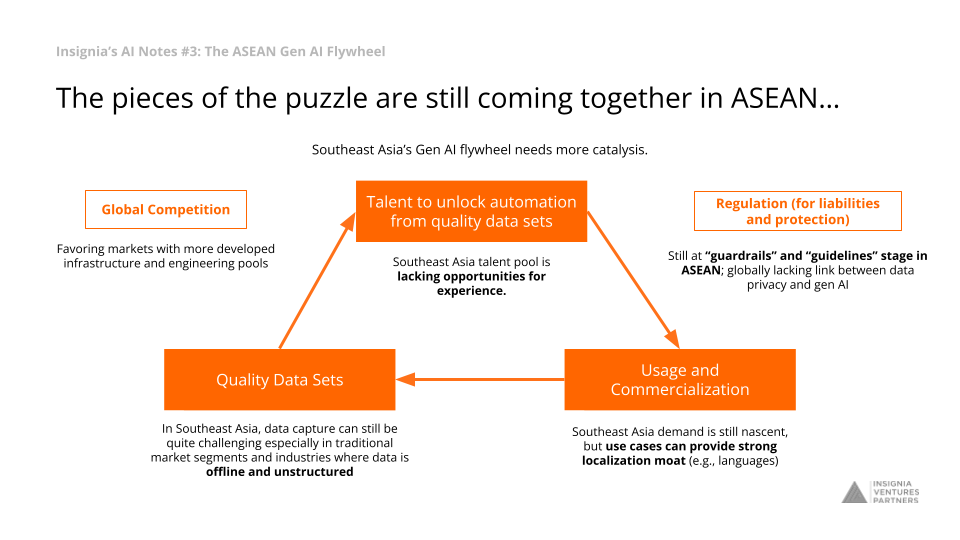 Quality data powers AI. However, data collection remains a major challenge in Southeast Asia, especially in traditional sectors. Even as internet penetration is more than 75 percent across the region (sans Laos, Myanmar), it doesn't necessarily equate to data digitization and business activities transitioning to digital or online at the same rate. The urban-rural digital divide in the region (40% of Southeast Asia states' population are in rural areas), is also a factor here, with rural areas less likely to have digital data collection and operations.
The region's talent pool, which is an essential factor in AI development, faces its own issues. Despite a surge in AI-related education in recent years, experience remains a constraint given how Gen AI development requires more than just software engineering but also data analytics, data collection, and linguistics expertise.
As for usage and commercialization, the demand for AI in Southeast Asia is still nascent. The immediate use cases for Gen AI (sales, marketing, engineering, R&D, customer operations) tend to have openings for localization. There's potential for growth, particularly in areas requiring strong localization, such as language applications.
This localization angle will be a key driver for unlocking the full economic impact of Gen AI globally. According to a report, AI (not just Gen AI) has the potential to add US$1 trillion to Southeast Asia GDP by 2030. Then according to McKinsey's impact report on Gen AI across use cases, Gen AI could add the equivalent of US$2.6 to 4.4 trillion to the global economy, creating 35 to 70 percent incremental economic impact beyond existing AI and analytics solutions.
Global competition further complicates the AI landscape in Southeast Asia. In spite of the localization potential for Gen AI applications, speed of development and therefore competitive advantages favor markets with more developed infrastructure and engineering capabilities.
Finally, the matter of regulation presents another hurdle. Current regulations concerning data privacy and liabilities are still at an early stage in Southeast Asia, with guidelines lacking a key link between generative AI use and data privacy. For example, enterprises increasingly demand private and customized AI applications, but this trend raises questions about liability when issues arise from model usage, signaling the need for enhanced regulations regarding data privacy and compliance.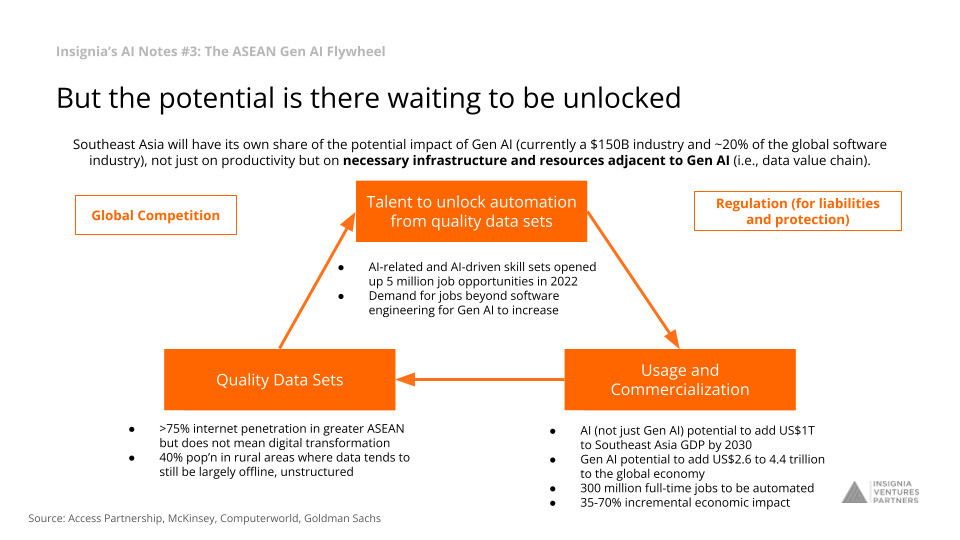 Linking a VC perspective to the Gen AI flywheel for clues on what it takes to win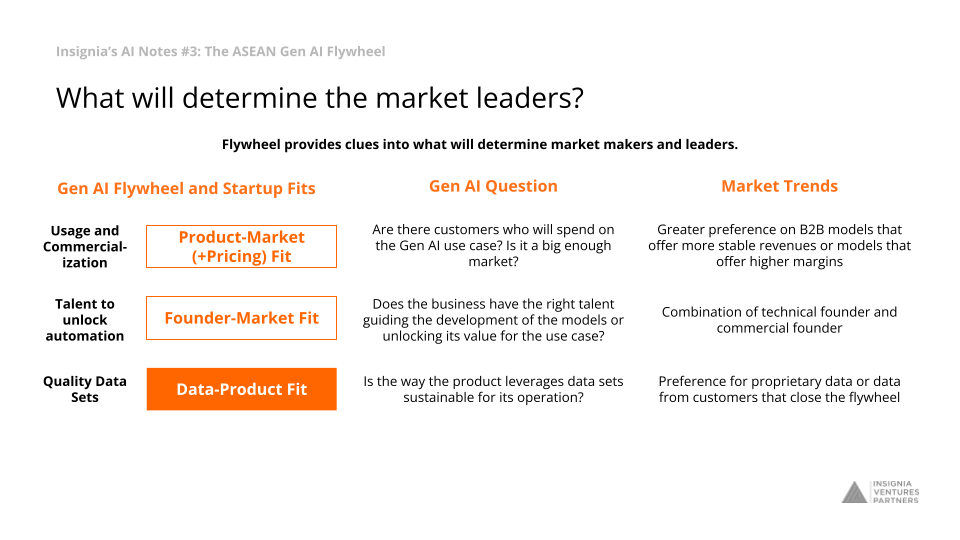 Market leaders' success will hinge on their Gen AI capabilities and understanding of market trends. Crucial considerations include potential customer base size, market viability, and achieving a harmonious product-market-price fit.
A growing interest in digitizing traditional sectors, such as agriculture, has surfaced in Southeast Asia, extending beyond the conventional farm-to-table model. Preference is shifting towards B2B models offering stable revenues and higher margins.
Maintaining sustainability depends on various interconnected factors, from hiring practices to fiscal responsibility, and their alignment with AI's potential use cases.
Founder-market fit is another essential success factor, calling for a blend of technical and commercial acumen. Meanwhile, data-product fit is crucial. The way a product utilizes data sets should not only enhance business value but also bolster customer satisfaction.
At the end of the day, from an investor's perspective, they need to ask three core questions: Is the product beloved and financially supported by customers? Is the company capital-efficient? Does the company have the potential to endure? Identifying such companies is challenging but critical to navigating the complex venture capital industry.
Despite its complexity, the Gen AI sector in Southeast Asia is teeming with opportunities. With each addressed challenge, another piece of the puzzle falls into place, painting a vivid picture of a promising AI future.
In next week's article, we share learnings from building up our own GPT-powered chatbot and implications for model training and development. Follow us on LinkedIn to get updates on the next edition of AI Notes.
---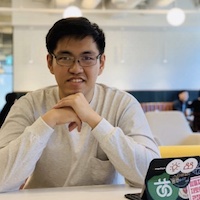 Paulo Joquiño is a writer and content producer for tech companies, and co-author of the book Navigating ASEANnovation. He is currently Editor of Insignia Business Review, the official publication of Insignia Ventures Partners, and senior content strategist for the venture capital firm, where he started right after graduation. As a university student, he took up multiple work opportunities in content and marketing for startups in Asia. These included interning as an associate at G3 Partners, a Seoul-based marketing agency for tech startups, running tech community engagements at coworking space and business community, ASPACE Philippines, and interning at workspace marketplace FlySpaces. He graduated with a BS Management Engineering at Ateneo de Manila University in 2019.
This article is the first part of a series on AI and was originally published on the Insignia Business Review.
TechNode Global INSIDER publishes contributions relevant to entrepreneurship and innovation. You may submit your own original or published contributions subject to editorial discretion.
Insignia AI Notes #2: Why operating in "Gen AI Mode" matters to any company