Blockchain use cases are infinite. The technology can be used to guarantee transparency within business transactions, ensure easy access to capital, and securely store important data. India's businesses have begun to recognize blockchain's importance within its rapidly evolving society, with 56 percent of businesses in India moving towards blockchain technology. In order for this Web3 adoption to continue, we need to invest in Web3 talent and ensure the fostering of developers' abilities.
Though there are over 30 million software developers worldwide, only tens of thousands of them are active within the Web3 landscape. In order to further blockchain technology and promote the use cases of Web3, we need to have a skilled range of developers who are well-trained and who possess the appropriate resources. As such, Web3 education and funding are of necessity for Indian society to adapt to emerging technologies.
The Hashgraph Association, the non-profit organization accelerating the broad adoption of the Hedera network globally, has made it a goal to bolster Web3 talent through education and training. In partnering with Information Data Systems (IDS), the Hashgraph Association will act as the headline sponsor for Bharat Blockchain Yatra (BBY) in India. BBY is India's first-of-its-kind tech tour that will strive to promote Web3 to a wide range of people across India. BBY's importance is recognized by the Government of India with their backing of the event through institutions such as the All India Council for Technical Education (AICTE), the Ministry of Education, and the Ministry of Electronics & Information Technology.
To encourage Web3 talent and provide developers with exciting opportunities, Hedera Hackathons will take place throughout BBY, awarding the top three projects up to $250,000 in funding each to build enterprise-grade, scalable, and utility-driven applications on the Hedera network. The winning team with the most innovative solution will be awarded the opportunity to travel to Switzerland and participate in the 2-week Hashgraph Entrepreneur Program. The Hashgraph Association's sponsorship of these remarkable prizes will provide blockchain enthusiasts in India the opportunity to further advance their skills and ultimately contribute to India's blockchain ventures.
In partnering with IDS and sponsoring Bharat Blockchain Yatra, The Hashgraph Association will reaffirm its strong and admirable commitment to empowering developers and businesses to build innovative blockchain/DLT solutions that can benefit society through the use of the Hedera network. The Hashgraph Association wishes to encourage and develop the significant talent present in India by providing future digital pioneers, enthusiasts, and entrepreneurs funding and engineering opportunities for Web3. Through its sponsorship of BBY, the Hashgraph Association is striving to make blockchain more accessible to all and hopes to fund projects that will make a large impact within society.
Organised by IDS, a leading Enterprise Blockchain Service Provider and developer of the Bharat Blockchain Network, Bharat Blockchain Yatra will be held across 18 states in India from August 2023 to February 2024. It will include over 25 series of events, comprised of summits, boot camps, hackathons, round table discussions, and business pitches and launchpads. The goal of BBY is to highlight the great potential of blockchain technology in India, a country with over 350 Web3 start-ups and one of the world's largest Web3 talent pools, and to reach as many people as possible within its six-month tour. As 11 percent of the global Web3 talent reside in India, the country offers the perfect location to promote a tech tour aimed at harnessing untapped talent.
There will be 7,500 participants taking part in the BBY events, including over 100 thought leaders from the blockchain industry. Participants will have the chance to learn from those with a large influence within Web3, furthering their personal and professional development. The Hashgraph Association will use BBY to expand its presence in India prior to opening five Applied Blockchain Centres of Excellence, with a focus on Hedera technology. In doing so, IDS will onboard 50,000 developers on the Hedera India Developer Community (HIDC) portal and publish the thought-leadership publication, Bharat Blockchain Ecosystem Report. It is expected that this initiative will raise significant awareness of Hedera in India, the wider Asia-Pacific region, as well as across the globe.
BBY's curtain raiser event for the tour will take place on Sunday, 6th August, at the T-Hub in Hyderabad. Spread across an area of around 583,000 sqft, T-Hub is the world's largest innovator-accelerator by size. The continued investments into emerging technologies within India show promising signs that this country will act as a leader in global blockchain adoption and Web3 promotion, leading to a more secure and transparent world. A continued emphasis on Web3 education in the country will ensure that this is the case.
---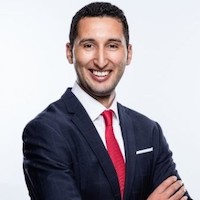 Kamal Youssefi is the President of the Board of The Hashgraph Association.
TechNode Global INSIDER publishes contributions relevant to entrepreneurship and innovation. You may submit your own original or published contributions subject to editorial discretion.
Jobseekers are turning their backs on employers who don't offer seamless digital experiences